OWC ThunderBay 4 RAID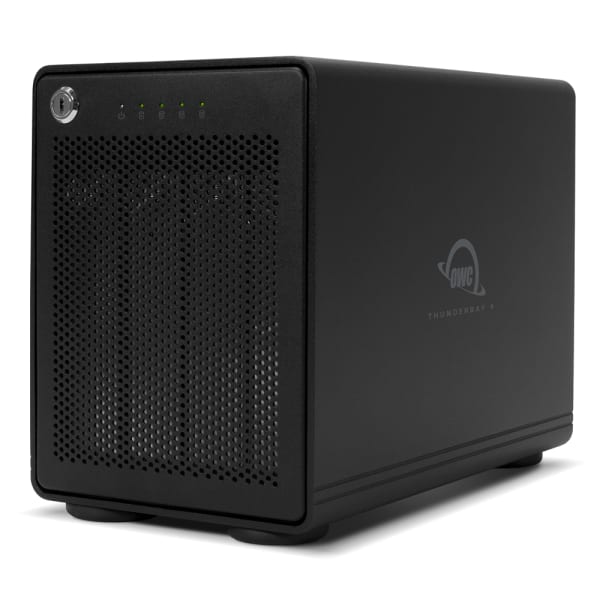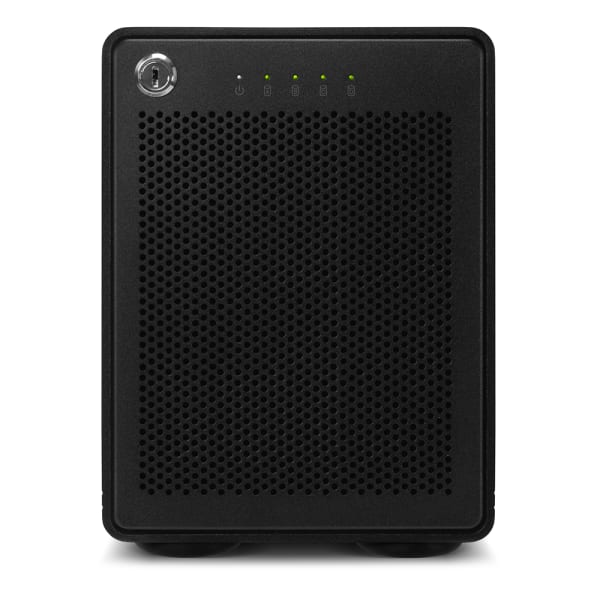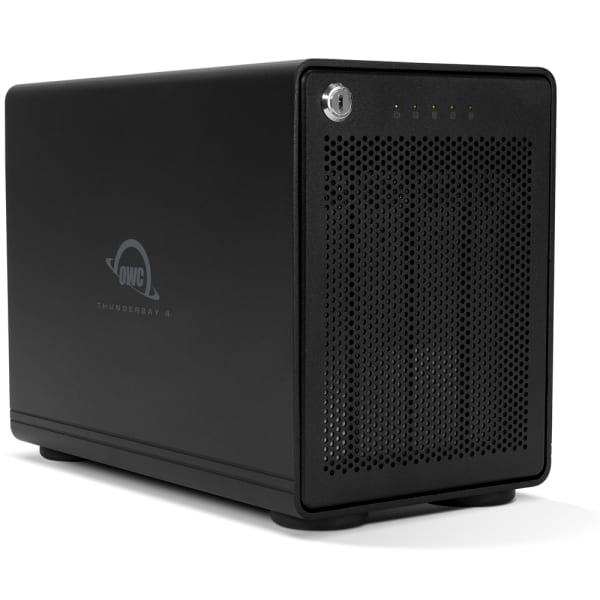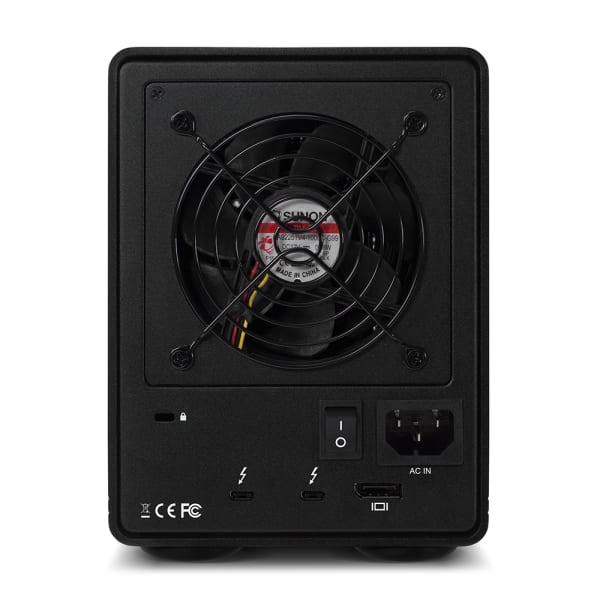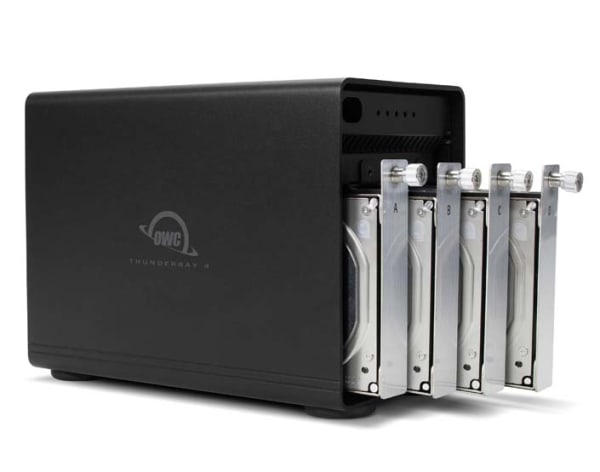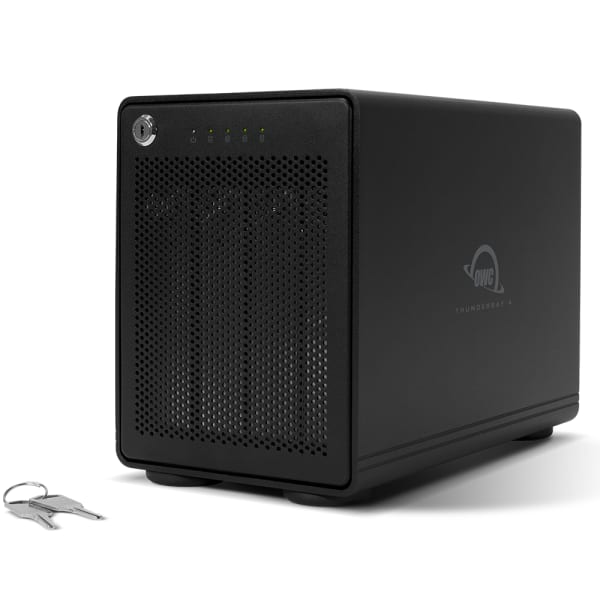 OWC ThunderBay 4 RAID
---
1527

MB/s
Up to 1527MB/s performance
72

TB
4 drive capacity up to 72TB
Quick Specs:
Thunderbolt 3
DisplayPort 1.2
4 Universal Drive Bays
RAID
Mac & Windows
The Speed You Need
Dual Thunderbolt 3 ports + dedicated DisplayPort 1.2 port
Works with 3.5" or 2.5" drives – no adapter needed
User-configurable in RAID 0, 1 , 4, 5 & 1+0
Ultra quiet, heat dissipating aluminum chassis
Rigorously pre-tested with multi-hour burn-in
Intelligent drive monitoring with desktop and email notifications
Integrated, built-in power supply, no bulky power brick
Up to 5 Year OWC Limited Warranty1
---
Performance & reliability at an exceptional value

Wide array of model configurations

OWC storage solutions consistently receive top ratings

Industry-leading warranty & support
Edit. Experiment. Create. Design.
Designed with performance in mind and engineered to harness the power of Thunderbolt 3, ThunderBay 4 is an incredibly flexible external drive with the throughput to support multi-stream compressed 4K video and other bandwidth-intensive operations. Highly configurable to perfectly match your performance needs. Use each drive independently, or in the RAID configuration of your choice for the optimal balance of performance and data-redundancy. Get the most out of your storage, take the brakes off your workflow, and do more with a ThunderBay 4.
Certified and Tested
Each ThunderBay 4 undergoes OWC's multi-hour drive "burn-in" performance certification procedure prior to shipping. This ensures your ThunderBay 4 arrives operating properly and ready for demanding use.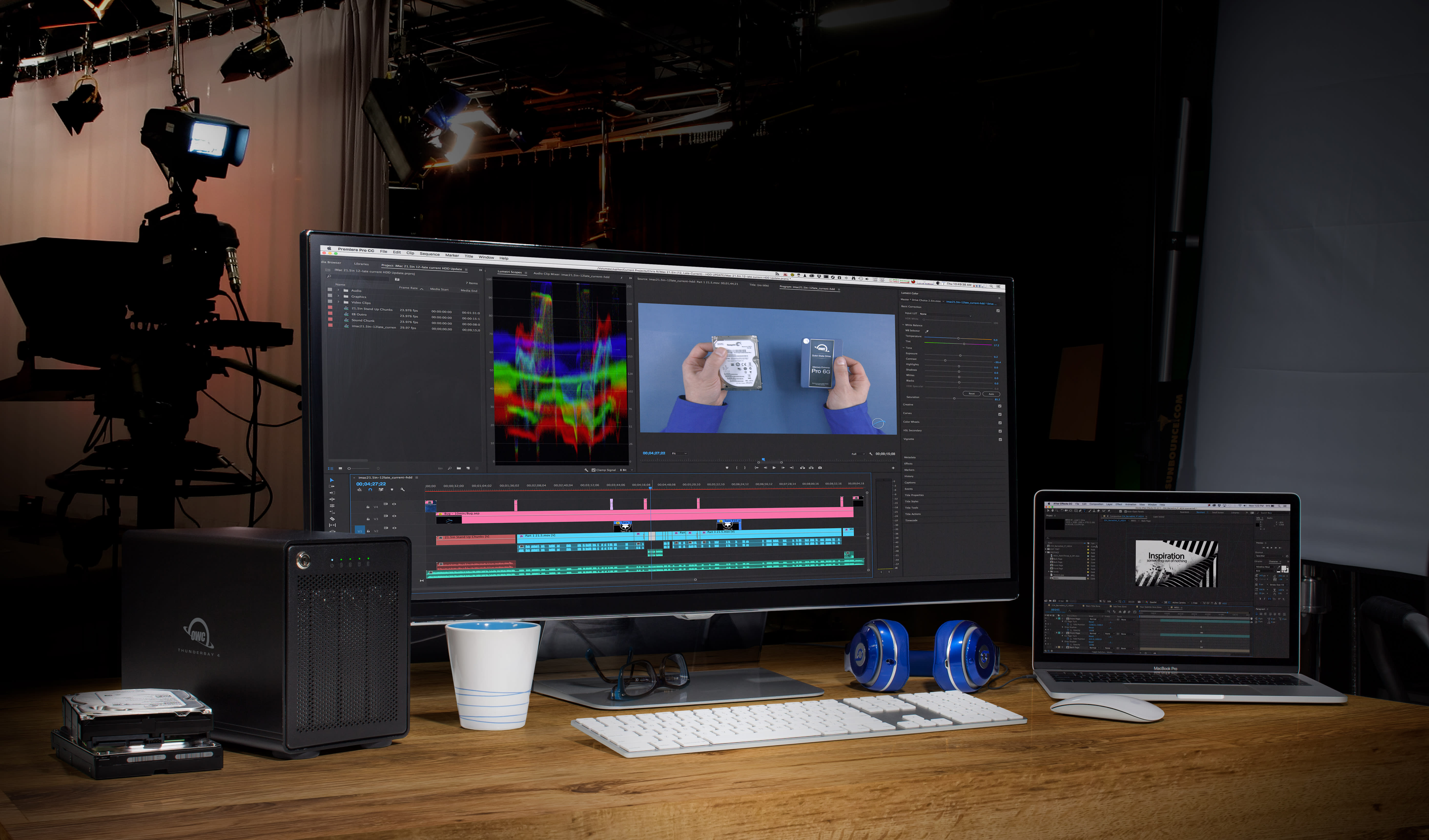 Time-Tested Cooling
Built on OWC's time-tested enclosure cooling technology, ThunderBay 4 utilizes an open "flow-thru" vented design with an oversized 92 mm, low-turbulence, noise-quieting fan to keep the drives running cool and reliably.

Vibration Dampened
ThunderBay 4s drive isolating design reduces sonic resonance, and is aided by over-sized, rugged, vibration-absorbing, non-skid feet.

Multi-Drive
Daisy-chain up to six ThunderBay 4s for massive storage capabilities and increased performance, or connect multiple ThunderBay 4s to multiple Thunderbolt 3 ports to achieve exponential speed capabilities.

DisplayPort 1.2 Support
Dual Thunderbolt 3 ports let you connect the display of your choice that your computer can support, including 4K displays.
OWC Thunderbolt 3 Cable Included
ThunderBay 4 comes with a certified OWC Thunderbolt 3 cable, with other lengths from 0.5 meter to 2.0 meters available separately.

Connect to Thunderbolt and Thunderbolt 2 Systems with Ease
The OWC ThunderBay 4 harnesses the power of Thunderbolt 3 to provide backwards compatibility with Thunderbolt and Thunderbolt 2. Whichever interface/speed your workflow demands, it's easy to integrate OWC ThunderBay 4's massive capacity and performance capabilities. Add a Thunderbolt 3 (USB-C) to Thunderbolt 2 Adapter and the appropriate Thunderbolt cable and you're all set.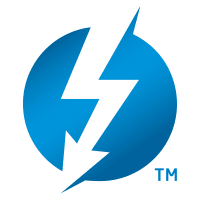 OWC's ThunderBay 4 brings to the market capacities that have yet to be seen in such a compact medium, as well as the performance and data security that only RAID 5 can provide!
- Les Tokar, The SSD Review
SoftRAID: Conventional Wisdom Turned on its Head
It's often thought that hardware RAID is better than software RAID, but we've proven that not to be true. We've combined the performance and capacity of the ThunderBay 4 with our robust SoftRAID engine. Experience breathtaking performance, multi-enclosure capability, advanced drive monitoring, e-notifications and downloadable updates. Once you do, you'll see how hardware RAID doesn't even come close.

The Better and Simpler Way to RAID
We created SoftRAID to make it easier to maintain mission-critical workflows to save you time and money. With SoftRAID you no longer need to be locked into expensive hardware RAID technology that's not upgradeable or expandable. SoftRAID future-proofs your data and storage with software updates that provide cutting edge capabilities and robust stability.
SoftRAID takes advantage of your computer's processor versus the slow processors found in most hardware RAID enclosures. The result is a fast and flexible RAID array with no discernible impact to your favorite apps. SoftRAID drive certification tells you whether or not a drive is up to the task before creating a RAID array. Advanced monitoring tools work behind the scenes to keep your RAID running in tip-top shape.
SoftRAID protects your data by alerting you to issues before anything happens, ensuring you're protected when you're on a critical deadline. SoftRAID rebuilds your RAID in a fraction of the time it would take a hardware RAID to complete the same task, sparing you from significant downtime when you're ready to upgrade or replace a drive.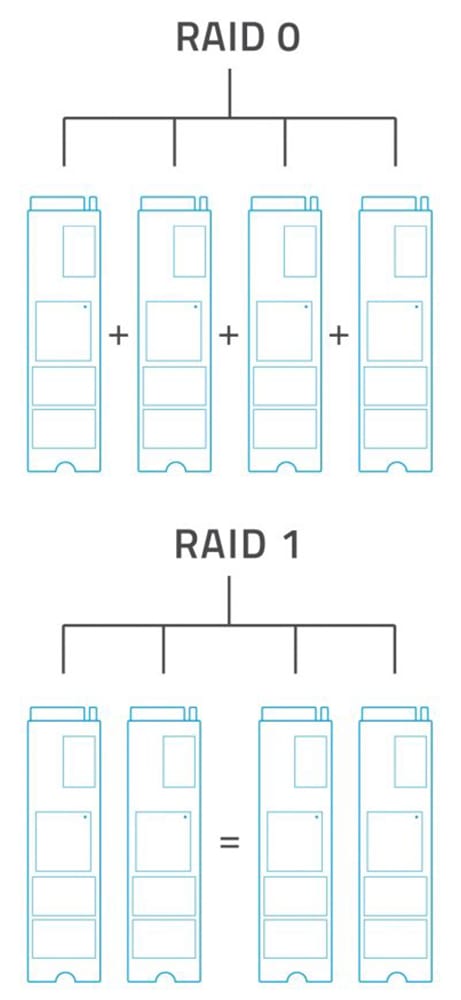 Windows Workflow
The ThunderBay 4 fully supports Windows workflows as well. Using Windows Storage Spaces you can pool the four internal drives together with support for all the Storage Spaces configuration options including the ability to add another ThunderBay 4 to expand your storage pool on the fly.
OWC ClingOn
Stabilize Thunderbolt 3 and USB-C Cables at the Connection Point.Unexpected disconnnects during file transfers or a work session can be devastating. This quick and easy add-on reduces – if not completely eliminates – cable strain on USB-C and Thunderbolt 3 connection ports.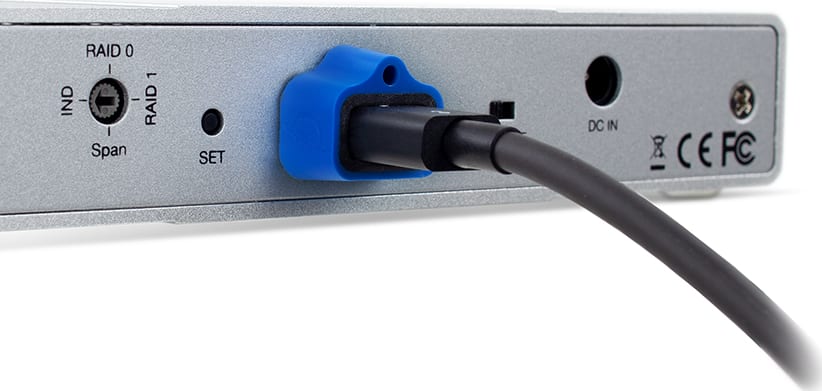 ---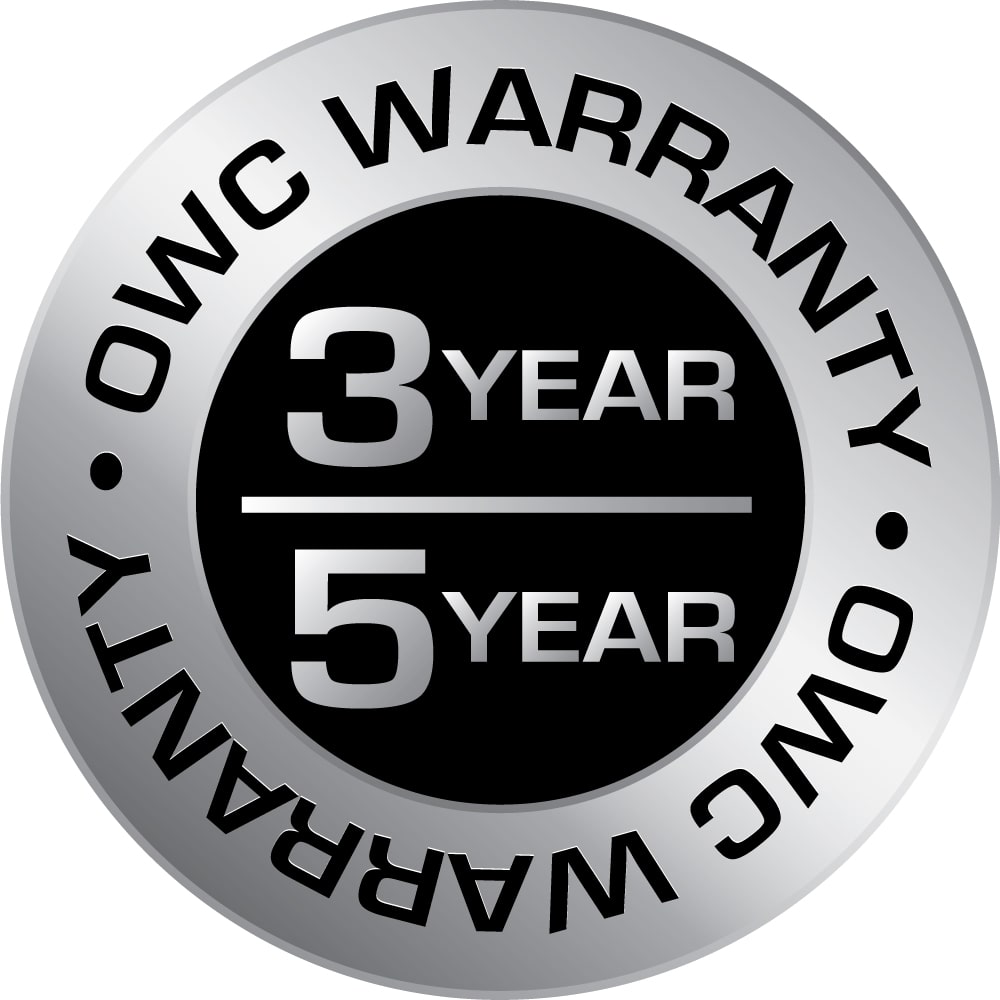 OWC, Trusted by Pros & Enthusiasts the World Over
We build our hardware to the highest standards of reliability and performance. Because 100% reliability is always the goal, we rigorously quality test and back our hardware with up to a 5 Year OWC Limited Warranty and award-winning customer support.
Learn More
5 year OWC Limited Warranty for Enterprise Hard Drive solutions. 3 Year OWC Limited Warranty for Hard Drive solutions. 1 year OWC Limited Warranty for Enclosure only.