OWC ThunderBay 8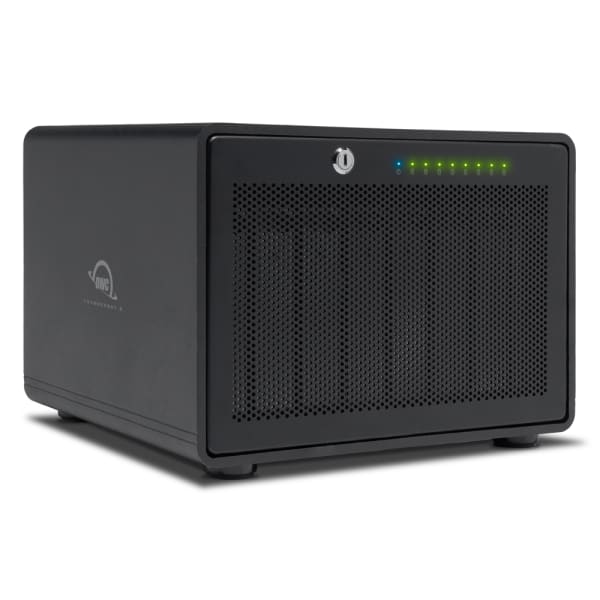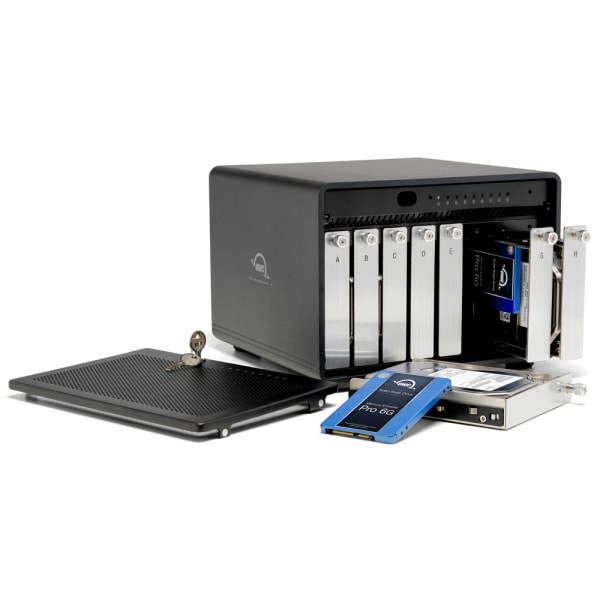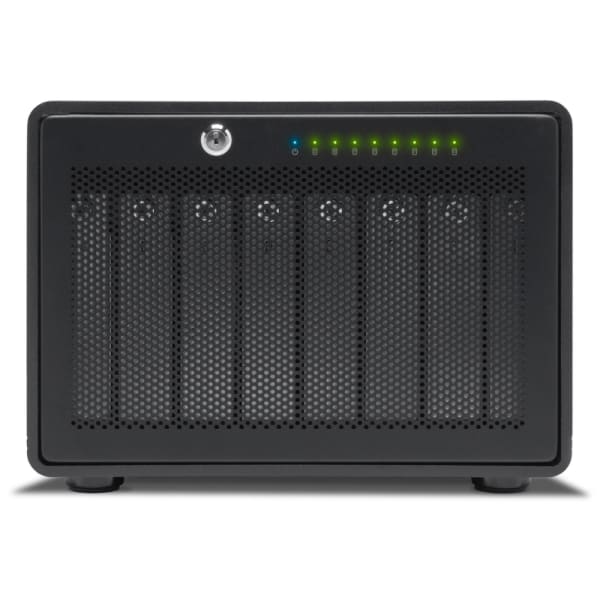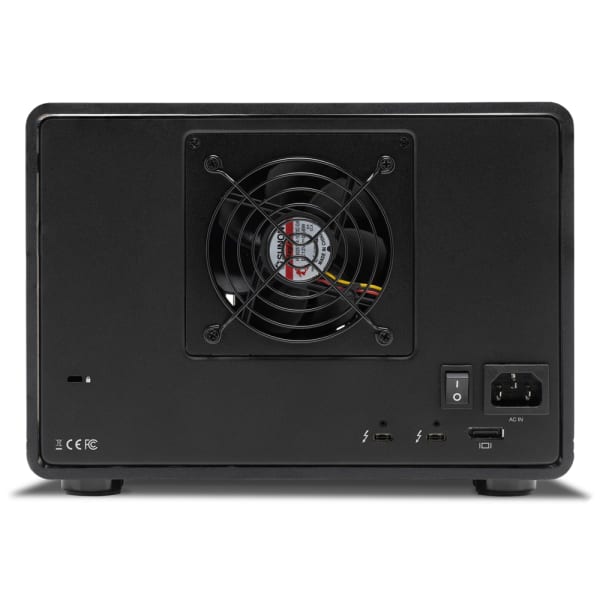 OWC ThunderBay 8
---
2586

MB/s
Up to 2586MB/s performance
160

TB
Eight drive capacity up to 160TB
Quick Specs:
Thunderbolt (USB-C)
8 Universal Drive Bays
SoftRAID
Mac & Windows
Like a Data Center on Your Desk
Eight hot-swappable universal drive bays: mix or match 2.5-inch and 3.5-inch HDDs and SSDs (no adapter needed)
Pro-grade transfer speeds: up to 2,586MB/s real-world tested speed with Thunderbolt 3 (Thunderbolt 2/Thunderbolt backward compatible)1,2
Massive capacity: store up to 160TB of critical footage, images, and files
Includes SoftRAID XT: robust software for creating, monitoring, and managing advanced RAID sets
Create a data center: daisy-chain six units together for up to 960TB of capacity
Deployment ready: preconfigured solutions undergo rigorous multi-hour drive burn-in
Worry free: 5 Year OWC Limited Warranty3
Certified, High-Performance Arrays for Demanding Data Needs
Includes SoftRAID XT — RAID 0/1/4/5/1+0 (10) or JBOD
DIY Enclosure
Includes SoftRAID XT — RAID 0/1/4/5/1+0 (10) or JBOD
DIY Enclosure
Add your own RAID software
Stay Ahead of Your Storage Needs
This latest addition to the popular ThunderBay line, introduced in 2014, now offers eight drive bays for either 2.5-inch or 3.5-inch HDDs or SSDs in any combination for up to 160TB of capacity. The ThunderBay 8 is like a high-performance personal data center that offers multiple configuration options to suit ever-expanding storage needs. Photo, film and video editors can take advantage of the largest capacity desktop RAID storage solution we've ever offered to handle the voracious drive space appetite of RAW, 4K, large format, and VR workflows.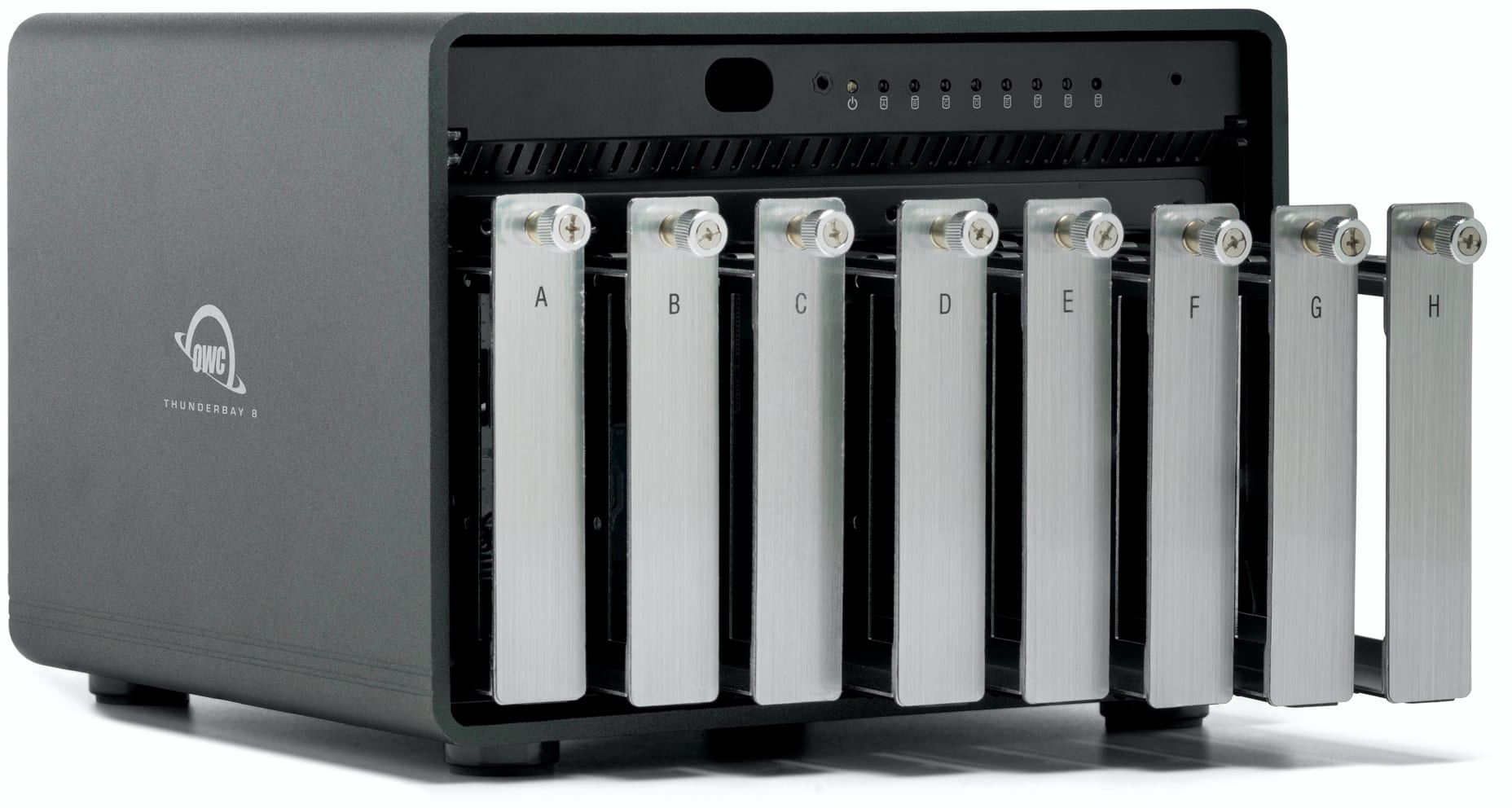 Monstrous Capacity
Need even more capacity? Daisy-chain up to six of these capacity behemoths together for up to a staggering 960TB. Now you can capture vast amounts of footage from multiple cameras or store vast libraries of production work with a unified and reliable storage solution.

Conquer High-Bandwidth Demands
With up to 2,586MB/s real-world tested speeds and the ability to RAID together eight SSDs or HDDs, ThunderBay 8 has the under-the-hood horsepower needed to conquer high-bandwidth requirements. Plus, its rugged, field-tested aluminum design stands up to studio and on-location workflows. You can even configure multiple ThunderBay 8 solutions connected via multiple Thunderbolt 3 ports on your Mac or PC to achieve exponential speed increases. Take on multi-stream 4K workflows. Export and render footage with effects at full speed. Whatever your set up, when you're racing against a deadline, ThunderBay 8 puts you in the winner's circle.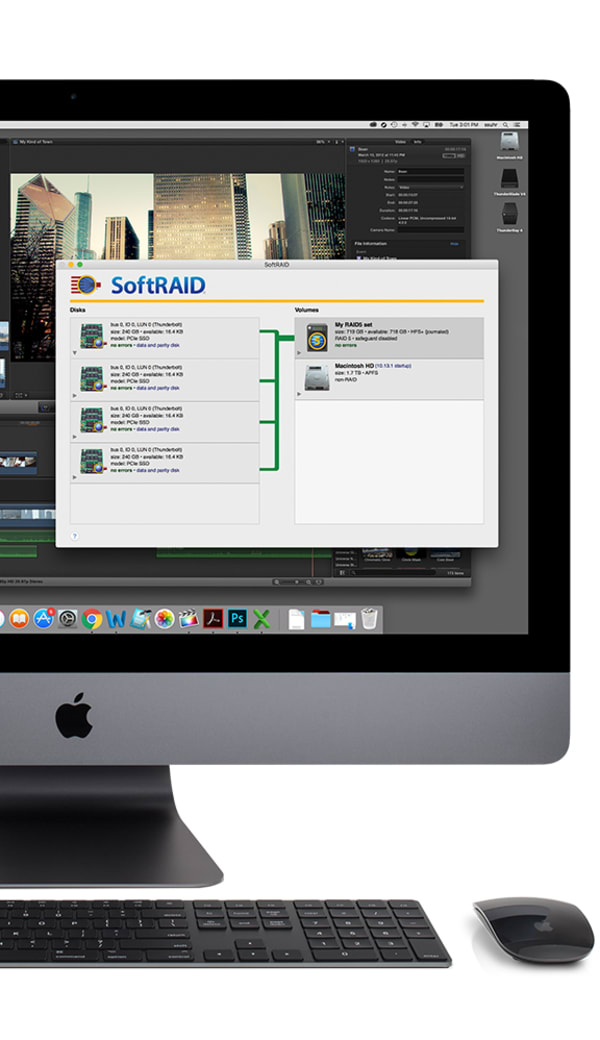 RAID Made Easy
Harness the full capability of your OWC drive array with the included SoftRAID XT, the most powerful, intuitive RAID management software on the market for macOS and Windows. SoftRAID's RAID creation and management technology has been finely tuned to perfection with over 20 years of development to provide rock solid protection of your data and optimize drive performance.
Packed with Features
SoftRAID XT provides an unbeatable combination of speed, protection, and compatibility:
Advanced: Create RAID 0/1/4/5/1+0 (10) arrays1
Protected: SoftRAID Monitor constantly watches your disks and alerts you if problems are detected
Validated: Volume validation ensures sectors can be read and parity is correct
Certified: Checks disks before use to ensure they are safe for data storage
Vigilant: Error prediction helps protect against unexpected failure
Universal: Move SoftRAID arrays seamlessly between Mac and PC2 with built-in OWC MacDrive technology
Beyond Hardware RAID
SoftRAID provides a level of storage performance that you simply can't get with hardware RAID. Software RAID gives you increased power and control over your RAID drives and disks that hardware RAID can't deliver and doesn't lock you into technology that you can't upgrade or expand.

Dive deeper into the benefits of SoftRAID »
RAID 4/1+0 (10) is available for Mac only at this time.
SoftRAID serial numbers work on both Mac and Windows. SoftRAID is licensed per computer. In order to use SoftRAID on multiple computers, you will need a unique, valid license per computer. Additional licenses can be purchased anytime.
8 Drive Bays of Multi-RAID Gold
Featuring 8 universal drive bays that support large capacity 3.5-inch hard drives, and 2.5-inch blazing fast SSDs, the ThunderBay 8 opens up an entirely new realm of multi-RAID capabilities — all from a single desktop solution.
You can create two RAID 5 arrays, four RAID 1 arrays, four RAID 0 arrays, or create RAID arrays on-the-fly to suit any project or data need. Heck, with so many drive bays available, you could leave a few empty — enabling you to create a new RAID, or add an additional drive with ease.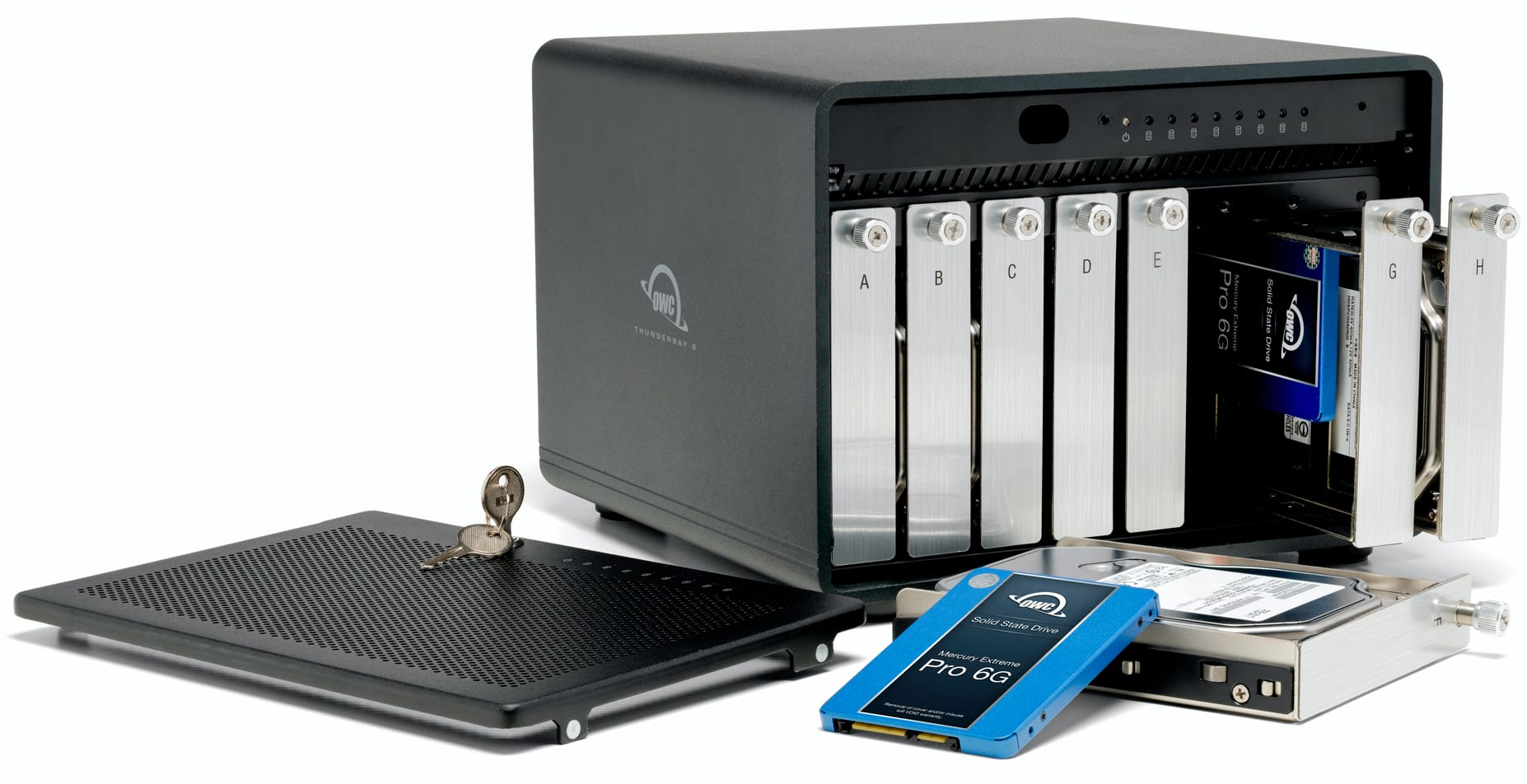 Swap and Identify Drives with Ease
ThunderBay 8 makes it easy to keep large data sets organized for every project thanks to its eight hot swappable drive bays. Whether you're using 2.5-inch or 3.5-inch HDDs and/or SSDs, the drives mount in alphabetically labeled trays for easy identification and are secured by a thumb screw. If you want to access a collection of drives quickly, you can create a drive "bullpen" with additional OWC drive trays (sold separately).

As Secure as a Bank Vault
With a locking front panel and security slot on the backside, the ThunderBay 8 is like a safe house for your data. Plus, with SoftRAID XT's e-notifications via the macOS menu bar or Windows pop-up messages, you can rest easy there's a vigilant guard watching over the integrity of your digital assets.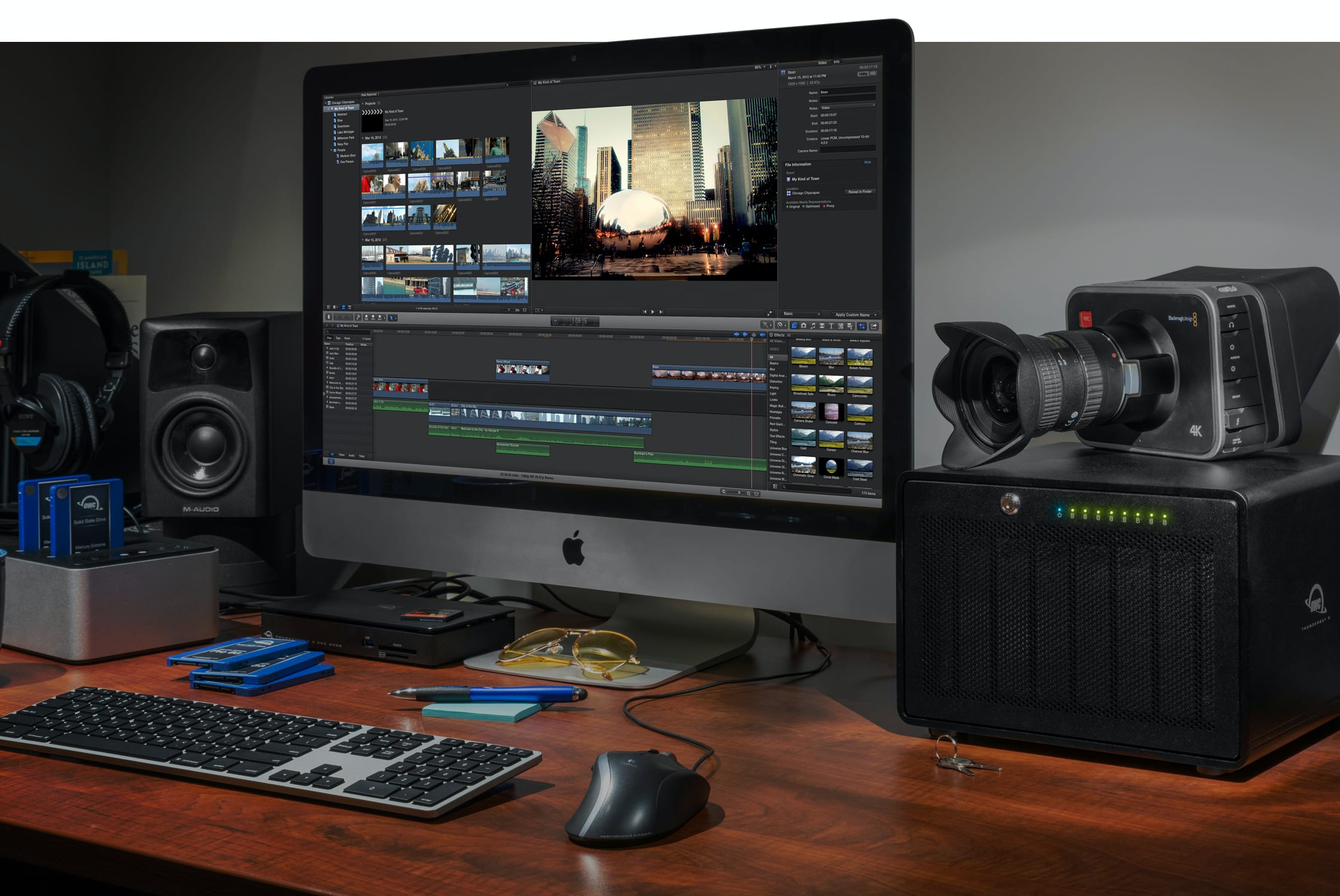 See More, Do More
ThunderBay 8 isn't just about high-capacity, high-performance storage. It's about giving you all the options you need to work at your best. Attach a 5K Thunderbolt display or a 4K display. Place a USB-C device at the end of a daisy chain. With an extra Thunderbolt 3 port, you have the flexibility to add more devices to your workflow and master any task at hand.

Thunderbolt Made Easy
We make it easy to choose the right gear. Our Thunderbolt Certified products offer the same performance and functionality whether they are Thunderbolt 3 or Thunderbolt 4. And if you're rocking a beloved Thunderbolt 2 machine, we offer an adapter so you can plug into our universe of award-winning solutions. No hassles, no confusion. That's the OWC Difference.
Apple Mac models with Thunderbolt 2/Thunderbolt ports can be connected using an Apple Thunderbolt 3 (USB-C) to Thunderbolt 2 Adapter and a Thunderbolt 2 cable (available separately). This configuration provides data transfer at up to 20Gb/s but does not support notebook charging.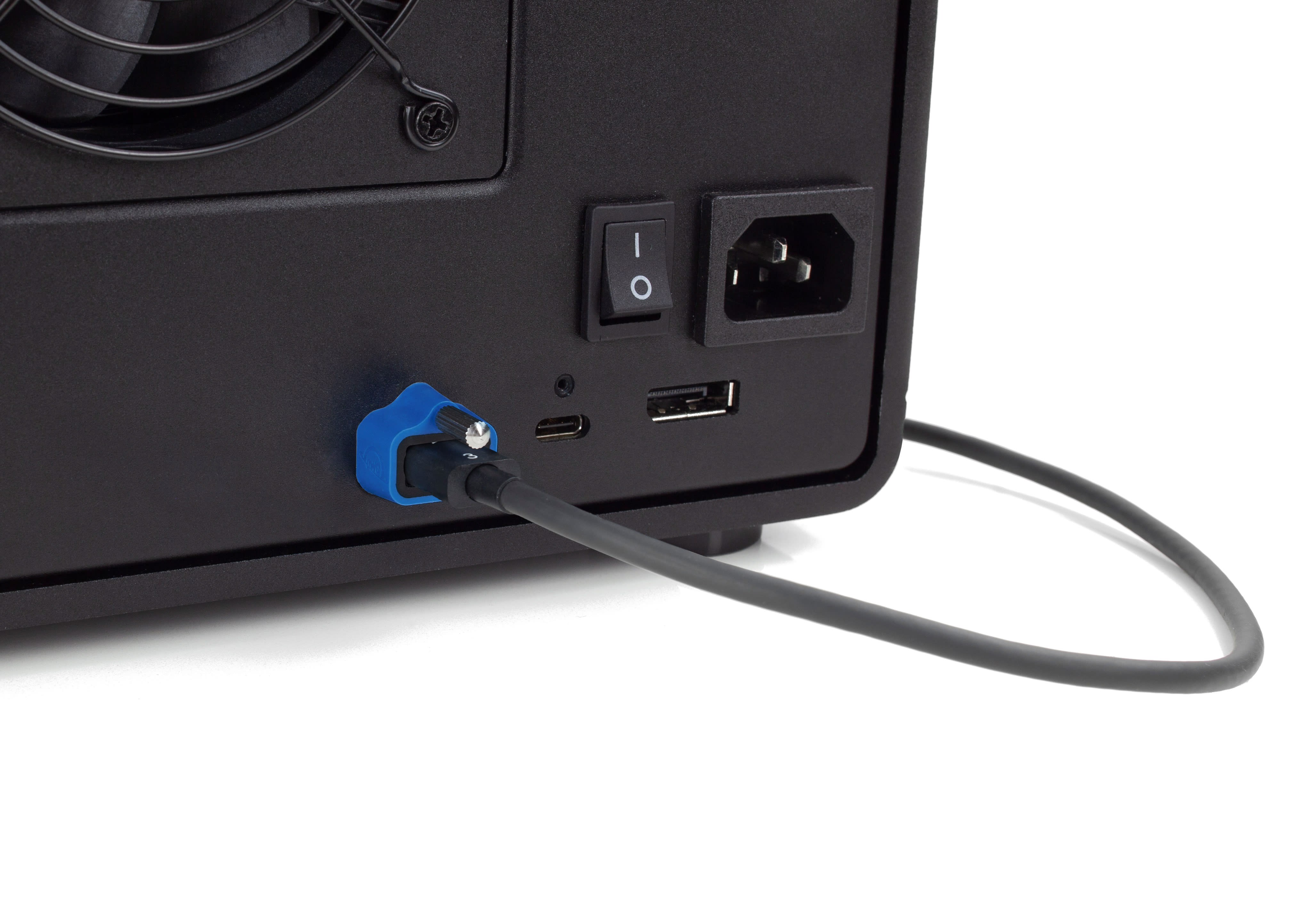 Stabilize Thunderbolt and USB-C Cables with OWC ClingOn
Active workspaces expose gear to bumps, shoves, or even the random tail wag from a pet. OWC ClingOn custom cable stabilizers (sold separately) screw into the OWC ThunderBay's housing to reduce – if not completely eliminate – cable strain on Thunderbolt and USB-C connections so you can work with confidence even in the highest traffic environments.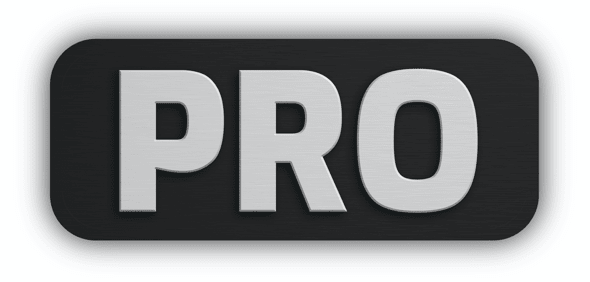 Professional Grade = Ready to Work
We understand having confidence in gear reliability is paramount to creative professionals. That's why every ThunderBay undergoes OWC's multi-hour "burn-in" performance certification prior to shipping. This ensures your ThunderBay arrives operating properly and immediately ready for demanding use.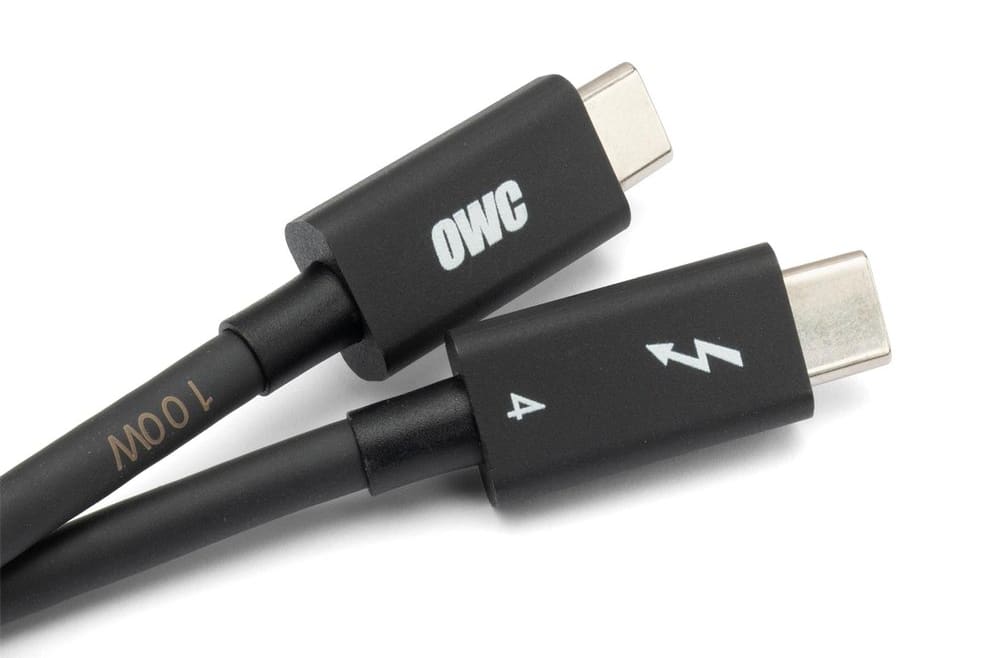 OWC Thunderbolt Cable Included
OWC ThunderBay solutions come with a certified 0.7M OWC Thunderbolt (USB-C) Cable. But if your workflow demands a different length to make the connection, OWC Thunderbolt (USB-C) Cables are the perfect choice.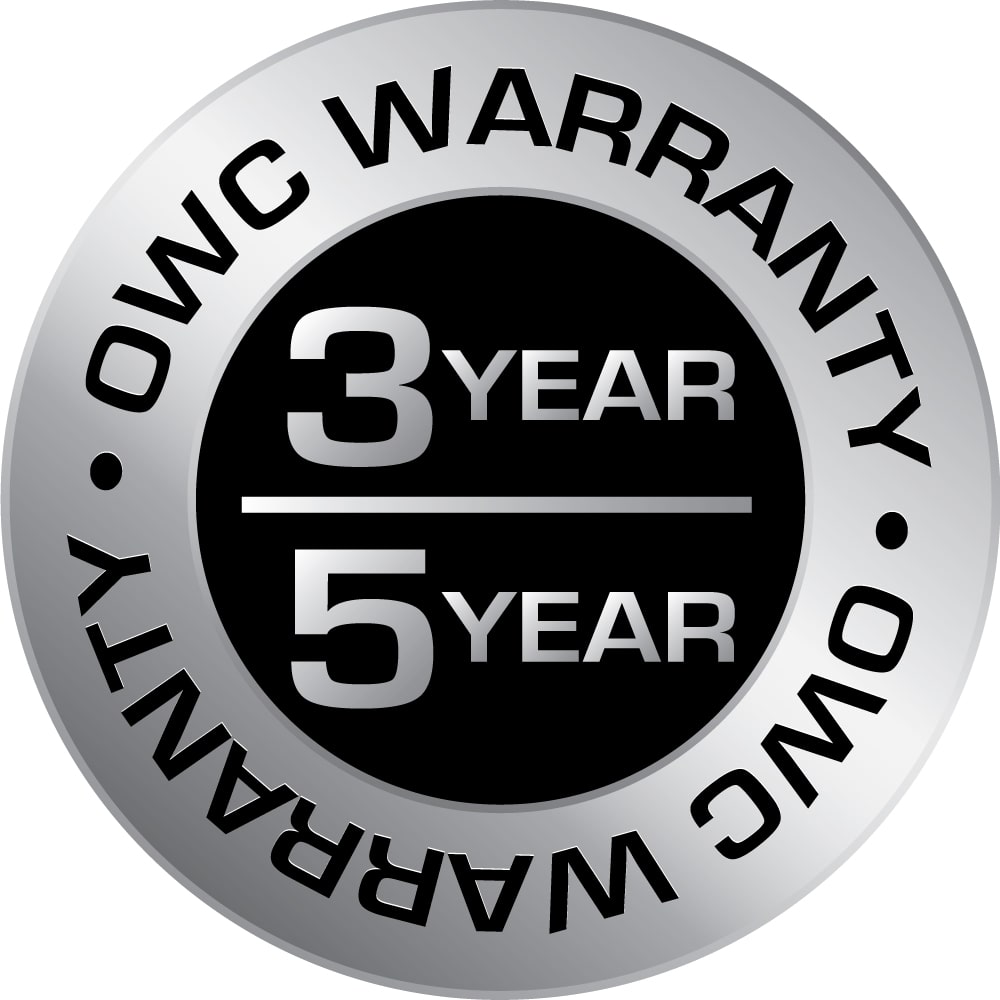 OWC, Trusted by Pros & Enthusiasts the World Over
We build our hardware to the highest standards of reliability and performance. Because 100% reliability is always the goal, we rigorously quality test and back our hardware with up to a 5 Year OWC Limited Warranty and award-winning customer support.
Learn More
Sequential read/write performance with 8 x 2.0TB Mercury Extreme Pro 6G SSD in RAID 0 connected to iMac Pro Late 2017 (iMacPro1,1) with 32GB RAM and 3.2GHz processor running AJA System Test (4K-Full resolution, 64GB file size, 10bit RGB codec, single file test).
Thunderbolt 2/Thunderbolt compatibility requires a certified Thunderbolt 3 (USB-C) to Thunderbolt 2 (mDP) adapter and a Thunderbolt 2 cable (available separately). This configuration provides data transfer at up to 20Gb/s but does not support notebook charging.
0GB ThunderBay 8 kits include a 1 Year Warranty; All solutions 16TB and higher (all ThunderBay 8 models with drive capacity included) include a 5 Year Warranty.