Thunderbolt Drives
Harness the phenomenal performance of Thunderbolt with high-capacity and hyper-fast portable and desktop solutions.
Looking for Thunderbolt enclosures?
Shop now »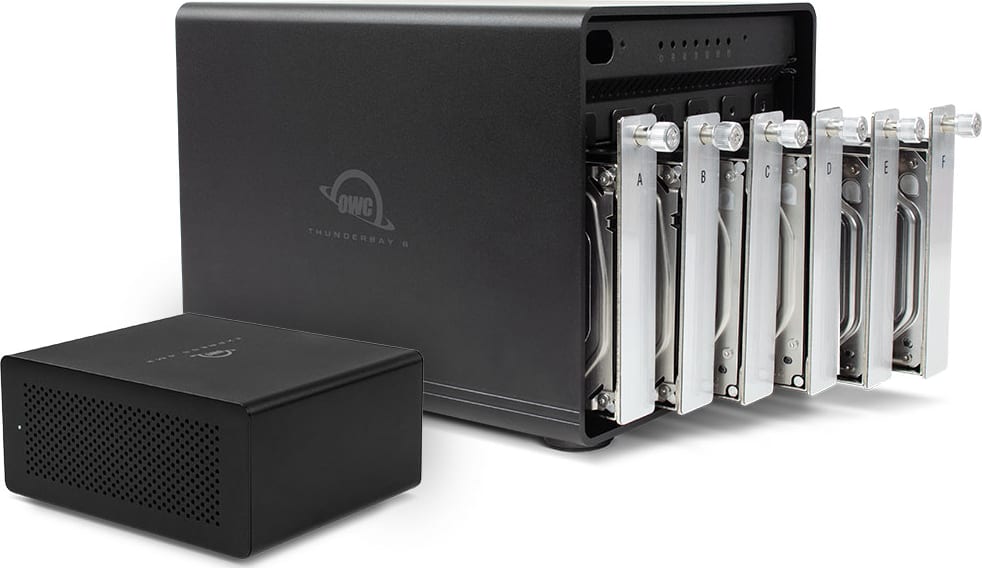 Thunderbolt External Drives
Thunderbolt external drives are the fastest external hard drives available for Macs and PCs. They're ideal for video editors and photographers that need to store massive amounts of footage and access it very quickly. These drives can deliver super-fast data transfer speeds up to 40Gbps and handle video files using the same cord. If you need hyper-fast transfer speeds, look no further than a Thunderbolt external SSD from OWC.
Advantages of Thunderbolt drives
Thunderbolt 3 and Thunderbolt 4 drives feature data transfer speeds up to 40Gbps (gigabytes per second)
Thunderbolt 3 and 4 transfer speeds are 8x faster than USB 3.0
Edit and transfer large files in seconds
The quickest way to backup your Mac via Apple Time Machine
Supports the most video bandwidth via a single cable
Allows you to enjoy higher video bandwidth when using multiple 4K displays (Thunderbolt 4)
You can daisy chain multiple hard drives together
Desktop or portable options are available
How to Pick the Best Thunderbolt External SSD
Since solid state drives have no moving parts, they're often more reliable and durable than spinning hard disks. For some, picking the right external hard drive can be a challenge. But if you're a professional photographer, videographer, musician, or someone that requires a super-fast storage solution, the SSD Thunderbolt external hard drive is an excellent option.
There are specific things to look for, such as the type of port your computer has. For example, you'll need to be sure that you can connect a Thunderbolt port external hard drive to your Mac or PC. Fortunately, since 2011, many Macs have included the Thunderbolt interface. And these days (since 2017), most Macs, such as the MacBook Pro, feature Thunderbolt 3 ports. And M2 Macs have Thunderbolt 4 ports built-in.
Additionally, your personal and professional storage needs are important. If you're a professional video editor, photographer, or musician, the sky's the limit on your future media storage requirements. The good news is we carry various Thunderbolt external hard drive options that can help you tame your workflow (up to 144TB!). Whether you're looking for portable or desktop storage solutions, we have what you need.
We have options that support several RAID modes to increase your computer's speed and rest easier if your computer crashes. Plus, many Thunderbolt external hard drive options are Apple Time Machine and Windows File History ready, so it's easier than ever to backup your data.
Need a portable SSD drive with flexible compatibility? How about an SSD Thunderbolt external drive that can plug into both Thunderbolt and USB-equipped Macs and PCs? We have plug-and-play drives that do that and more!
Thunderbolt Hard Drives Deliver the Faster Performance You Need
Ready to upgrade? We have various high-capacity storage solutions, including Thunderbolt SSDs and others. You can connect these drives to many Macs, including Mac Studio, MacBook Pro, and M2 Macs. Do you want to add multiple Thunderbolt drives to your computer? We have you covered! Discover a range of Thunderbolt external storage enclosures that allow you to expand the capacity of your Mac at OWC.
ThunderBay Flex 8
FLEXible 8-Bay Storage + 8-Port Connectivity + PCIe Expansion »