SoundBunny is a nifty and light app that lets you easily control the volume level of each open app independently.

Make Safari loud and Mail quiet, or vice versa. With SoundBunny at your command you can adjust your Mac's volume levels on the fly.

A $9.99 value, yours free when you subscribe to the OWC Hot Deals Blast.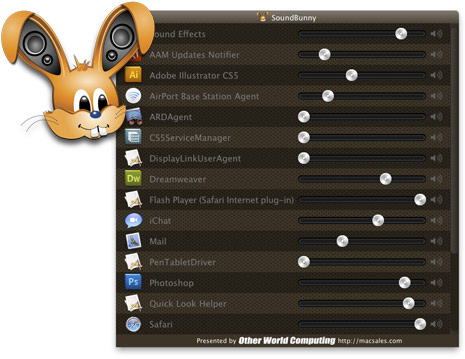 Subscribe to the OWC Blast and get SoundBunny today!
Simply subscribe by filling out this form and you'll receive a link to download SoundBunny.

Within 14-21 days after your subscription confirmation we'll send you a serial number that'll unlock the 30-day SoundBunny demo.

Your e-mail is safe with OWC!
We hate spam too, and we will not share your e-mail address with any third party whatsoever. Period.

Subscribe today!
The OWC Blast is free and SoundBunny is too!