Share your thoughts by writing a review above.
Optical to SATA Drive Converter Bracket Solution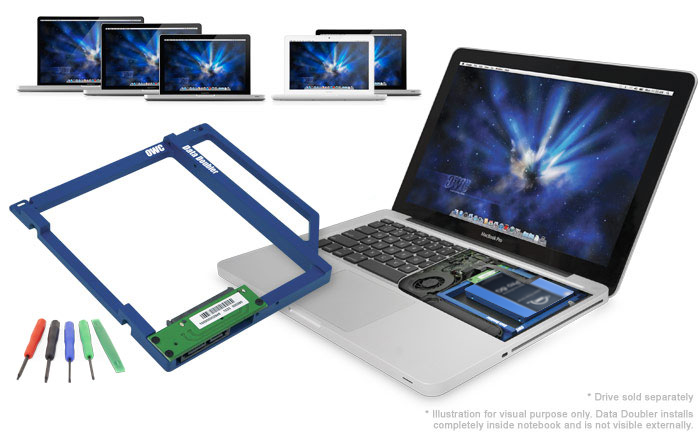 Includes everything needed to replace your optical drive with a second
drive or Solid State Drive
Add up to an additional 1.5TB of internal storage. Add a Solid State Drive (SSD) for near instantaneous boot and app load. Even create a RAID array! Includes bracket, 5 piece toolkit, screws, and detailed installation guide for complete all in one solution.
Configuration flexibility is yours when you replace your MacBook or MacBook Pro's internal SuperDrive with the OWC Data Doubler. This custom engineered blue anodized aluminum bracket with attached PCB circuit board comes ready to mount any 9.5mm tall 2.5" SATA hard disk drive and even Solid State Drives. Then, just install the entire assembly into a MacBook or MacBook Pro 5.25" optical drive bay. OWC Data Doubler makes it easy to custom design how you want your internal storage to perform. Installed drives are recognized like any other high speed SATA storage device and can be setup and partitioned using the Apple Disk Utility Program.
OWC Data Doubler DIY Kits
Everything you need in one package.
Just a few of the configuration options you can enjoy with Data Doubler:
Creating an individual volume with its own desktop icon.
Combining a new drive with the existing internal drive for one larger volume (SPAN).
Combining a new matching drive with existing internal for
high-performance RAID-0 Stripe volume.
Configuring a new drive as a Time Machine® backup drive.
Formatting one drive for the Mac OS and the other dedicated for Windows.
Power Tip

Spin-down hard drives sooner to save battery power.
Running an extra hard drive in your laptop can drain battery power faster than a single drive. But you can tell your Mac to put hard drives to sleep sooner than normal to save power.

This is an advanced tip that requires working in Terminal. For the step-by-step explanation, visit our blog.
NOTE: Apple's DVD Player application only works with an internal optical drive or Apple's external SuperDrive. To play DVDs with your removed optical drive after installing it in an external enclosure such as the OWC SuperSlim, we recommend the free VLC Player, which can be downloaded from http://www.videolan.org/vlc/
This OWC Data Doubler is compatible with...
Specifications:
Supports: SATA / SATA 3G / SATA 6G Interface 2.5" Drive
or SSD (Solid State Drive) of up to 9.5mm (Super Slim) height.
Dimensions: 5"(D) x 5"(W) x 03"(H) (12.7 x 12.7 x 7.6mm)
Weight: 2.4oz. / 0.15lbs.
Product Manual: OWC Data Doubler
Manufacturer provided specifications for Other World Computing p/n DDAMBS0GB UPC#: 718122776276
Includes:
Includes bracket, 5 piece toolkit, screws, and detailed installation guide for complete all in one kit.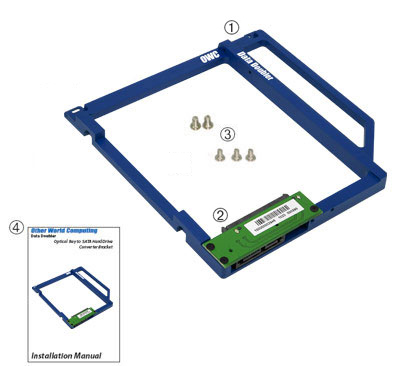 1: OWC Data Doubler Bracket


2: Interposer Board


3: Screws (5pcs, 3 x Phillips #00
2 x Phillips #1)


4: Detailed Installation Guide
with Model Specific Instructions/Step
by Step Photos


5: Toolkit includes everything you need to
open your Mac and install the Data Doubler.


Benchmarks
Click any of the benchmarks below to view the results.
MacBook Pro 2010 Benchmarks
MacBook Pro 2008 Benchmarks