OWC 2.5" to 3.5"
The aluminum OWC 2.5" to 3.5" Drive Adapter Bracket allows you to securely and easily install a 2.5" form factor hard drive or SSD in a 3.5" side mount drive bay.

Just place the drive on the bracket, attach it via the provided drive screws, and then attach the assembly onto a 3.5" drive bay's brackets via the included bracket screws.

Compatible with side mounted bays. Not compatible with front mounted bays like those in the Mac Pro.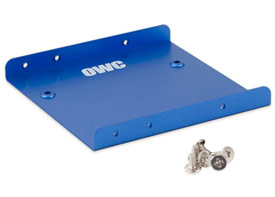 *Drive available separately