OWC Mercury Helios 2
PCIe Thunderbolt Expansion Chassis
Thunderbolt / Thunderbolt 2 / Mac / PC
Use PCIe Expansion Cards with any Thunderbolt Equipped Mac or PC
Helios 2 is the ideal way to access up to two PCIe cards and is perfect for video capturing, video editing, media transcoding, audio processing, ultra-fast networking, data storage, and more via its Thunderbolt interface. Get empowered with the flexibility to upgrade the capabilities of almost any workflow and workstation.
Install Two PCIe Cards + Daisy Chain
Helios 2 supports two half-length (up to 7.75"), full-height, single-width x8 PCIe cards to provide a vast array of expansion options. It also supports the combination of one "single-width" and one "double-width" card for compatibility with cards that utilize a daughter card.
Two PCIe card slots + daughter card support
Two Thunderbolt 2 ports
Thunderbolt daisy-chain six devices plus a display
Thunderbolt Performance Juggernaut
The Helios 2 is the perfect solution to enhance and expand the computing capabilities of any Thunderbolt or Thunderbolt 2 equipped Mac Pro, iMac, Mac mini, Mac laptop, or PC. Utilizing Thunderbolt high-performance technology, Helios 2 is a tour de force that provides the flexibility to use a multitude of PCIe cards with the bandwidth to support their capabilities.
Up to 20Gb/s performance
Perfect for HD/4K video workflows
Perfect for 10Gb/s networking interfaces
Perfect for Pro Audio workflows
Perfect for Ultra-Fast Datasets + Storage
Durable, Cool, and at the Ready
A whisper quiet variable speed fan keeps the inside of the Helios 2's durable aluminum ventilated chassis running cool. It automatically powers on/off with your computer, so it's at the ready whenever you are.
Lock It Up
Let's face it, you have PCIe cards because they serve an important workflow need. Helios 2 comes with a Thunderbolt cable lock that prevents accidental cable pulls from stopping your work in progress — ensuring your PCIe cards and daisy-chained Thunderbolt devices stay connected.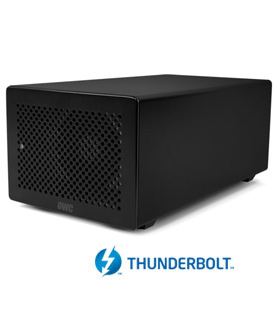 OWC's Step-by-Step Install Video