Stardom
SOHORAID SR2


Two Drive RAID Enclosure
Mac / PC / USB 3.0 / eSATA / RAID 0 / RAID 1
Cost Effective RAID Storage
Now up to 8TB
The SOHORAID SR2 Series is a two drive storage system with RAID 1 or RAID 0 storage option for storing contents in larger scales. It's industrially designed with a durable aluminum exterior finish that's built tough for hard drive protection of the highest grade and high durability for professional content creation applications.

The SOHORAID SR2 features a user-friendly display for system monitoring. Built with an easy to read LCD display for system monitoring, you can easily monitor the status of the system whenever and wherever necessary. During system configuration, the LCD display guides you through the set up process.
Removable Tray Design
Aluminum interchangeable tray module design with anti-shock tray rail and heat dissipation vent. With STARDOM Drive Trays, you can easily expand your storage pool. Each 3.5" STARDOM Drive Tray can fit any other STARDOM product.
All Aluminum Housing
STARDOM External Storage features an all aluminum housing with 3MM thick aluminum which helps to dissipate heat while being at the same time being rugged, stylish & sexy.
Fail Safe RAID Engine
Stardom provides fail-safe and high performance data access to all of your digital contents. 80MB/s via FireWire 800, 120MB/s+ via eSATA, Stardom delivers unmatched performance dual drive RAID systems for digital content creation professionals.
eSATA &USB 3.0
Dual interface connectivity. With eSATA or USB 3.0, the SR2 provides great convenience and flexibility.

RAID Monitoring Made Easy
The front LCD display allows you to monitor your SR2 and indicates information such as drive and fan status, system temperature and allows visual warnings if a malfunction occurs.
Ultra Low Noise Cooling System
Working in a quiet environment is important to both your productivity and creativity. Only low noise ball bearing fans are used in these RAID systems and 3mm thick aluminum housings to keep the hard drives inside running cool.
Product Specifications:
Stardom Part Number
Interfaces Supported
eSATA (SATA Revision 3.0)
USB 3.0 (2.0/1.1 Backwards compatible)
Supported Drive Type
2 x 3.5" SATA HDDs (up to 6Gb/s)
Support large volume up to 4TB
RAID Support
RAID 1 protected
RAID 0 high-speed
Max Data Transfer Rate
USB 3.0 - 500MB/s
USB 2.0 - 60MB/s
USB 1.1 - 1.5MB/s
eSATA ��� Up to 600 MB/sec
System Monitoring
Drive and data rebuilding failures
System temperature
Fan failure
Hard drive failure
Cooling System
OS Requirements
Mac OS X 10.2 or later
Windows XP/Vista or later
Linux
Electrical and Operating Requirements
Line voltage: 100-240V AC
Frequency: 50Hz to 60Hz, single phase
Maximum continuous power: 68W
Operating temperature: 50�� to 95�� F (10�� to 35�� C)
Storage temperature: -4�� to 116�� F (-20�� to 47�� C)
Relative humidity: 5% to 95% noncondensing
Dimensions
Weight
Warranty
Manufacturer provided specifications for Stardom p/n
SR2-SB3 UPC#: 884826503347
Includes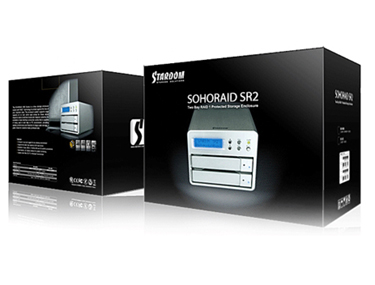 SOHORAID SR2-WSB3
2x Removable drive tray
2x Drive accessory kit
Power cable
eSATA cable
USB 3.0 cable
User manual