OWC Repair Services for Apple iPad 2
Don't throw it away - OWC Can Repair that iPad, We Can Make it like New Again!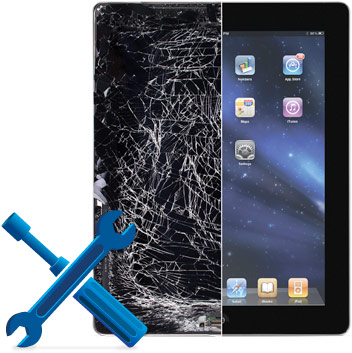 OWC Trust Advantage™

Comprehensive Convenience And Confidence
Having served the Apple community worldwide for 25 years and successfully restored thousands of iPads, we drew upon our experience to create a comprehensive, hassle-free iPad 2 repair program with a fast turnaround.
The program offers you the OWC Trust Advantage: you'll receive the proper care, attention, and honest assessment of the service your damaged iPad requires. No longer will you have to take your chances with a 'bait and up-charge' repair service!
How fast do you need your iPad 2 repaired?
Total time for services using ground delivery will depend upon recipient's shipping distance from OWC's facility in Illinois.
Most Common Repairs Other Available Repairs
All repairs require Glass/Digitizer replacement.
Replace Rear Camera -

$30.00

Replace Power Button -

$50.00

Replace Volume Button -

$50.00

Replace Mute/Rotate Lock Button -

$50.00
Repair Damaged Corners -

$40.00

Battery Replacement -

$100.00

Replace Headphone Jack -

$40.00

Replace Front Camera -

$30.00
Glass/Digitizer Replacement -

$150.00

Glass/Digitizer w/ Damaged Corners Repair -

$190.00
Note: If liquid damage is discovered during the repair or diagnostic process, work will be ceased and the iPad returned in as is condition.
Compare and Save!
Compare OWC's iPad 2 Turnkey Repair Program to Other Services
Competitors
$179.99
N/A
N/A
$106.32
$109.49
$94.00
$94.00
$85.99
$119.66
$107.00
OWC
$150.00
$190.00
$40.00
$100.00
$40.00
$30.00
$30.00
$50.00
$50.00
$50.00
Repair Types
Glass/Digitizer Replacement
Glass/Digitizer & Damaged Corners
Repair Damaged Corners
Battery Replacement
Headphone Jack
Front Camera
Rear Camera
Power Button
Volume Button
Mute/Rotate Lock Button