Mac mini 2011
Upgrade options for

Mac mini 2.3GHz, 2.5GHz or 2.7GHz dual-core Intel Core i5 or quad-core i7
(Mid 2011 with Model Identifier: Macmini5,1 & Macmini5,2)
Mac mini with Snow Leopard Server 2.0GHz quad-core Intel Core i7
(Mid 2011 with Model Identifier: Macmini5,3)




See how more memory can really make the difference!

All Mac mini Intel systems have two user accessible slots and may be updated with one memory module at a time. For the maximum performance benefit possible, two modules of the same size can be installed to enable 128-bit memory addressing. With full qualification to all Apple specifications, OWC Memory is a perfect match for your Apple Mac mini whether adding an entirely new set or a single module to compliment an Apple module already installed.

---

OWC Data Doubler to add 2nd Drive
Complete Kit with Tools makes it easy to add a 2nd Drive inside your Mac mini! only

$27.50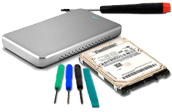 OWC DIY Kits
All "DIY Kits" include - Drive, Bus-Powered Portable Enclosure and Tool Kit. The tool kit enables easy installation of the new drive and data transfer from the original drive. Continue using that drive for additional storage and backup.
View All DIY Kits
Featured Hard Drive & SSD
Upgrades for Mac mini
Don't Just Upgrade your Existing Drive
Now Add a 2nd Drive to your Mac mini for up to 4.0TB Internal!
OWC Data Doubler Kits with all the tools you need + Free, Step by Step video guide
instructions make it easy!
OWC Data Doubler
for all Mac mini Models 2011 to 'Pre-October/2014'
For Model ID: Macmini5,1; Macmini5,2
only $27.50
How to Confirm your Model ID - Click Here

Load Time: 0 seconds, Guest ID: 38727787