Buffalo
DriveStation Mini Thunderbolt™


1.0TB Dual-SSD Drive Solution
Mac / Thunderbolt
Up to 2x faster than USB 3.0 hard drives
Dual SSD RAID storage solution
Buffalo's DriveStation Mini Thunderbolt™ SSD is an easy-to-use, ultra high-performance storage solution featuring two RAID enabled SSDs and dual 10Gb/s Thunderbolt ports. With blazing fast transfer speeds up to 763MB/s, it is up to 4.5x faster than USB 3.0 hard drives and 19x faster than USB 2.0 hard drives. Perfect for any Mac computer with Thunderbolt support, its dual Thunderbolt ports support daisy chaining up to six supported peripherals, offering bidirectional channels for simultaneous data and video transfers without compromising bandwidth.
Ultra Fast SSD
This external storage solution incorporates two high speed SATA Revision 3.0 (6Gb/s) SSDs for superior performance compared to standard hard drives, perfect for photo and video professionals creating large amounts of content.
Revolutionary Thunderbolt
The DriveStation Mini features Thunderbolt technology, raising the bar on how you transfer, store and transport data. It delivers interface speeds up to 10Gb/s, 2X FASTER than USB 3.0, ideal for creative professionals and multimedia enthusiasts. Additionally, you can daisy-chain up to six Thunderbolt devices to maximize the use of a single port on your Mac.
Ideal for Content Creation
The DriveStation Mini also offers extreme performance for creative professionals using content creation programs who require the absolute best transfer performance.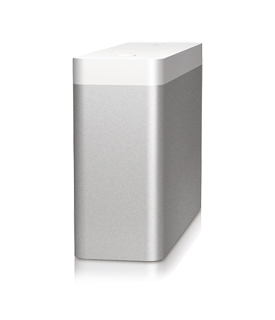 Highlights
Ultra Fast SSD—Data transfer speeds up to 763MB/s
Thunderbolt Technology—Delivering interface speeds up to 10Gb/s
Daisy Chain Devices—Up to six devices from a single Thunderbolt connection
Cable Included—Thunderbolt cable included in box
Daisy Chain Devices
Thunderbolt technology allows users to daisy chain up to six devices from a single Thunderbolt connection on your computer. Daisy chain multiple DriveStation Mini Thunderbolt SSD units for an ultra fast high capacity storage solution, ideal for creative professionals who need reliable high speed access to their work.
Easy to Use Storage
The DriveStation Mini provides a reliable, easy to use storage for your Mac. Quickly expand the capacity of your computer for your favorite music, photos, videos and more. The Thunderbolt interface offers high speed performance and allows users to daisy chain up to six devices.
Automatic Data Protection
In addition, the DriveStation Mini provides users the flexibility to easily maximize capacity or protect their data using RAID redundancy. Supports both RAID 1 and 0 for data redundancy.
Product Specifications:
Buffalo Part Number
Standard Mechanism1
2 x 500GB SATA Revision 3.0 (6Gb/s) SSD
Interface
RAID Support
OS Requirements
Max Interface Data Transfer Rate2
Thunderbolt - 10Gb/s (or 1250MB/s)
Power Supply
AC 100-240V 50/60Hz
Asian Power Devices Inc. DA-48Q12
Power Consumption
Max 24 W (Max 48 W w/ daisy chain)
Dimensions
6.06" x 1.77" x 4.02" (15.39 L x 4.50 W x 10.21 H cm)
Operating Environment
Humidity
20~80% humidity (non-condensing)
Weight
Warranty
Notes:
1GB = 1,000,000,000 bytes. Total accessible capacity varies depending upon operating environment (typically 5-10% less). The actual total capacity will depend on your own defined file settings/preferences.
Speeds shown represent maximum interface connection speeds. Actual device transfer speeds will vary based on hard drive specifications and host devices.
Manufacturer provided specifications for Buffalo p/n SSDWA1.0T UPC#: 747464127217
Includes
DriveStation Mini Thunderbolt SSD
Thunderbolt Cable
AC Adapter
Quick-Setup Guide
Warranty Statement