January 2014
OWC's Austin Creative Headquarters now 'energized' with Solar Power >>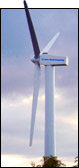 In 2009, Other World Computing took the lead in alternative power use by private enterprise in Illinois when work began to switch to a clean power source that is limitless and plentiful – wind.
The Wind Turbine went online in October, 2009, and can provide up to more than double the current energy requirements of all OWC operations. The surplus power will be sold back to the power grid.
Read more about OWC's wind turbine >>
Learn about OWC's green headquarters >>