OWC Thunderbolt Go Dock
The first full-featured Thunderbolt dock with a built-in power adapter for easy mobility + class-leading connectivity.
Go
Easier
Built-in Power Supply
Transfer Files
Faster
2.5Gb/s Ethernet
Connect
More
vs Bus-Powered Docks
Transform
Tablets
Into Full Computing Platforms
Everything. Everywhere. Easier.
While life is often full of compromises, your dock shouldn't be. You should be able to move your workflow from the desktop to the road easily on short notice without having to choose what device or accessory to leave behind.
Connect everything you want everywhere you call a workspace easily with the OWC Thunderbolt Go Dock. Say goodbye to a heavy, bulky power adapter slowing you down. Or a bus-powered mini dock not having the complete ports you need. Simply plug the power cable of this world's first full-featured Thunderbolt dock with a built-in power supply into a standard outlet in coffee shops, airports, vehicles, video production carts, and more to put 11 ports of connectivity empowerment at your fingertips.
Go Easier
Built-in power supply eliminates heavy power brick hassle while enabling more workflows vs bus-powered docks.
Go Connect
Add all the external storage, multiple displays, and accessories you need with (3) Thunderbolt 4 ports, (3) USB-A ports, and (1) USB-C port.
Go Everything
One dock that works with all your Thunderbolt and USB-C devices.2
Go Faster
Enhance network-based workflows and transfer files up to 2.5x faster than standard 1GbE.
Go Energized
Keep your notebook travel ready with up to 90W charging power.
Go Everywhere
Enjoy mobile connectivity with a rugged, solid aluminum heat-dissipating fanless design.
Go Managed
Rest assured you can keep your devices managed with Go Dock's MDM compatibility.
Go Protected
2 Year OWC Limited Warranty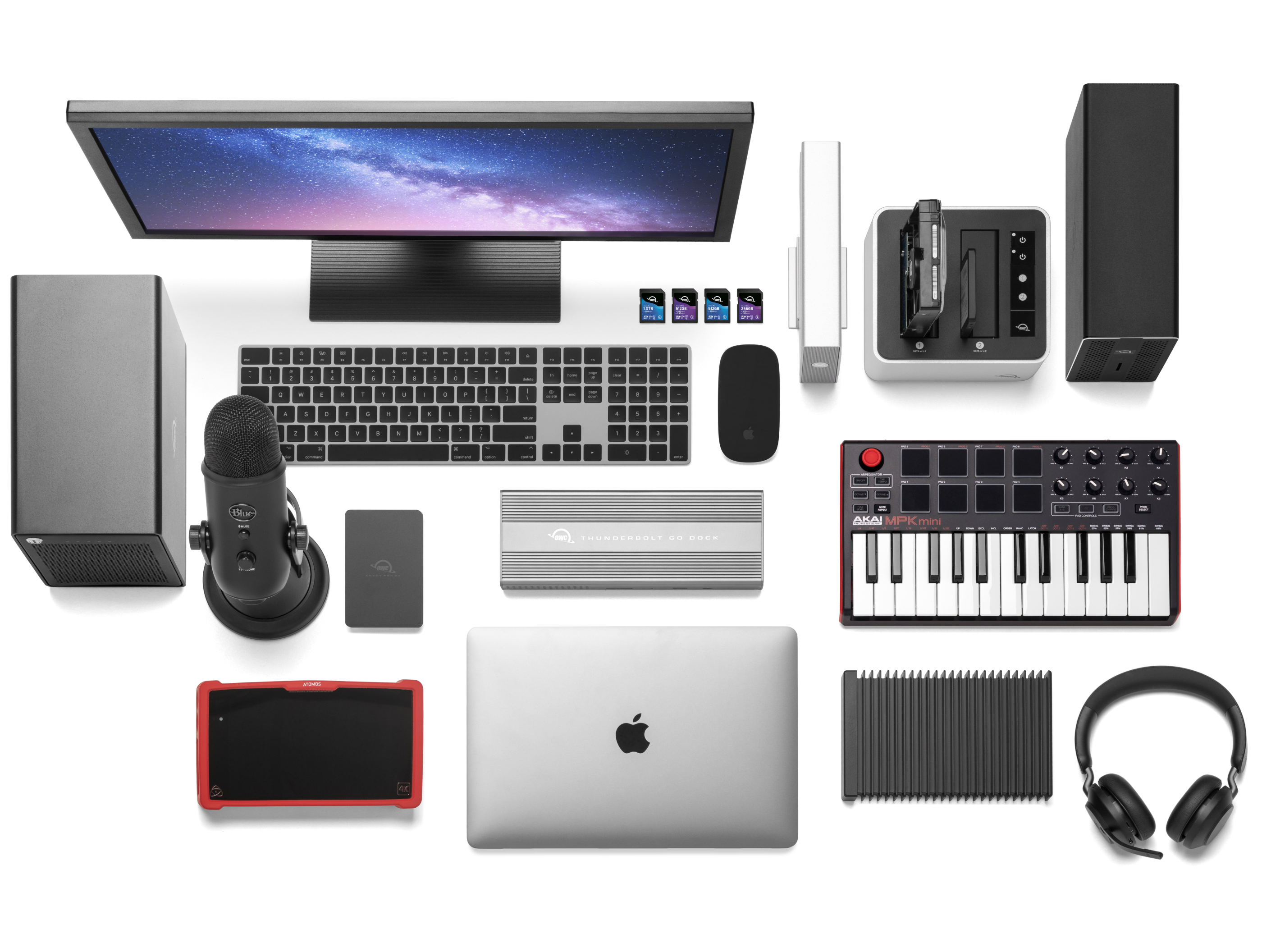 Go Connect It All
Get ahead at work and play by connecting an incredible array of past, present, and future Thunderbolt and USB devices and accessories to the Thunderbolt Go Dock. Tap into high-performance storage capacity including NVMe solutions. Record and livestream with an A/V mixer. Expand your capabilities with a PCIe expansion enclosure. Enjoy the feel of your favorite keyboard and mouse. Nearly any connectivity need you have or want is possible with a diversity of Thunderbolt and USB ports.
Charge your laptop
Connect one 8K / up to two 4K monitors
Connect portable SSD storage
Connect large desktop RAID storage
Add an extra Thunderbolt port
Connect / charge USB drives, accessories and devices
Connect to IP based workflows / wired networks
Connect a digital audio interface
Read + Write SD Cards
Connect two Thunderbolt daisy-chains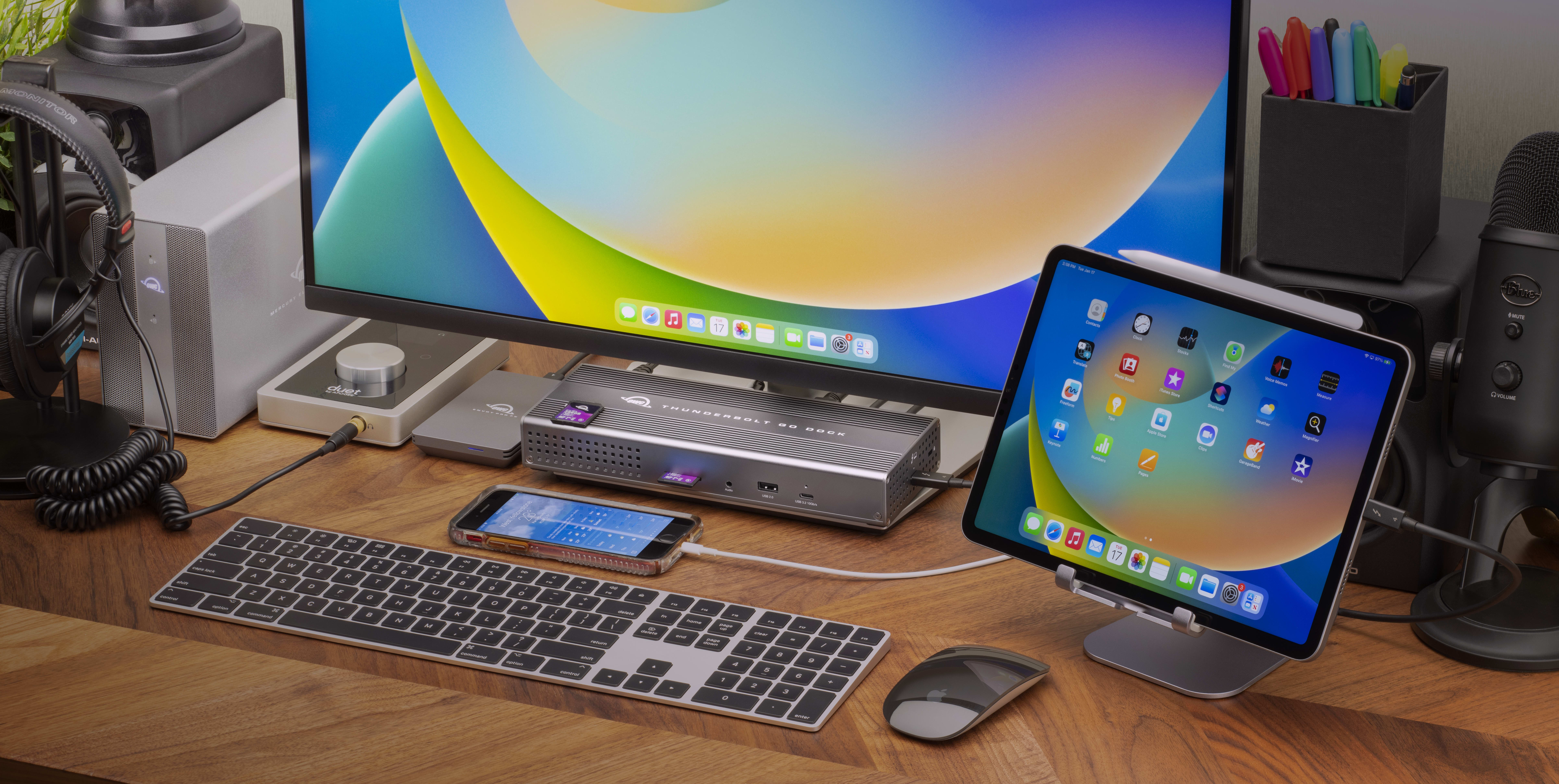 Turn Your Tablet into a Computer
With the Thunderbolt Go Dock, you can turn your tablet into a full computing platform with capabilities that exceed many desktop and notebook computer setups. Now you can transform one port on your tablet into 11 ports so you can read/write SD card media, share files in a blink on a high-speed network, free up your internal storage by offloading to an external drive, and work easier with a larger external display, mouse, and full-sized keyboard. You can even turn your tablet into a desktop video, audio, or podcasting recording and editing setup. The possibilities of how you can use the Thunderbolt Go Dock to redefine your tablet computing experience are nearly limitless.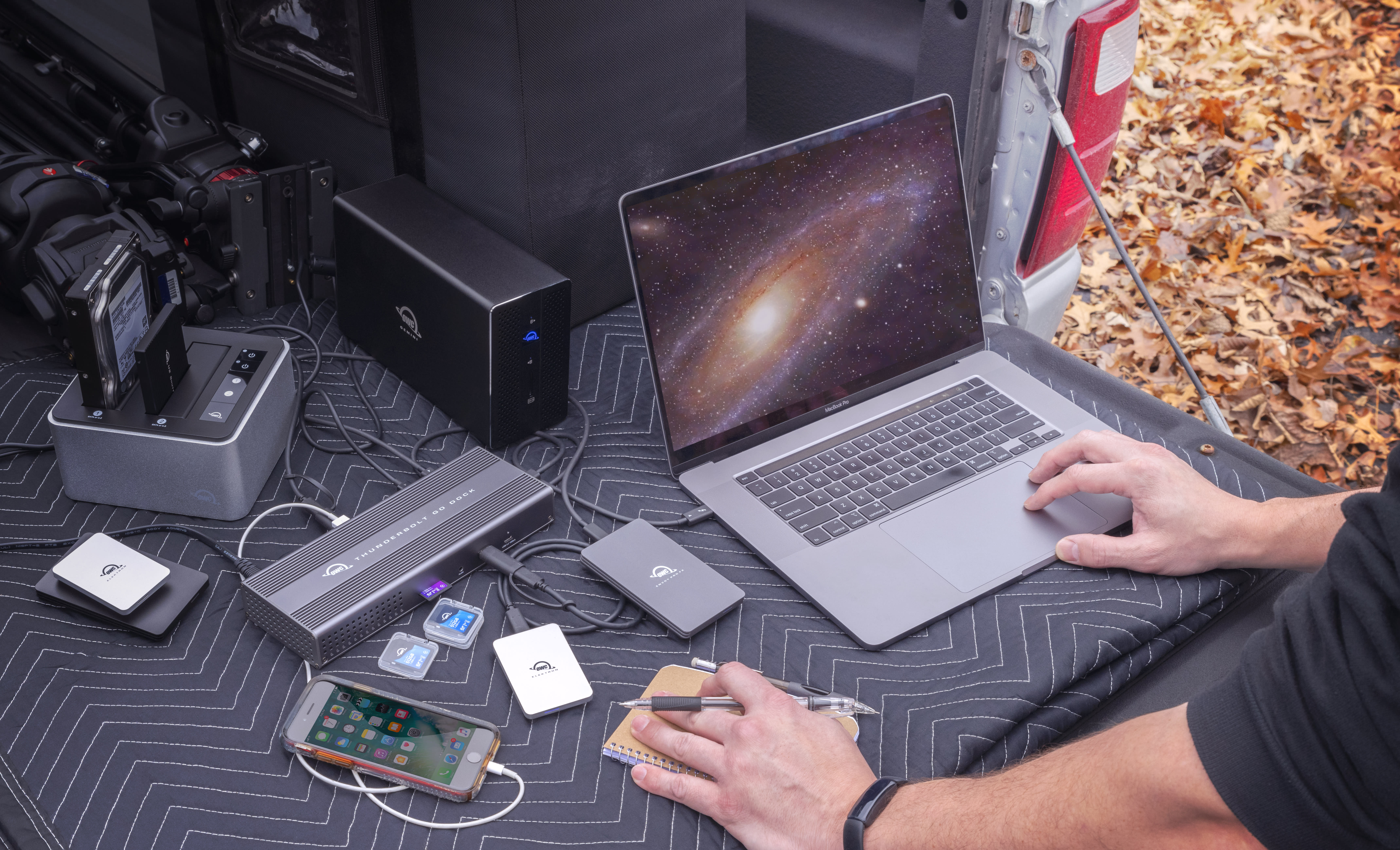 When Mobile Is Better Than Portable
You want to connect it all and have it all work flawlessly. While bus-powered portable docks are great for most common uses, they can only provide so much power from the host computer. When you want to push your abilities to the max, the mobile ready Thunderbolt Go Dock's built-in power supply gives you the juice you need. And it lets you take a fabulous diversity of connectivity anywhere easier by eliminating the need to carry around a pain-in-the-neck/shoulder/back power brick.

A Multi-Connectivity Solution for Millions
It's a hassle trying to figure out or remember what interface your gear and computer has so you can use it all with a dock. Whether you have a Thunderbolt or USB-C Mac, PC, iPad, Chromebook, or Android device, the Thunderbolt Go Dock's host port utilizes a USB-C connector to give you a multi-connectivity solution for millions of past, present, and future (yes even USB4!) computers and devices.1,2

A Resolutionary Idea
As a digital nomad, hybrid employee, or creative production pro, you need to be able to expand your notebook's single display – imagine…TWO 4K displays! - for maximum productivity at a temporary work location. With the Thunderbolt Go Dock's Thunderbolt technology and HDMI 2.1 port with full HDR, you can view more detail and make edits easier on up to an 8K display. Edit large format video on one 4K display while previewing the raw playback on a second 4K display. Whatever your workstation display needs, the Thunderbolt Go Dock gives you the vision to go to a higher level.3
Whether your computer or tablet is sporting the latest technology or is a few years loved, the OWC Thunderbolt Go Dock gives you multiple options to expand your visual horizons:
Single and Dual Display Support
4K @ 30Hz

4K @ 60Hz

Dual 4K @ 60Hz

5K @ 60Hz
(Apple Studio Display or LG Ultrafine 5K)

Dual 5K @ 60Hz
(Apple Studio Display)

6K @ 60Hz
(Apple Pro XDR)

Dual 6K @ 60Hz
Apple Pro XDR

8K @ 60Hz
| | | | | | | | | |
| --- | --- | --- | --- | --- | --- | --- | --- | --- |
| Apple silicon Mac (M1, M2)3 | | | | | | | | |
| Apple silicon Mac (M1 Pro, M1 Max, M1 Ultra, M2 Pro, M2 Max)3 | | | | | | | | |
| Intel Mac with Thunderbolt 33 | | | | see note 1 | | see note 2 | | |
| | | | | | | | | |
| --- | --- | --- | --- | --- | --- | --- | --- | --- |
| iPad Pro or iPad Air with Thunderbolt4 | | | | | | | | |
| iPad Pro with USB-C4 | | | | | | | | |
| iPad Air with USB-C4 | | | | | | | | |
| | | | | | | | | |
| --- | --- | --- | --- | --- | --- | --- | --- | --- |
| Chromebook | | | | | | | | |
| | | | | | | | | |
| --- | --- | --- | --- | --- | --- | --- | --- | --- |
| Windows PC with Thunderbolt 4 | | | | | | | | |
| Windows PC with Thunderbolt 3 / USB45 | | | | | | | | |
| Windows PC with 10Gb/s USB-C (with DisplayPort) | | | | | | | | |
| Windows PC with 5Gb/s USB-C (with DisplayPort) | | | | | | | | |
| Windows Tablet | | | | | | | | |
See Apple Studio Display specs for detailed Mac model support.
See Apple Pro Display XDR specs for detailed Mac model support.
OWC highly recommends that you verify the display support for your specific Mac model:
OWC highly recommends that you verify the display support for your specific iPad model:
OWC recommends that you verify the display support for your PC's Thunderbolt port. Some refresh rates require DisplayPort 1.4 HBR3 and DSC 1.2 support from the display and the host. Not all Thunderbolt ports support DisplayPort 1.4 – some are limited to DisplayPort 1.2, which may reduce refresh rate or resolution support.
Full Performance for Everything Today and Yesterday, Period.
Connect via Thunderbolt to experience the full 40Gb/s bandwidth your computer supports.
Connect via USB-C 10Gb/s (non-Thunderbolt) to experience the full 10Gb/s bandwidth your computer supports.
14 Features. Arriving to a Workstation Near You.
The right dock makes all the difference and OWC designs the best Docks for about every need imaginable! We have over a decade of engineering experience providing the best in ports, reliability, and power delivery today. Whether for on your desktop, or on the road, the right OWC Dock provides you with the ports you need and connectivity you can count on.
A. (3) Thunderbolt 4 (USB-C) up to 40Gb/s (5,000MB/s) + power
Expand the number of Thunderbolt ports you have available to connect more drives, displays, and accessories + charge your laptop with up to 90W of power.
B. (1) USB-C port up to 10Gb/s (1250MB/s)
Take advantage of USB-C drives and devices.5
C. (2) USB-A ports up to 10Gb/s (1250MB/s)
Connect to any USB device from the last 10+ years with ease.
D. (1) USB 2.0 port
Charge all kinds USB devices.
E. (1) 2.5 Gigabit Ethernet port
The fastest Ethernet interface available for Thunderbolt 4.
F. (1) HDMI 2.1 port with full HDR
Connect to displays, TVs, and projectors.
G. (1) SD card slot
Ingest photos and videos in a snap.
H. (1) 3.5mm stereo audio in/out
Connect audio sources, speakers, and headphones.
I. (1) Power plug in
A built-in power supply means a simple power cable provides all the power you need without the need for a bulky power brick.
J. (1) Security Slot
Keep your dock from walking off. Keep it locked, secure, and safe.
K. Built like a tank
The "go anywhere" rugged-design handles your adventures on-the-road, in the office, and at home.


Go Energized
Keep your notebook and tablet ready for mobile use with the Thunderbolt Go Dock's dedicated 90W power delivery Thunderbolt host port. You can also keep devices powered/charging on the other two Thunderbolt and four USB ports. Whether you're taking a break or are done for the day, the Thunderbolt Go Dock continues to power and/or charge connected devices.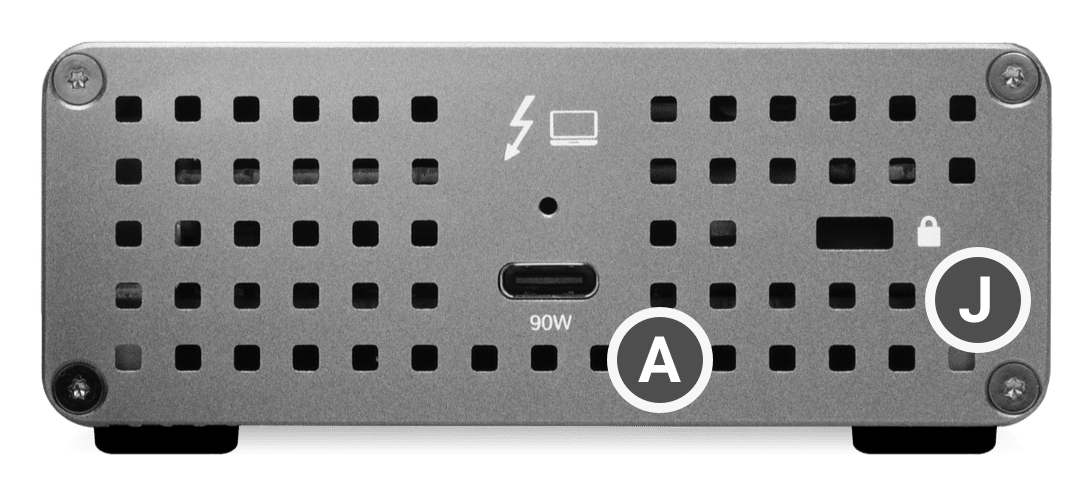 2.5x Faster + MDM
Many of today's computers and tablets either don't provide a network port (ugh…slow low-quality Wi-Fi) or feature the older 1Gb/s standard. Now you can transfer, copy, and/or edit files and work up to 2.5x faster over wired networks and enjoy increased productivity in an IP-based workflow with the Thunderbolt Go Dock's 2.5Gb/s Ethernet port. Or, connect to a NAS for faster data access, backup, and 4K video streaming and editing.4
With MDM compatibility, OWC Docks make Mobile Device Management a breeze. Remote manage Go Dock empowered workstations across your organization. Other docks without MDM just don't cut it.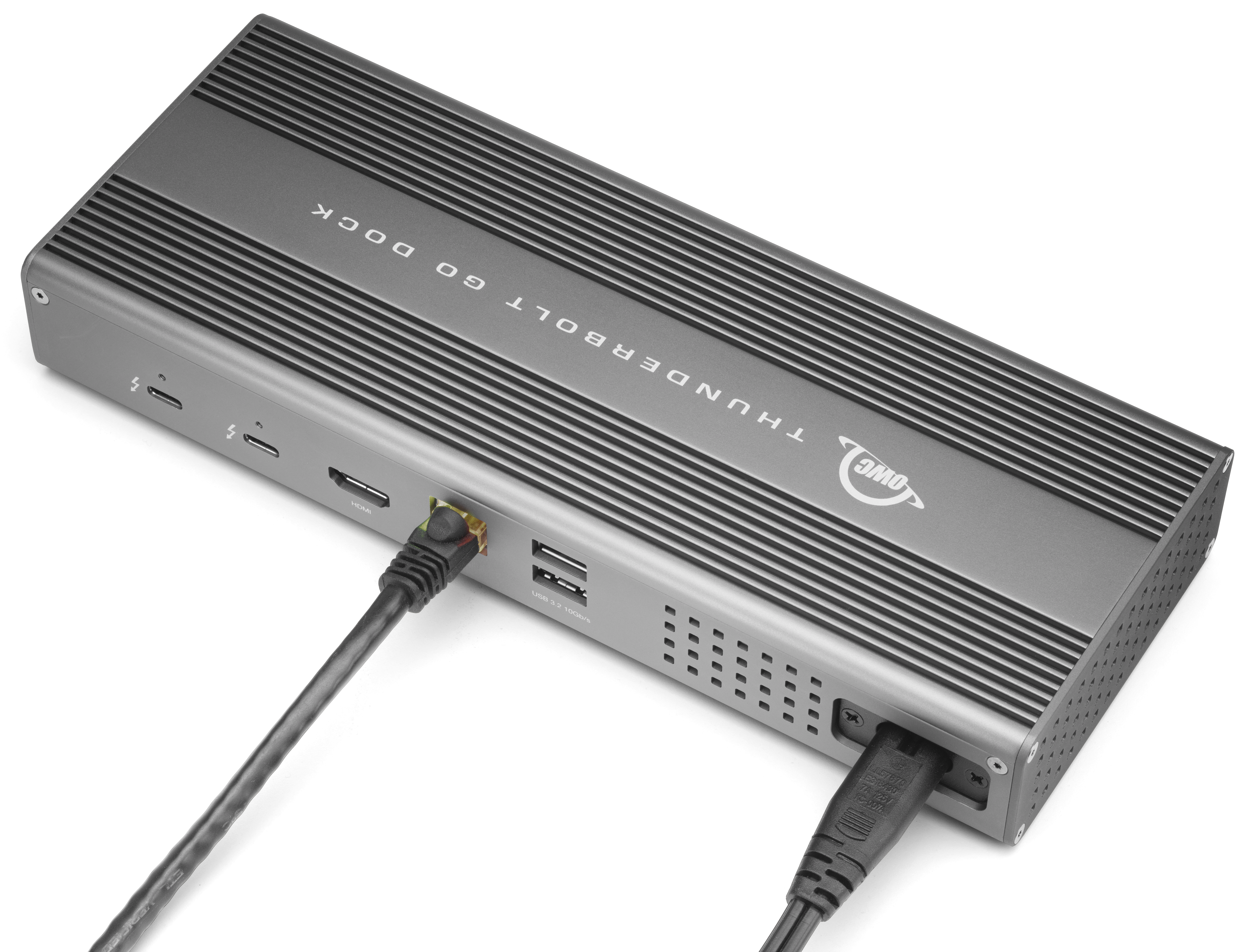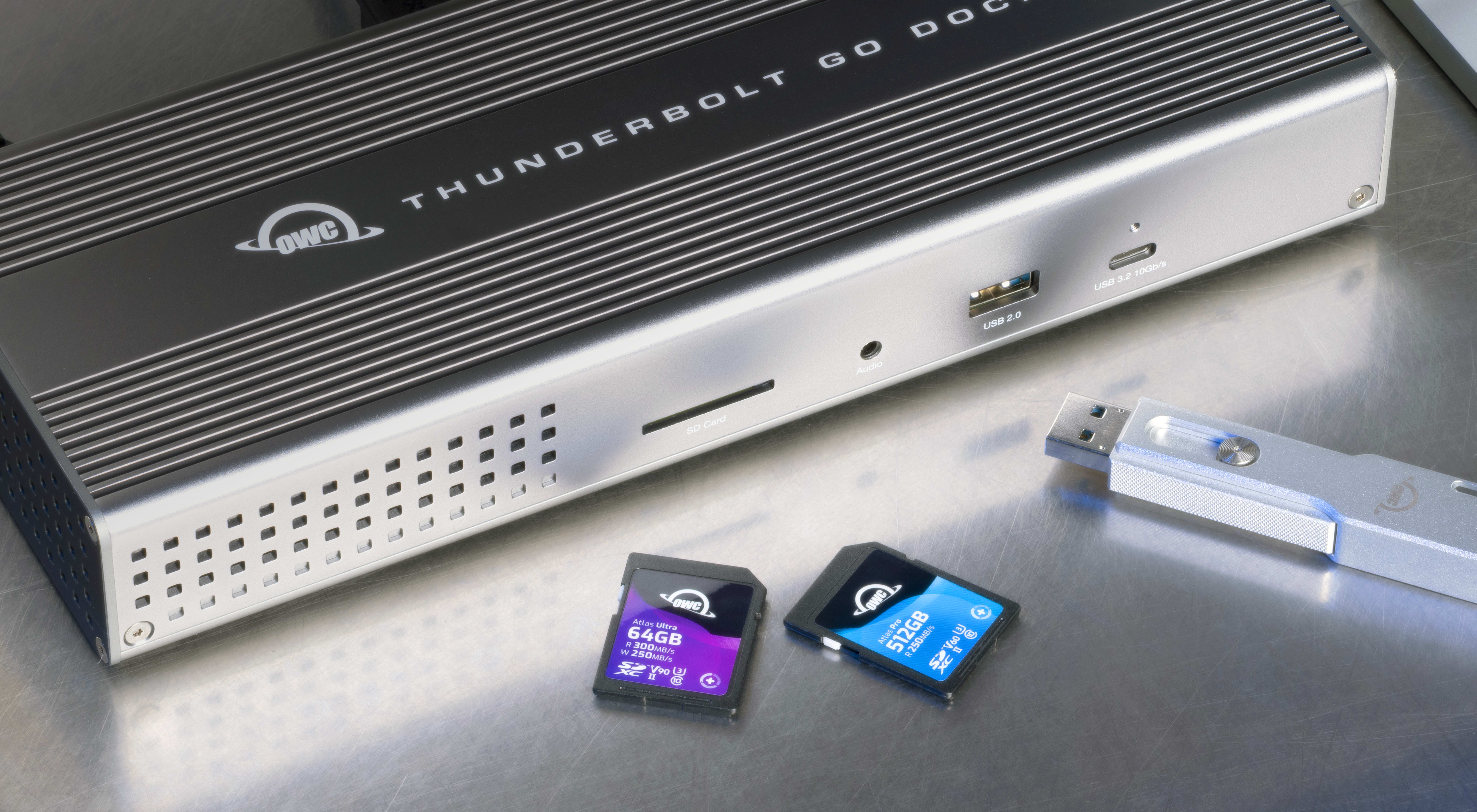 Ingest in a Blink
Another "one less thing to carry" benefit for you is the built-in SD card reader. Video footage and photos are a part of daily life, and the Thunderbolt Go Dock lets you ingest your creative content conveniently fast. You can also use the reader like an external drive and store or backup files at will.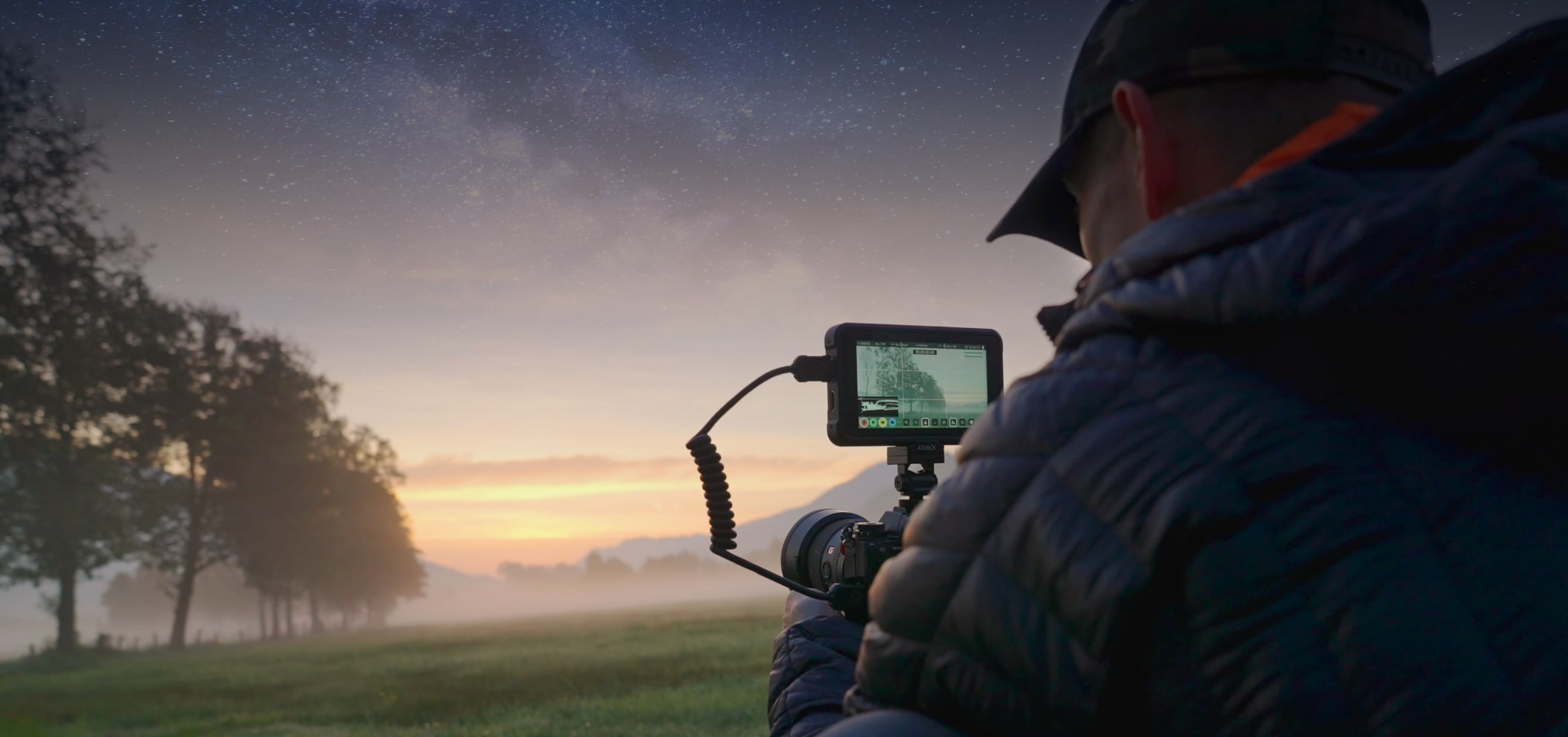 Go Multiple
Transform a single Thunderbolt into dual Thunderbolt ports with the OWC Thunderbolt Go Dock. Take advantage of extra Thunderbolt ports to connect multiple Thunderbolt / USB-C drives, devices and SSDs to experience the fastest speed your devices can deliver. Utilize multiple daisy-chains to connect even more with your Go Dock empowered workflow.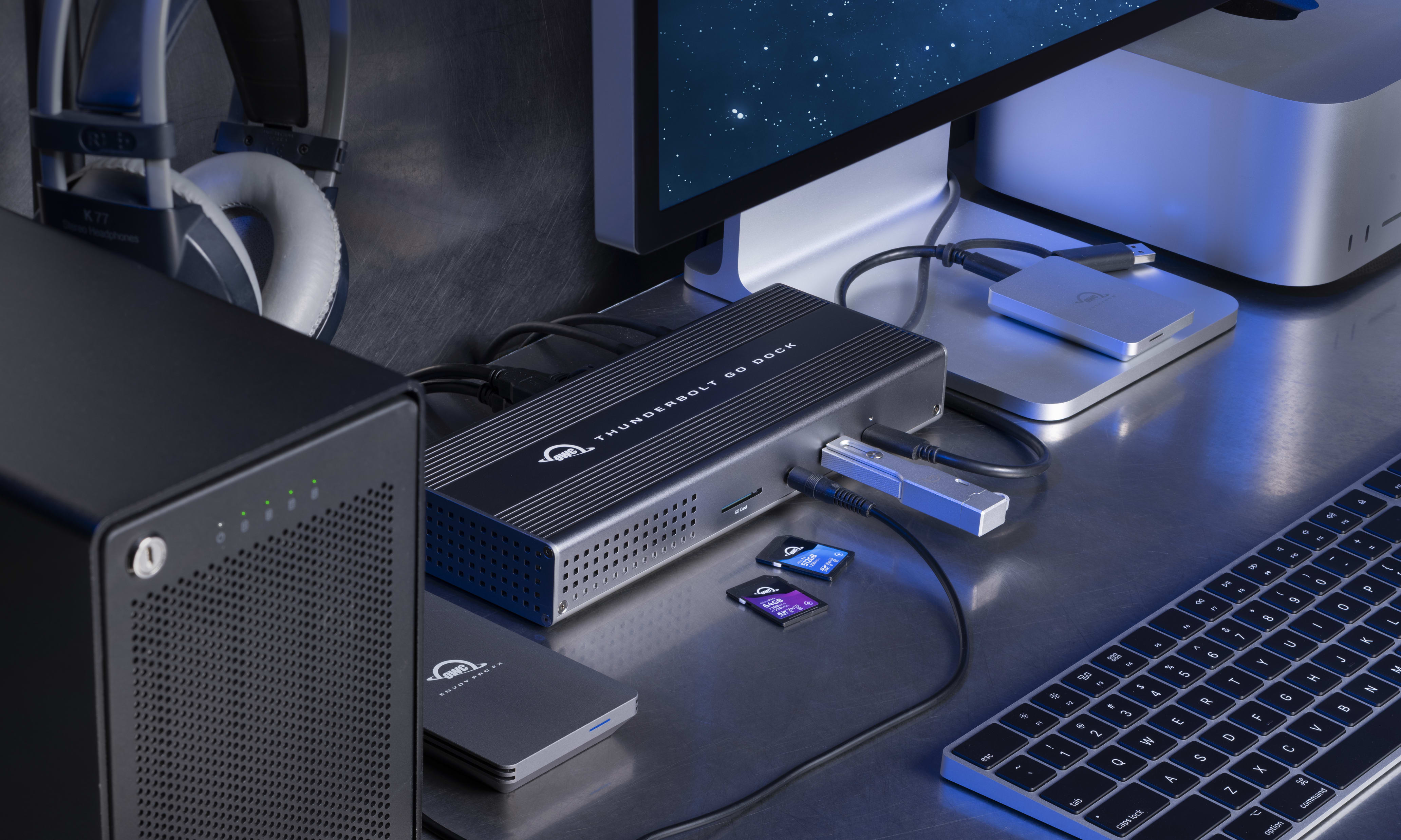 Simply Cleaner & Easier
Having a built-in power supply with your Thunderbolt Go Dock keeps your life simple. With one less power brick in your desktop setup, there's less clutter for cleaner cable management. When mobile with another dock, if you lost its power brick, you are dead in the water. If you happen to misplace the Thunderbolt Go Dock's standard and common 2-prong "figure 8" power cord, you likely already have one you can "borrow" from another device or can easily stop in at a local store for a replacement and keep working.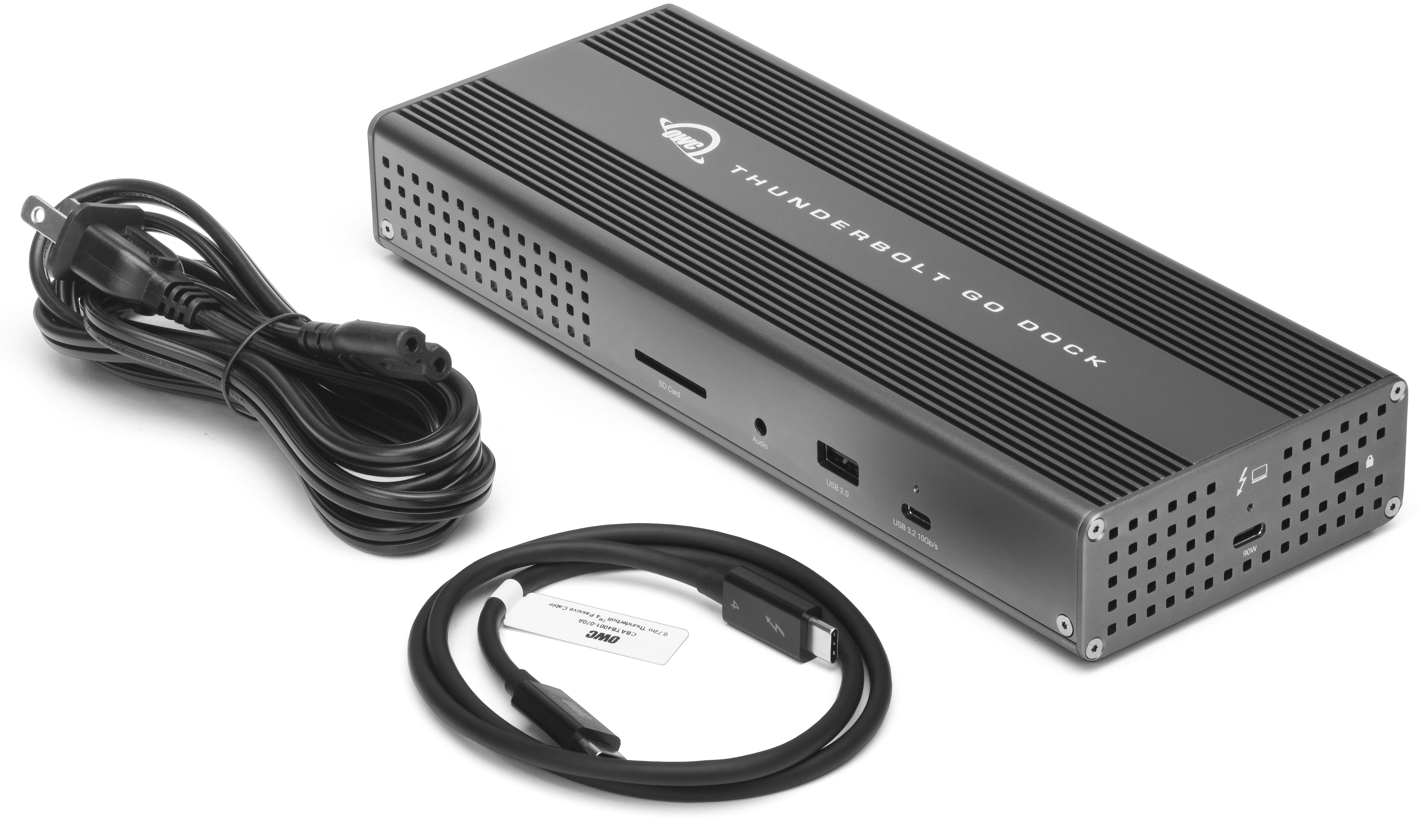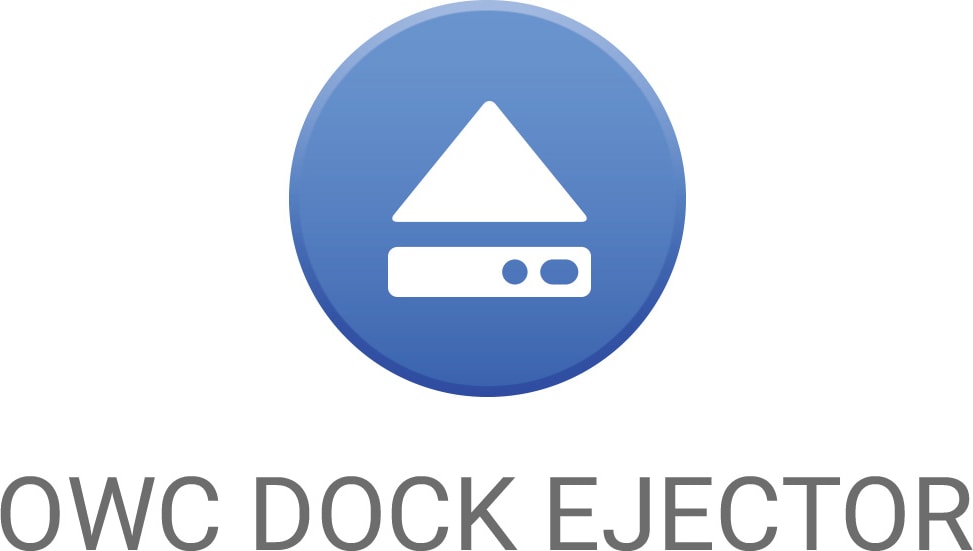 Disconnect in One Click
Safely disconnect multiple drives in a single click. OWC Dock Ejector was designed by OWC hardware and software engineers to ensure all data is written before disconnection, saving time and protecting against data loss. It makes losing your hard-earned work a thing of the past.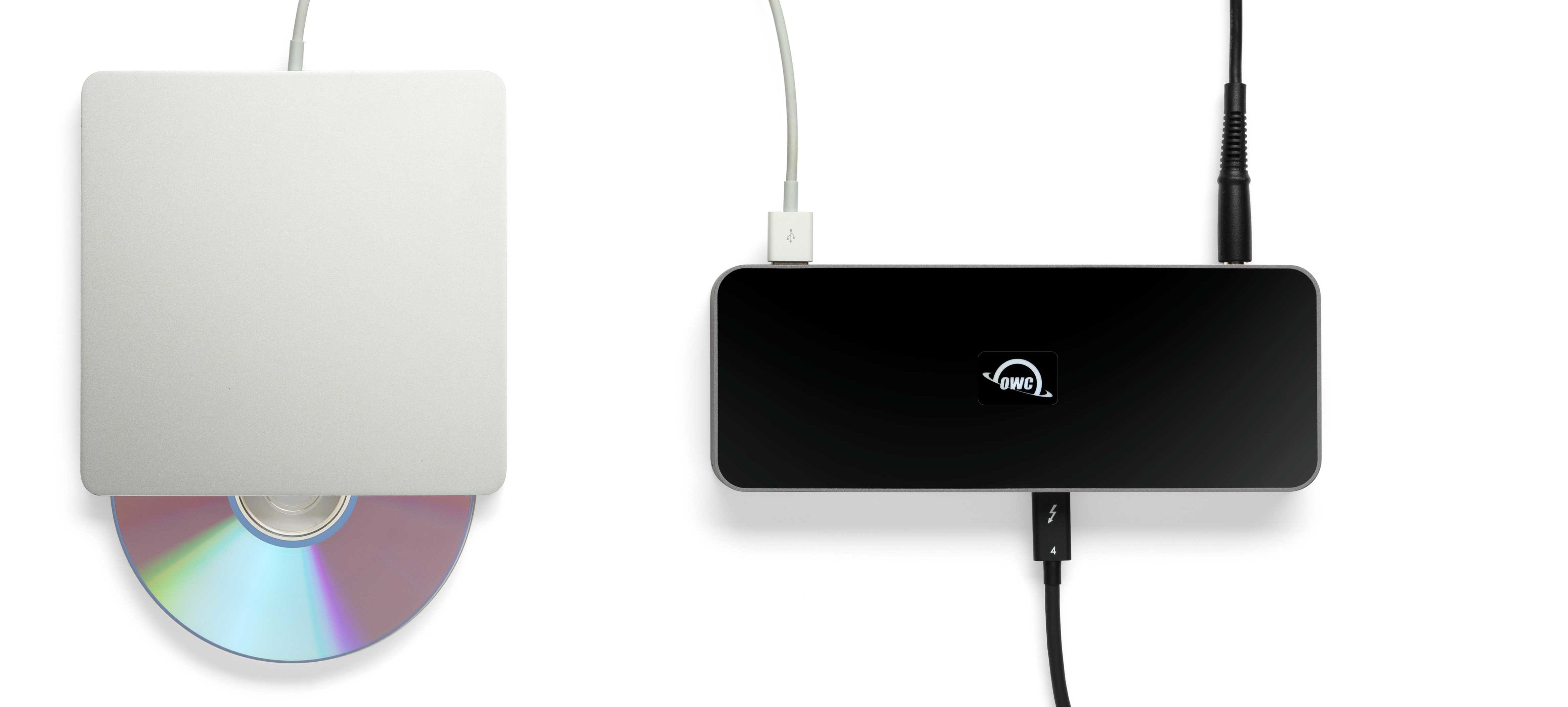 Apple SuperDrive Ready
OWC Dock Ejector software also includes a special driver that enables you to use an Apple SuperDrive with the Thunderbolt Go Dock. Just connect the SuperDrive to an open USB-A port on the dock for bus power to watch a DVD movie, listen to music CDs, create a backup disk, and install software.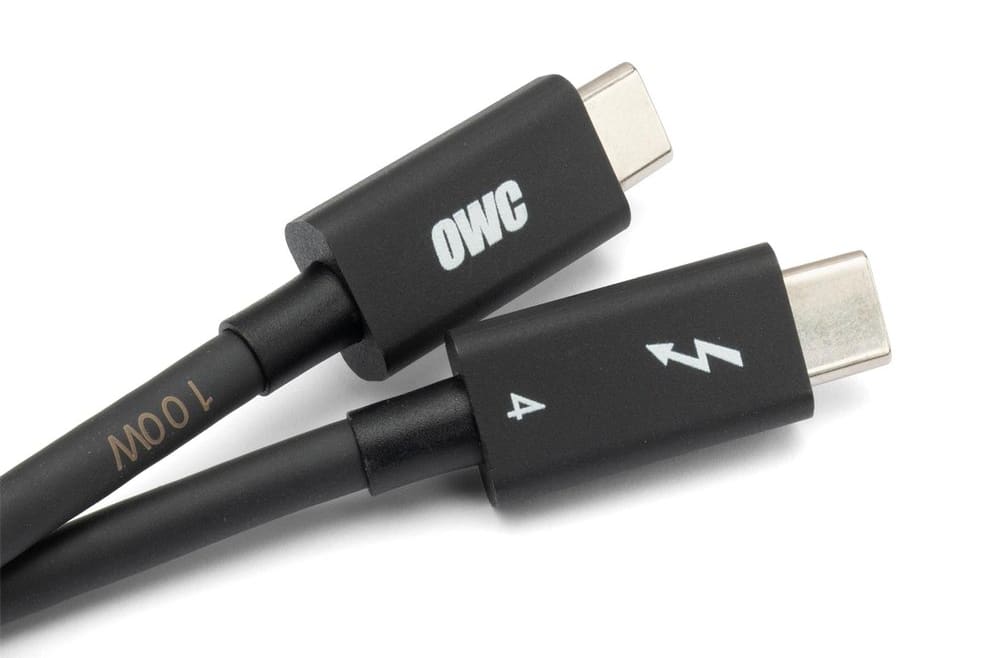 OWC Thunderbolt Cable Included
OWC Thunderbolt Go Dock comes with a certified 0.7M OWC Thunderbolt Cable. But if your workflow demands a different length to make the connection, OWC Thunderbolt (USB-C) Cables are the perfect choice.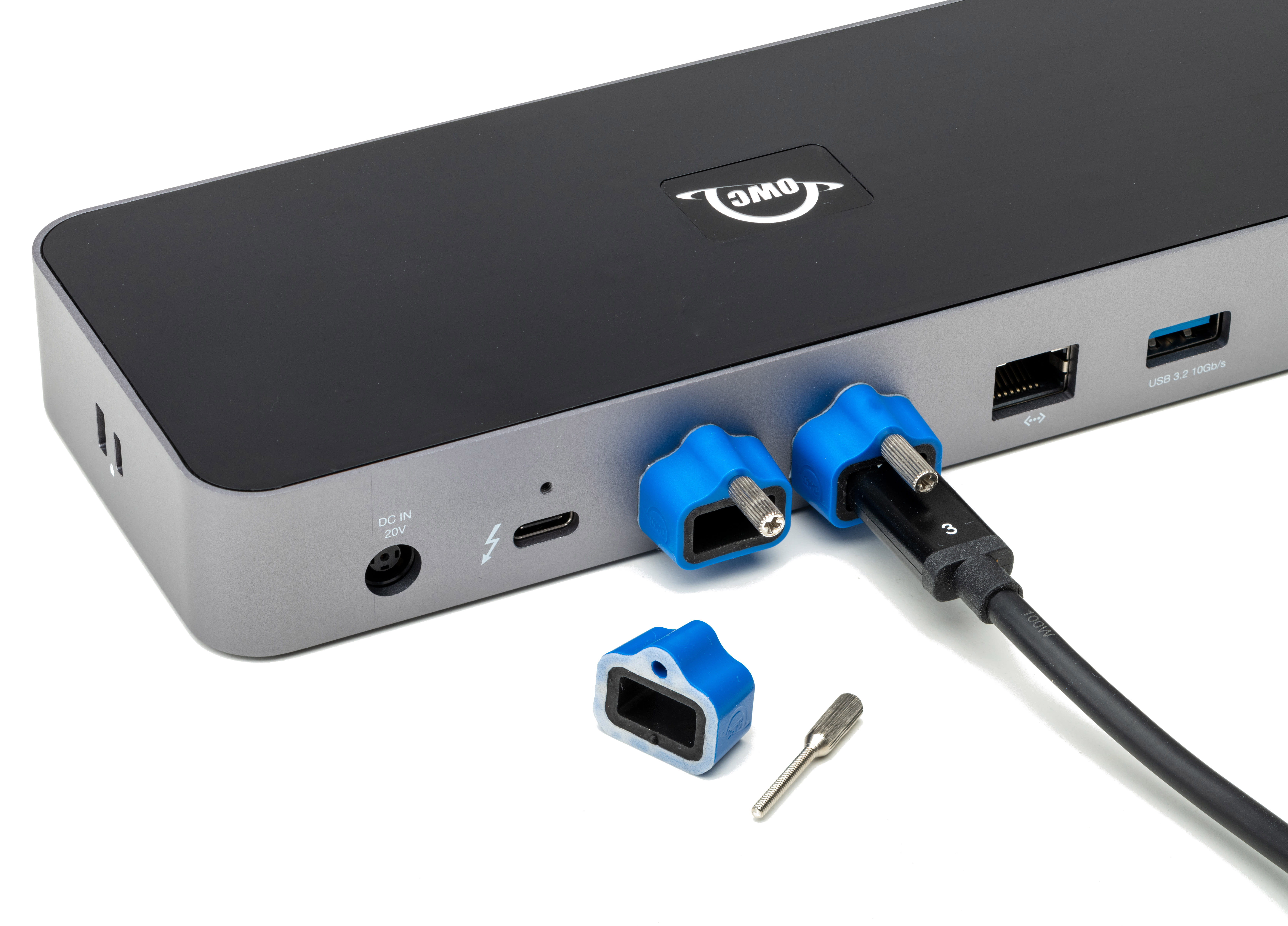 Stabilize Thunderbolt and USB-C Cables
Active workspaces expose gear to bumps, shoves, or even the random tail wag from a pet. OWC ClingOn custom cable stabilizers (available separately) screw into the OWC Dock or OWC Drive housing to reduce – if not completely eliminate – cable strain on Thunderbolt and USB-C connections so you can work with confidence even in the highest foot traffic environments.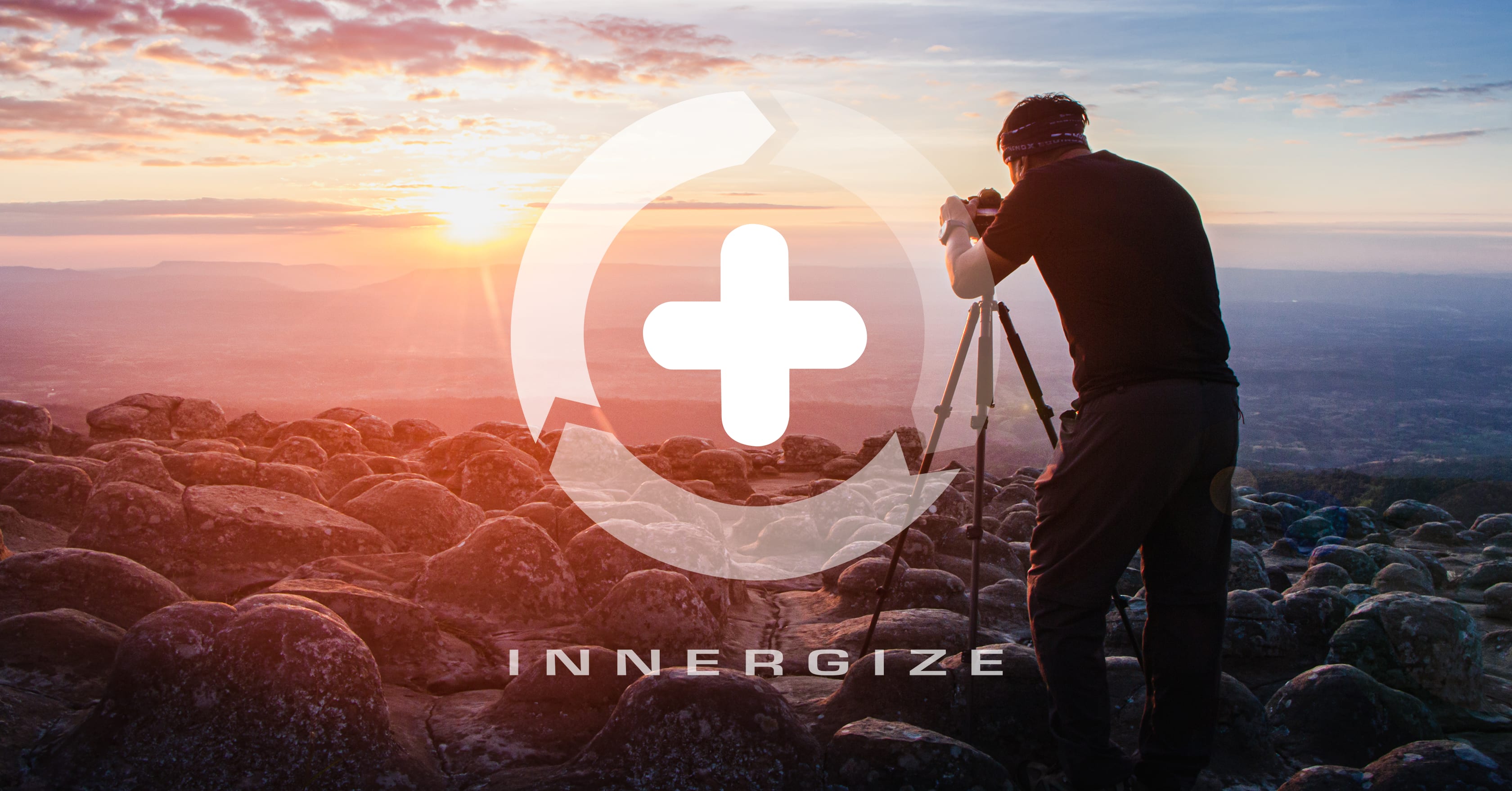 Work with Maximum Confidence and Reliability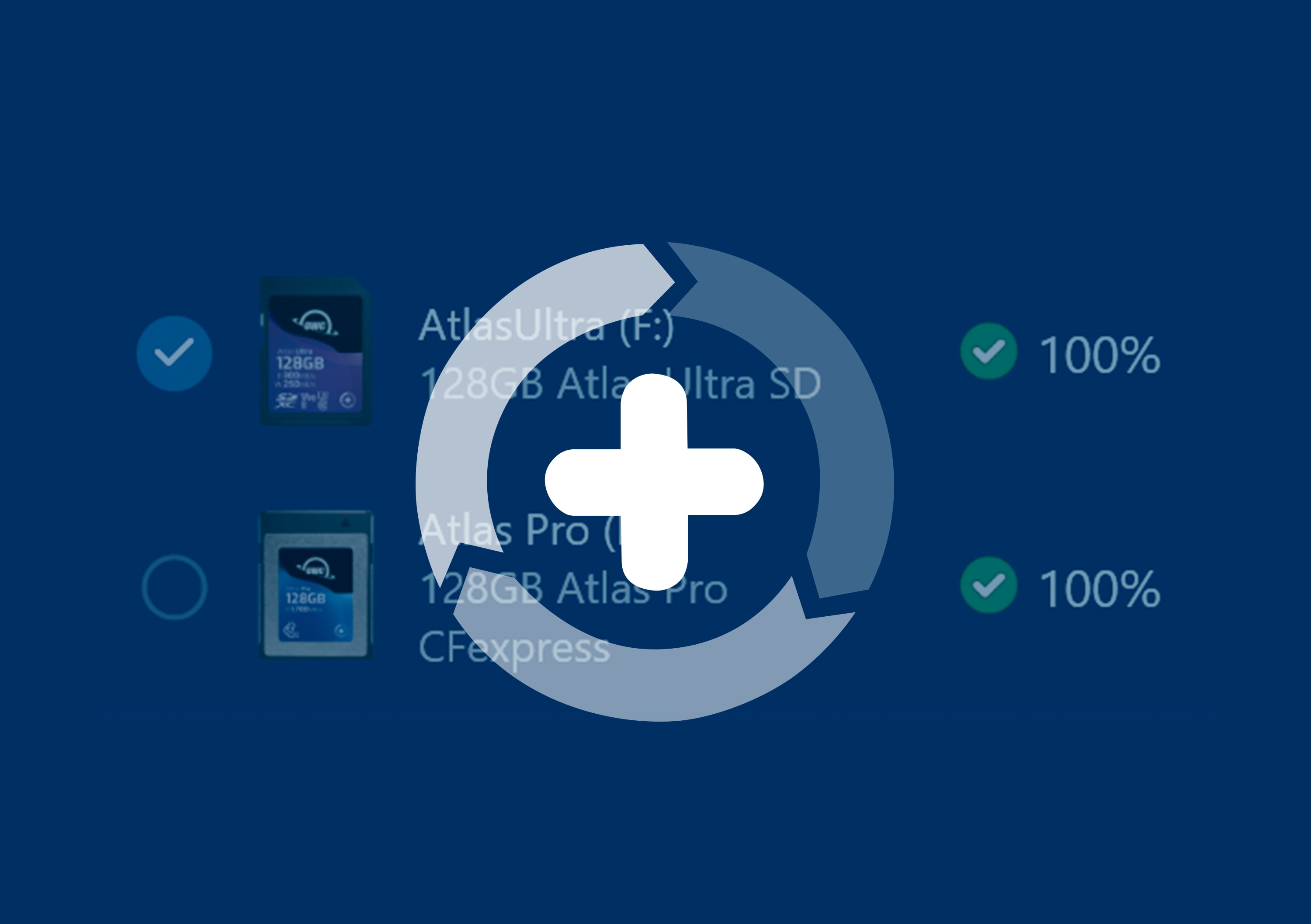 Health
Over time and use cycles, flash memory does wear out. Innergize verifies and reports the percentage of use life remaining. Now you can work with full confidence your OWC flash memory product will deliver the reliability you can trust.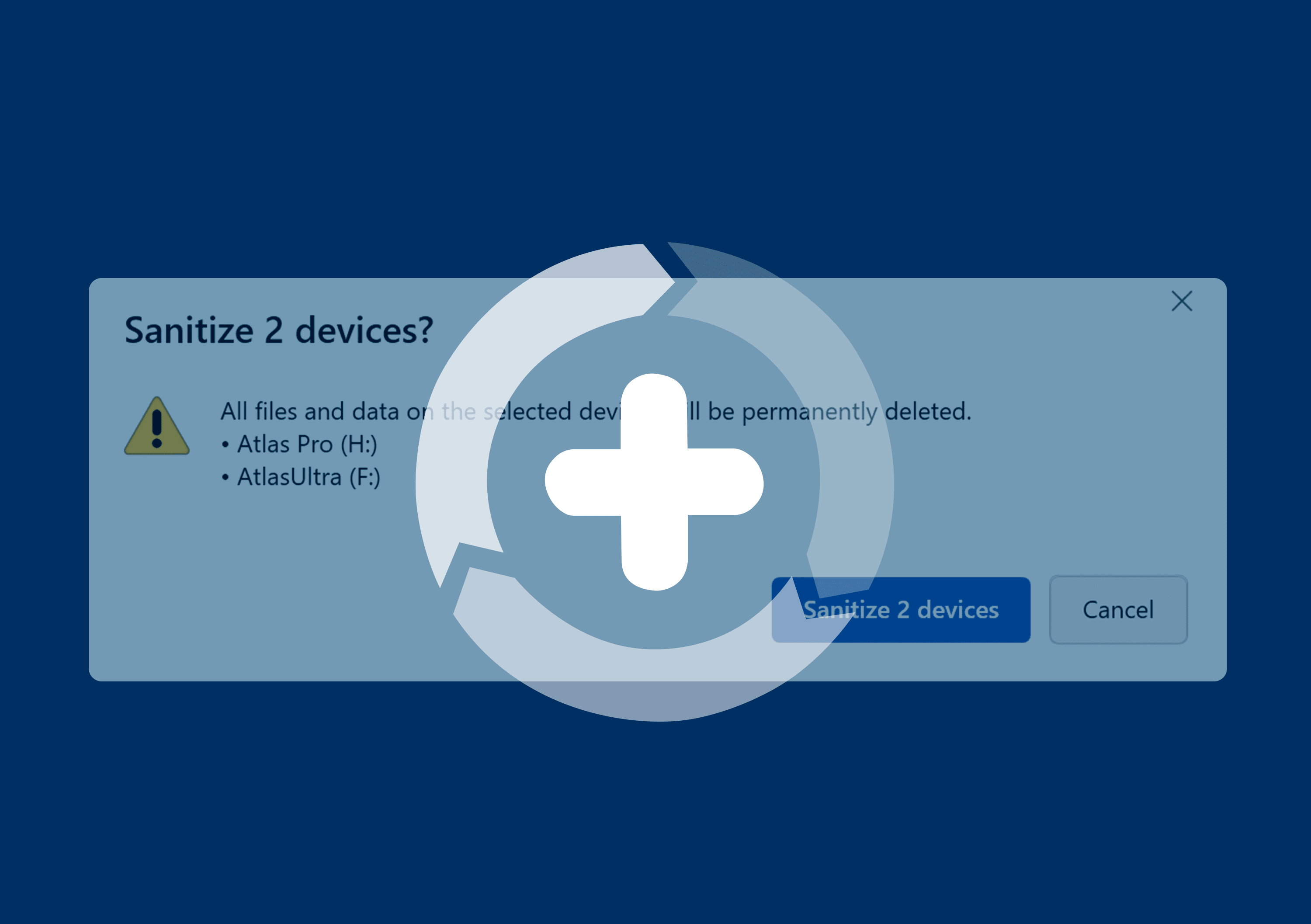 Sanitize
Writes, deletes, and formatting all take their toll on memory cards. Innergize cleans and restores the flash memory performance of OWC memory cards so you can get the best results on every use.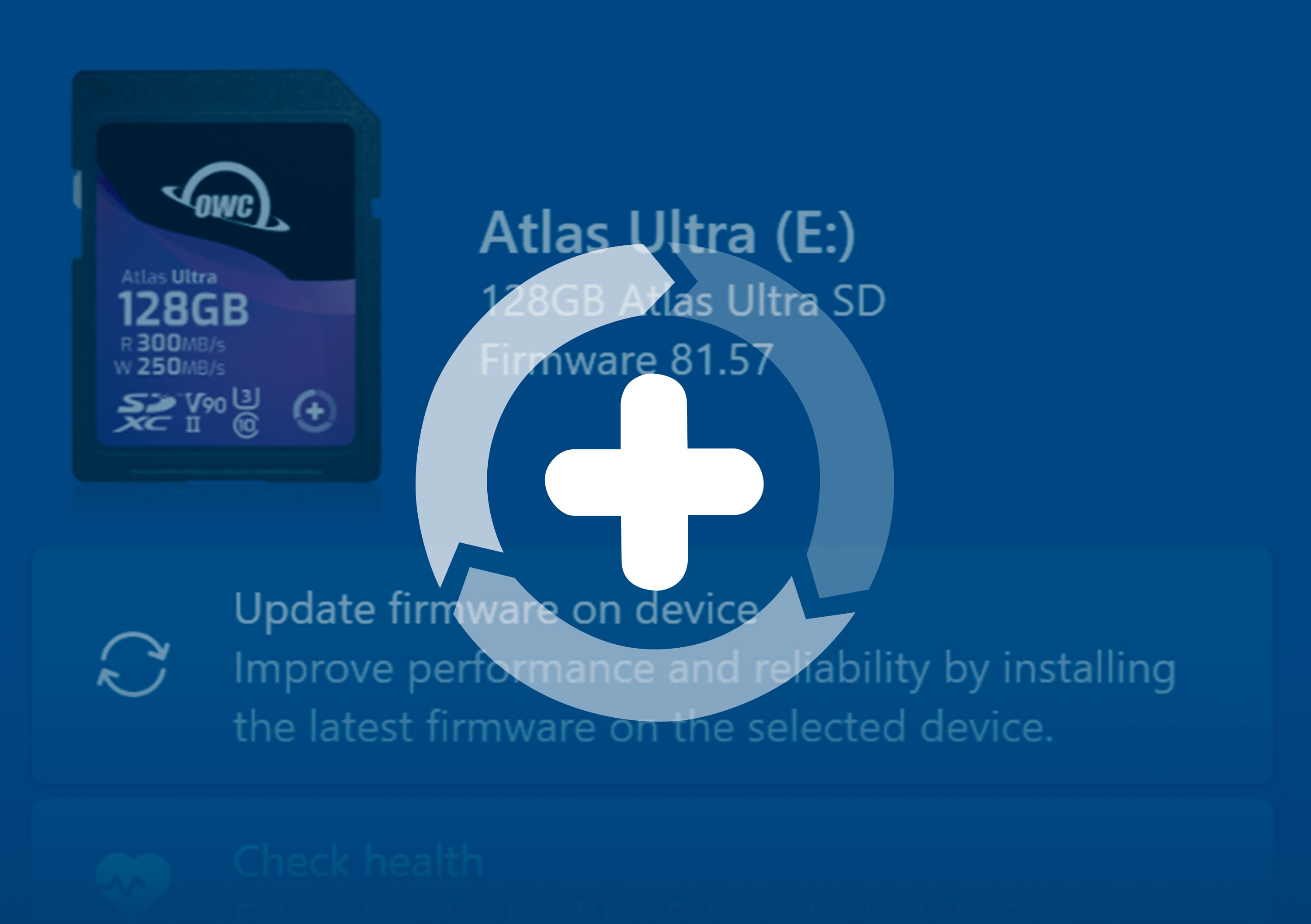 Field Upgrade
When new cameras or firmware updates to existing cameras are introduced, they may not work properly with flash memory cards and drives. Innergize gives OWC memory card users the ability to quickly upgrade their firmware in the field for full compatibility, additional performance enhancements, and bug fixes for optimal reliability.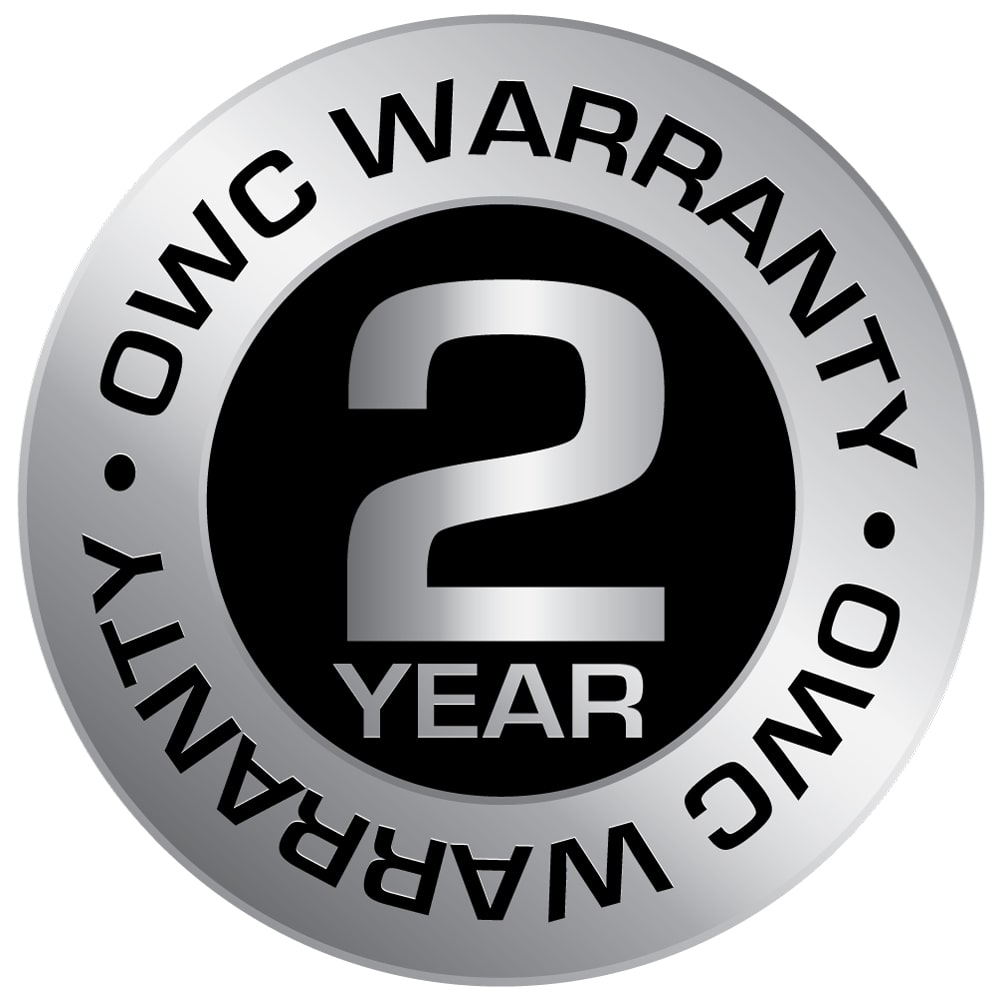 OWC, Trusted by Pros & Enthusiasts the World Over
We build our hardware to the highest standards of reliability and performance. Because 100% reliability is always the goal, we rigorously quality test and back our hardware with a 2 Year OWC Limited Warranty and award-winning customer support.
Learn More
Works with Thunderbolt 4, Thunderbolt 3, USB4, and USB host computers and mobile devices. Thunderbolt/Thunderbolt 2 Mac models are supported via USB-A host connection. Thunderbolt/Thunderbolt 2 host connection is not supported.
Works with Thunderbolt (USB-C), Thunderbolt/Thunderbolt 2 (mDP), and USB devices. Thunderbolt/Thunderbolt 2 (mDP) device support requires a certified Thunderbolt 3 (USB-C) to Thunderbolt 2 (mDP) adapter and a Thunderbolt 2 cable (available separately) and provides data transfer at up to 20Gb/s.
Actual display support depends upon host. Please review the display specifications for your specific host system to determine the maximum supported resolution, refresh rate, color depth, and number of external displays over Thunderbolt or USB.
Requires 2.5Gb/s Ethernet compatible hardware components and cabling (Cat 5e cable minimum, Cat 6 or later strongly recommended).
Use of displays via USB-C (10Gb/s) port requires additional driver(s) and USB-C to HDMI adapter or USB-C to DisplayPort adapter (available separately).