Edimax
EW-7722UTn 300Mbps Wireless 802.11b/g/n
Mini-size USB Adapter
Enjoying high-speed wireless network access is as simple as plugging the Edimax EW-7722UTn into your computer's USB port. This mini wireless USB adapter is a quick and easy way to add or upgrade the wireless connectivity of your desktop, laptop, or notebook computer. You can enjoy data rates of up to 300Mbps when the Edimax EW-7722UTn is connected to 300Mbps wireless 802.11n standard devices.
Wireless 802.11n Standard (data rates up to 300Mbps)
The Edimax EW-7722UTn means increased wireless coverage and higher data transmission rates. The latest wireless technology is built into this device to broaden its wireless coverage by 5 times and to reduce dead spots within the wireless range. The EW-7722UTn complies with wireless IEEE 802.11b/g/n standards and can reach data transmission rates of up to 300Mbps when connected to wireless 802.11n devices. It also extends its wireless signal distance, and provides more reliable wireless connections than standard IEEE 802.11b/g wireless networks.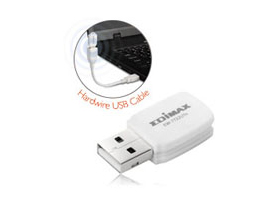 Features a Hardware WPS (Wi-Fi Protected Setup) Button
Wi-Fi Protected Setup (WPS) is a standard for easy and secure establishment of wireless networks. If the wireless device you wish to connect supports WPS, the Edimax EW-7722UTn will automatically set up the wireless connection with a robust WPA data encryption and authentication. The Edimax EW-7722UTn wireless USB adapter supports both hardware (push-button) WPS and software WPS configurations.
Features Multi-Language EZmax Setup Wizard
The Edimax EW-7722UTn includes an EZmax setup wizard-an application available in 16 languages that helps you to quickly connect the adapter to your wireless network.
Portable and Compact Design
The Edimax EW-7722UTn is currently the smallest 300Mbps wireless adapter. Its lightweight and compact design makes it ultra-convenient for any mobile user to carry around.
Hardwire USB Cable for Improved Wireless Performance
EW-7722UTn comes with a free hardwire USB cable for improved wireless performance. When using EW-7722UTn with the hardwire USB cable, it provides better wireless performance at no extra cost.
Features
Complies with wireless 802.11b/g/n standards with a data rate of up to 300Mbps
Increases wireless coverage to 5 times further◎
Includes multi-language EZmax setup wizard.
Supports 64/128-bit WEP, WPA , WPA2, WPS and IEEE802.1x for security
Supports QoS-WMM, WMM-Power Save Mod

Product Specifications
Manufacturer Part Number
Standard
IEEE802.11b, 802.11g, 802.11n
Hardware Interface
1 x USB 1.0/2.0 Type A
Hardware WPS button
2 x Internal Antenna
Frequency Band
2.4000~2.4835GHz (Industrial Scientific Medical Band)
Data Rate
11b: 1/2/5.5/11Mbps
11g: 6/9/12/24/36/48/54Mbps
11n (20MHz): MCS0-15, 32 with Half Guard Interval Support (up to 72/144Mbps)
11n (40MHz): MCS0-15, 32 with Half Guard Interval Support (up to 150/300Mbps)
Installation
Multi-language EZmax Setup Wizard
Security
WEP 64/128, WPA, WPA2, 802.1x
Cisco CCX Support
Hardware and Software WPS configuration
Drivers
LEDs
Warranty
Physical
Dimensions: 9.1(H) x 17.8 (W) x 35.8 (D) mm
Temperature: 32~104°F (0 ~40°C)
Humidity: Max. 95% (Non Condensing)
Certification: FCC, CE
Setup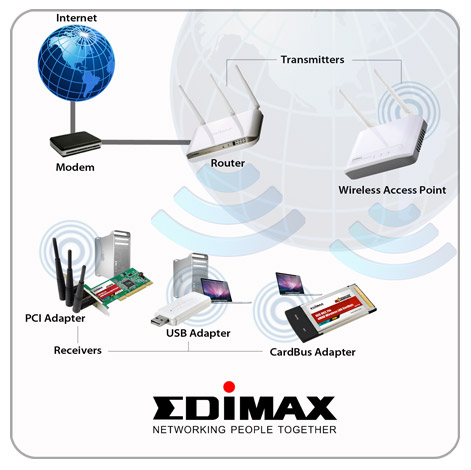 Need Additional Items for Your Wireless Setup?
Routers: Send out your wireless signal
Access Points: Receive your signal and send it further
Adapters: Add or upgrade wireless connectivity
Downloads