Edimax
IC-5150W


Wi-Fi Cloud Camera with Panoramic View
Mac / PC / iOS / Android / USB / Ethernet
Smart Full HD Wi-Fi Fisheye Cloud Camera with 180-Degree Panoramic View
Better Security for Your Home or Business
Eliminate Blind Spots in Your Security Network
The Edimax IC-5150W Fisheye network camera gives you wider, 180-degree panoramic views for more efficient security and monitoring in your home, shop or factory without the blind spots associated with traditional standard lens network cameras. And with Edimax Plug-n-View technology, there's no complicated setup so you can connect the camera to the cloud without any hassle and monitor remotely from a smartphone, tablet or laptop.
Customizable for Your Needs
With a built-in microphone, sound and motion detection system and microSD/SDHC card slot, the camera is well equipped to protect your property as well as fully customizable. Motion detection can be configured according to user-defined areas, and together with sound detection and sound-triggered recording offers a powerful security system that's always on alert to capture anything suspicious. And for installation and monitoring, the intuitive Wi-Fi user interface makes everything a breeze. See the big picture in 1080p Full HD and never miss a thing.
Better Wider Views
Designed with a 180-degree wide-angle panoramic lens for better, wider views and without the limitations of blind spots and awkward angles that are found with traditional Wi-Fi cameras. Native, built-in dewarping flattens images and videos into a single usable view in different directions that would otherwise need multiple cameras, cutting bandwidth and storage costs. Get more value with your security budget with a fisheye camera that has the capability to provide the same coverage as 2 - 4 standard cameras.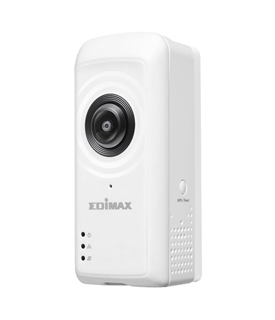 Highlights
180-Degree Panoramic View
Full HD 1080p Video
Native Dewarping
Free Cloud Storage Recording
ePTZ Digital Pan, Tilt & Zoom
Wide Dynamic Range (WDR)
Multi-Area Motion & Sound Detection
Push Notifications with Video Alerts
Plug-n-View for 24/7 Remote Monitoring
microSD/SDHC Card Slot
Wireless & Ethernet Connection
Increased Security With Advanced Features
Built-in dewarping and image distortion reduction to convert images or videos to a "normal" view, for better usability and easy monitoring and playback. Integrate and save recordings and events directly to the cloud instead of local physical devices for real-time remote backup. Digital pan, tilt & zoom on areas of interest for better focus and rich detail while still recording the bigger picture. Equipped with a high-performance image sensor and Wide Dynamic Range (WDR) feature to enable high-quality imaging and recoding in more detail under low and poor light or high contrast conditions. A built-in microSD/SDHC card slot supports cards up to 32GB for local storage and backup.
Motion Detection Triggered Recording
The powerful built-in motion detection system with pre-defined detection regions offers peace of mind that you will capture any suspicious activity. When motion is detected, the network camera will produce video footage of the event immediately - storing the data on a microSD/SDHC card or sending it automatically via email or ftp.
Sound Detection Triggered Recording
Featuring sound detection capabilities and built-in microphone. When sound is detected, the network camera will take video footage of the event immediately in the same manner as with motion detection, and store the files locally on a microSD/SDHC card or send via email or ftp. Integrated sound offers a further level of security than motion-detection and visual imaging alone, providing critical real-time or post-event information about a situation, particularly in scenarios where events occur outside the camera's field of vision. The sounds of breaking windows, doors or anything else suspicious can still be registered even in situations where the event can't be seen.
Push Notifications & Video Alerts
Push notifications are triggered by motion or sound detection, and when a detection system is triggered, the camera additionally sends video alerts to email or microSD card. If the camera ever goes offline, push notifications are also sent when the camera comes back online to keep users informed about any unusual activity.
Plug-n-View for 24/7 Easy Remote Monitoring
Edimax Plug-n-View technology makes it easy for you to keep an eye on your home, garage, shop, factory or other assets wherever you go. With Plug-n-View technology, you can connect your network camera to the cloud in a few simple steps and access it remotely with a smartphone, tablet, or computer no matter where you are.
Product Specifications:
Edimax Part Number
Interface
1 x Ethernet (RJ-45) port
1 x Power jack
1 x Reset/WPS button
1 x Internal antenna
1 x microSD/SDHC card slot
1 x Microphone
1 x USB 2.0 port
1 x LED indicators: Internet, LAN/Wi-Fi LNK/ACT, Power
Video1
High-speed H.264 & MJPEG video compression
1920 x 1080 up to 30 fps
1280 x 720 up to 30 fps
640 x 480 up to 30 fps
320 x 240 up to 30 fps
Video Settings
Resolution: Full HD (1920 x 1080), HD (1280 x 720), VGA (640 x 480), QVGA (320 x 240)
Frame rate: 5, 10, 15, 20, 24 or 30 fps
Memory
Standards2
Fast Ethernet IEEE 802.3/802.3u
Wireless IEEE 802.11b/g/n
Supported Protocols
IPv4, HTTP, TCP, ICMP, RTSP, RTP, UDP, RTCP, SMTP, SNTP, FTP, DHCP, ARP, DNS, PPPoE
RF Output Power
11b: 16-18dBm
11g: 14-16dBm
11n: 11-13dBm
Accessories
1 x Flat wall-mount kit
1 x Tilt wall-mount kit
Certifications
Power
Operating Temperature
32° - 104° F (0° - 40° C)
Dimensions
1.57" x 1.18" x 3.74" (4.00 x 3.00 x 9.50 cm)
Weight
Warranty
Notes:
Actual viewing resolution and frame rate of network cameras depend on connection speed.
Maximum performance, actual data rates, and coverage will vary depending on network conditions and environmental factors.
Manufacturer provided specifications for Edimax p/n IC-5150W UPC#: 649659028937
Includes
Network Camera IC-5150W
1 x Power Adapter
1 x Ethernet Cable
1 x Flat Wall-Mounting Kit
1 x Tilt Wall-Mounting Kit
1 x CD-ROM with Utility Software and User Manual
1 x Quick Installation Guide
Software

EdiLife
EdiLife is an easy-to-use app for Edimax smart home device, ideal for monitoring environment or controlling your home appliance from any 3G or Wi-FI connection. With Edimax's innovative Plug-n-View technology, you can say goodbye to inconvenient and complicated setting procedures. It's extremely easy to connect your Edimax network camera/smart plug to the cloud in just a few simple steps and access it remotely with a smartphone, tablet, or computer no matter where you are. View detailed software info for
iOS
and
Android
.