LG Super-Multi Drive
Kit for 2006-2008 Mac Pro models
24X

5.25" Internal DVD/CD Writer
Mac / PC / DVD Multi Recorder / Rewritable
This Kit Allows You To:
Replace/Upgrade a failed existing IDE/ATA drive with this new, current model SATA optical drive
Add up to two of these drives
Add this drive as a 2nd drive to an existing factory drive
The LG Super-Multi GH24NSBOB DVD Rewriter features a 24x DVD+R write speed, 48x CD-R write speed and supports M-DISC for superior reliability in data storage. Designed for storage needs that demand consistency, the GH24NSBOB read and write in CD, DVD+R, DVD+RW, DVD RAM formats giving you the option to choose the media best suited for each task.
Can't Find an IDE/ATA Drive? No Problem.
Just because IDE/ATA optical drives are no longer made doesn't mean you shouldn't be able to upgrade your 2006-2008 Mac Pro model. These Mac Pro models actually have two factory open SATA ports that go unused. So we provide all the cabling and instructions in this kit that you need to utilize one for your optical drive upgrade.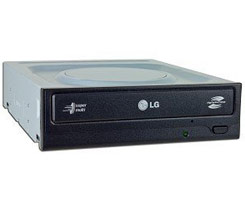 Highlights
Max. 24x DVD±R Write Speed
Super-Multi: CD-R/RW/DVD-R/-R DL/-RW/+R/+R DL/+RW/RAM read and write compatible
CD family and DVD-ROM read compatible.
Includes Cabling & Instructions for installing in Mac Pro 2006-2009 models.
M-Disc Support
M-DISC - Write Once and Read Forever
Compared to other recordable DVDs on the market today, M-DISC offers superior reliability in data storage that provides the permanent optical data storage solution. Once written, the M-DISC can be read or played on any quality DVD drive that supports the common DVD+R/RW format.
M-DISC Media sold separately
.
Bundled with Smile On My Mac: DiskLabel Software
OWC has included the software give your discs a polished, professional, finished look. Create, print, & share professional-looking CD and DVD labels, jewel case inserts, and DVD covers. A $39.95 value included.
Protect Your Data with Prosoft Data Backup 3
Data Backup 3 is a powerful utility that allows you to backup, restore and synchronize your valuable data with minimal effort. Whether you are a new computer user or a seasoned professional, Data Backup 3 offers you just the right amount of power, flexibility and ease-of-use to help you protect your files fast. A $59.00 value included.
LG Super-Multi Specs:
General
Drive Type
Internal DVD/CD Writer
Form Factor
5.25" Desktop
Interface
SATA
Loading Mechanism
Tray
Bezel Color
Black
Buffer Memory
0.5MB
Mounting Orientation
Horizontal / Vertical
Manufacturer Model Number
GH24NSB0B
RoHS Compliant
Yes
Performance
Access Time
DVD-ROM: 145ms typ.
CD-ROM: 125ms typ.
Supported Formats
DVD-ROM (SL/DL), DVD±R (SL/DL), DVD±RW, DVD-RAM, M-DISC, CD-R/RW/ROM, CD-DA, Video CD
Capacity
Data Capacity
8.5GB : DVD General Use Double Layer
4.6GB : DVD General Use
700MB : 79 minute CD
650MB : 74 minute CD
550MB : 63 minute CD
Disk Labeling
Physical
Height (max)
41.3mm (1.6")
Width (max)
146.0mm (5.7")
Length (max)
165mm (6.5")
Weight (typical)
0.70kg (1.54lbs.)
Environment
Operating Temperature
5° C to 45° C
Non-Operating Temperature
-30° C to 60° C
Operating Humidity
15% to 80% R.H.
Non-Operating Humidity
10% to 90 % R.H.
Maximum Read Speeds
DVD-RAM
5X
DVD-R
16X
DVD+R
16X
DVD-R (Dual Layer)
12X
DVD+R (Dual Layer)
12X
DVD-RW
13X
DVD+RW
13X
DVD-ROM
16X
DVD-ROM (Dual Layer)
12X
CD-ROM
48X
CD-R
48X
CD-RW
40X
Maximum Write Speeds
DVD-RAM
5X
DVD-R
24X
DVD+R
24X
DVD-R DL
8X
DVD+R DL
8X
DVD-RW
6X
DVD+RW
8X
CD-R
48X
CD-RW
24X
Reliability
System Requirements
Mac
Compatible with any Mac Pro system with a SATA interface. The 'Woodcrest' or 'Harpertown' Mac Pro uses an IDE interface and is not compatible with this drive.
DVD Player Support:
Mac OS X 10.3 (all versions) - DVD player works perfectly
Mac OS X previous to OS X 10.3 - DVD player not supported
Mac OS 9 or earlier - DVD player not supported
PC
Compatible with any PC system running Windows 2000 or later with a SATA drive interface. Please see your burning software application manufacturer's website for specific support of this drive mechanism.
Manufacturer provided specifications for LG p/n GH24NSB0B UPC#: 058231310146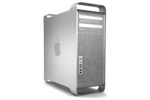 Mac Pro (Early 2008)
(January, 2008)
2.8GHz, 3.0GHz, 3.2GHz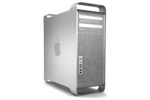 Mac Pro (8-core)
(April, 2007)
3.0GHz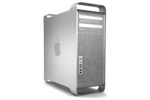 Mac Pro
(August, 2006)
2.0GHz, 2.66GHz, 3.0GHz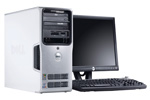 PC Desktops
Compatible with Intel / AMD Process based PCs capable with the specifications listed above.
Includes
LG Super-Multi Drive 24X 5.25" Internal DVD/CD Writer
Software Licenses: Digital Download

Smile On My Mac: DiskLabel
ProSoft: Data Backup 3

Mac Pro Kit Including

Internal SATA left angle connector to straight connector cable (for installation in Pre-2009 Mac Pro Models)
4 Pin Male to 15 Pin Female Power Adapter Cable (for installation in Pre-2009 Mac Pro Models)
Software

Prosoft Engineering® Data Backup 3
for Mac OS X v10.2.8 or later
Backup Made Easy. Data Backup makes it easy to backup to FireWire and USB drives, network drives, CDs and even DVDs. Make schedules so you don't need to 'think' about backing up... It does it for you.
A $59.00 Value!
View detailed software info
, or
click here to purchase software
separately from solution