Matias
Folding Keyboard

For Mac or PC
Mac / PC / Bluetooth
The ultimate keyboard for your laptop or iPad
Full-size & portable.
The Matias Folding Keyboard is a full-size Bluetooth Keyboard that folds in half for travel. Small enough to fit in your laptop bag, it's the ultimate keyboard for laptop users.
Comfortable, tactile feel.
High-quality dome switches give the keyboard a responsive, tactile feel, with enough resistance to hold the weight of your hands. This reduces long term fatigue and makes it a lot more comfortable to use.
Fast FN key.
Matias has taken your laptop's Fn key and injected some brains into it.

The Matias Fn key allows quick and easy access to keys that normally require a long reach - Arrow keys, Page Up, Page Down, Delete, and others can now be typed right from home row, without moving your hand.

Of course, you can still type those keys the normal way, but using Fn is faster - and it works on the main keyboard and the number pad.
Enhanced Number Pad.
A Tab key on the number pad allows one-handed number entry into forms and spreadsheets, leaving your other hand free to hold or flip through information being entered.
Pump up (or down) the volume.
The keyboard also has the standard volume controls: Volume Up, Volume Down, and Mute - as well as function keys, page navigation keys, and cursor keys.
Product Specifications:
Matias Part Number
Connectivity
Power
Two 'AAA' Batteries (included)
Color
Ports
System Requirements
Macintosh Computer with Bluetooth.
Mac OS X 10.3 or higher.
Keyboard Layout
Dimensions
Open: 18" x 5" x 0.87" (45.7 x 12.7 x 2.2 cm)
Closed: 10.08" x 5" x 1.18" (25.6 x 12.7 x 3.0 cm)
Weight
Warranty
Manufacturer provided specifications for Matias p/n FK304 UPC#: 833742002342
Includes
Matias Folding Bluetooth Keyboard
Carrying sleeve
Users manual
iPad Setup Instructions: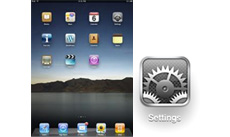 1
Find the Settings app & tap it.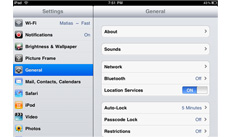 2
Tap on General. Then tap on Bluetooth.
If Bluetooth is off, tap the OFF button to turn it on.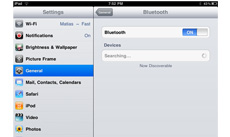 3
Bluetooth will begin searching for devices...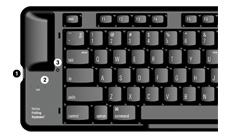 4
Press the on/off button. A blue light will flash briefly to indicate that it's on.
Next, with a pen or pencil, hold down the pairing button until the blue light starts flashing.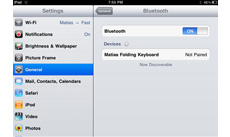 5
When the keyboard appears, tap on Not Paired.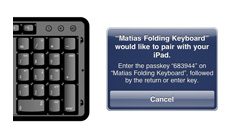 6
A message telling you the passkey will appear.
Type the passkey on the numberpad. Then press the Enter key.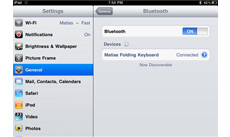 7
The keyboard is now connected and ready to be used.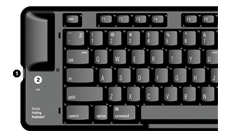 8
To turn off the keyboard, press the on/off button. A yellow light will flash briefly to indicate that it's off.