Get a grip on your iPad® 2nd, 3rd & 4th Gen display needs.
The Newer Technology® NuGuard® GripStand® 3 is a multipurpose tool for your Apple® iPad® 2nd, 3rd & 4th Gen. The hard plastic protective shell grips your iPad 3rd Gen snugly while enveloping it in a shock-absorbing inner rubber liner. The removable, desktop stand can be swiveled 360° and positioned at virtually any angle for viewing or typing. The desktop stand also doubles as a highly effective one hand grip so you can use your iPad 3rd Gen while standing or walking. Take presentations to the next level, the NuGuard GripStand 3 handle can even be rotated to use as a hook to hang your iPad 2nd, 3rd & 4th Gen on the wall in either landscape or portrait orientation.
Use the desktop stand as a handle to carry your iPad 2nd, 3rd & 4th Gen like a briefcase. Or, when travel bag space is a consideration, just twist the desktop stand to remove it.
Also inlcudes a nylon strap to securely mount your iPad® 2nd, 3rd & 4th Gen to a vehicle headrest for easy viewing.
GripStand® 3rd Gen fits seamlessly with Apple's SmartCover
Tips for installing iPad in NewerTech NuGuard GripStand:
Place GripStand with handle side on work surface, and so "top" side is furthest from you
Slide top part of iPad into place
Push down gently on corners and edges until rubber "lip" slides over top
Do the same along the edge and bottom, always pressing at outermost edge of iPad
Make sure entire iPad is fully seated into rubber liner
Once the lip is over the edges of the iPad, it is securely attached
Note: GripStand must be used with an undamaged iPad for the device to fully seat properly inside the GripStand. When installed correctly, the iPad screen should not touch a table surface when laid face down.

No Risk, No Hassle 30-Day Money Back Guarantee.
For more information on the 30-Day Money Back Guarantee for Newer Technology GripStand & GripStand/GripBase Combo,
click here
.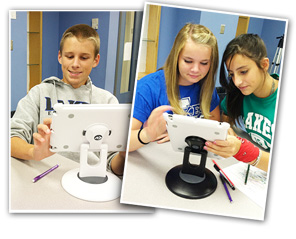 An "Amazing" Product For Classrooms
The Newer Technology GripStand and GripBase have been a lifesaver and stress reducer in my 21st century classroom. We spent precious funds to purchase 15 Apple iPad 3rd Gen's for use by 240 students each day. Protecting the iPads during use is a top priority. The GripStand and GripBase have definitely prevented accidental damage of the iPads.

The cases are durable and easy to label. They securely hold and protect the iPad from occasional "rough use". The GripBase is my favorite aspect! It is heavy and reliable, and they have worked flawlessly during eight weeks of use so far. They make it easy for students to collaborate and create as the bottom of the base swivels AND the screen can flip and turn from where the base attaches to the iPad. I no longer have to worry about iPads sliding off the table. This is an amazing product and we are very thankful for the confidence it gives us in ensuring the safety of our technology investment.

Morgan O'Connor / Social Studies Teacher
Lakes Community High School

Absolutely amazing...The most clever way to carry, display, and use your iPad"
— John "Nemo" Nemerovski, MyMac.com
"Nice modular design...nice solid feel...good shock absorption. A great table stand...I'm using this for my podcast."
— Mike Flaminio, Insanely Great Mac (IGM)