OWC 'Data Doubler' SSD/2.5" Hard Drive installation Kit
for Mac mini 2011 and 2012 Models
with Upper Drive Bay populated*
Running out of storage space in your Mac mini or looking to improve performance with an OWC SSD? Now you can add a second
9.5mm or smaller 2.5" SATA Hard Drive
or
Solid State Drive
(sold separately) to your 2011 or 2012 Mac mini.
Before attempting to perform this installation, please watch the following instructional video in its entirety to determine your ability to perform this complex procedure. OWC assumes no responsibility for damage that may occur during the install. Technical support for this DIY product consists only of this video:
*NOTE: Before you begin, you will want to determine the configuration of your Mac mini's drives. To do this, open Applications/Utilities/Disk Utility.app and click on the grey drive icon at the left-edge of the window. If you see "Lower" after the "Connection ID" at the bottom-left corner of the window, you need only the standard OWC 'Data Doubler' SSD/2.5" Hard Drive Installation Kit. If you see "Upper" then you have a special configuration which will need these additional components, and you will need to also refer to the Addendum video.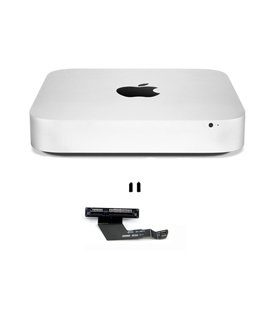 This kit includes the cable and mounting set only. Mac mini, Toolkit & Logic Board Removal Tool
not included.