OWC Express Black
0GB

USB 3.0 2.5" Hard Drive Kit
New Condition | Open Box
Mac / PC / USB 3.0 & 2.0
Pocket-sized USB bus powered ventilated enclosure
for a 2.5" Serial ATA (SATA) I/II/III hard drive or SSD
offering the ultimate combination of style and
value in portable data storage and backup.
Outstanding Features
Express your digital life with style, convenience, and value!
The 2 oz., pocket-sized OWC Express USB 3.0 Enclosure offers bus powered* personal storage performance in an ultra-portable design. With no AC adapter needed, a USB connecting cable and carrying sleeve included, and compatibility with Macs and PCs, the OWC Express puts your music, photos, and personal data in the fast lane.
Compact and versatile – No AC Adapter Required!
The OWC Express 2.5" USB 3.0 Enclosure offers maximum mobile data storage/backup potential with a sleek, totally bus powered design. Just add your own 2.5" Serial ATA (SATA) I/II/III hard drive or SSD up to 9.5mm height and take your digital life with you wherever you roam!
Hard Drive Not Included – Needs 2.5" Serial ATA (SATA) Hard Drive

OWC NOTE: This drive enclosure requires a 2.5" Serial ATA (SATA) drive mechanism.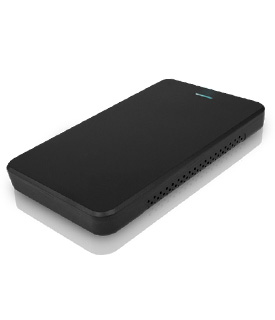 OWC's A Closer Look
OWC's Step-by-Step Install Video
*Bus powered via USB port on most computers, provided computer's bus supplies appropriate power needs.