OWC
Mercury Helios FX


EThunderbolt 3 eGPU Enclosure
New Condition | Open Box
Thunderbolt 3 / Mac / Windows
The eGPU chassis built to empower
Add the power of a high-performance GPU to your Mac and PC via Thunderbolt 3. Whether you're bringing a creative vision to life, crunching research data, playing the latest hardware-punishing game, or connecting additional displays — the OWC Mercury Helios FX is built to empower everything you do.
The Power to Do More
Achieve smoother frame rates, encode faster, edit in greater resolutions, add displays, utilize VR and AR, elevate gaming performance, or take advantage of the complex data crunching GPUs excel at. You'll have plenty of options with support for most Thunderbolt-compatible AMD Radeon™ and NVIDIA® GeForce®, TITAN, and Quadro® GPUs.
Transformative Notebook Performance
Change the way you think of notebooks. Utilize the greater portability and flexibility of lighter laptops while taking advantage of easy-to-upgrade desktop-class GPUs. With an OWC Mercury Helios FX in your arsenal, performance is plug-and-play, and upgrades are easy.
Multi-Platform Flexibility
The OWC Mercury Helios FX provides an exhilarating performance boost to both Macs and Windows PCs featuring a Thunderbolt 3 interface. Whether in a single-platform environment or a mixed-platform environment, the OWC Mercury Helios FX can easily be moved between computers to enhance workflows wherever it is needed most.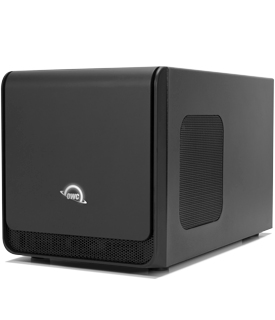 Powerful, Cool, and Quiet
The OWC Mercury Helios FX is built to handle the most power-hungry GPUs and simultaneously charge your notebook. It stays cool with a whisper-quiet, temperature-controlled fan, making it perfect for noise-sensitive environments.
Beyond GPUs
It's easy to quickly swap out cards as needed with the OWC Mercury Helios FX. In addition to GPUs, it has the cooling, room, and power to support virtually any Thunderbolt-compatible PCIe card — including popular RED ROCKET and AVID Pro Tools | HDX PCIe cards.
World-Class OWC Support
Should the need ever arise, our award-winning support team is ready to patiently answer any questions you may have about your OWC Mercury Helios FX.
GPU Compatibility
Product Specifications:
Software Requirements
macOS 10.13.4 or later1
Windows 10 (64-bit, version 1709) or later
Hardware Requirements
Any eGPU-compatible Thunderbolt 3 Mac or PC
PCIe Card Support 2
Any driverless PCIe card or PCIe card with a Thunderbolt-aware driver
Housing Color
Housing Material
External Connectivity
Transfer Rate (Max)
Expansion Slots
Power
Internal UL-listed universal auto-switching
Supplies 550 W
Environmental
Ambient Temperature

Operating: 32°F to 95°F (0°C to 35°C)
Dimensions
Height: 20.0 cm (7.9 in)
Length: 34.0 cm (13.4 in)
Width: 18.5 cm (7.3 in)
Weight
1. For non-GPU PCIe cards, macOS 10.12.6 or later is required.
2. For easy setup OWC recommends cards that are 28 cm in length or less. Longer cards may require extra steps to remove the power supply, or may not fit at all depending on shroud design.
Manufacturer provided specifications for Other World Computing p/n HELIOSFX UPC#: 812437024678
Includes
Mercury Helios FX Expansion Chassis
(1) Thunderbolt 3 cable (40Gbps)
(2) 6+2 pin internal power cables for GPUs requiring 6 or 8-pin power
(1) Power cable
Mac Host Guide (download only)
Windows Host Guide (download only)
GPU Compatibility (download only)