OWC Mercury Elite Pro RAID
0GB

RAID "Add your own drives"
Enclosure Kit
New Condition | Open Box | Prior Model Version
Mac / PC / USB 3.0 & 2.0 / FireWire 800 (FireWire 400 Backwards Compatible)
High-performance and reliability come standard with the OWC Mercury Elite Pro Dual Drive RAID Enclosure.
Time-Tested
The Elite Pro Dual is a customer favorite in the OWC external drive lineup and has provided professional and enthusiasts alike with reliable, time-tested, large capacity and high-performance storage for over 8 years.
High-Performance, Easy to Connect
The Elite Pro Dual combines high-speed Oxford chipsets with two SATA drive bays, allowing you to install two SATA drives up to 4.0TB. Once installed, you can set up both internal drives in RAID 0, RAID 1, or span drive modes.

The Elite Pro Dual comes with two FireWire 800 ports, which are FireWire 400 compatible and a USB 3.0 / 2.0 port. It's also plug-and-play easy to connect to any Mac or PC.
Runs Cool & Quiet
The Elite Pro Dual utilizes a vented front plate and whisper quiet fan to cool the two internal drives by moving air through the enclosure. In addition, its rugged 2mm thick aluminum enclosure acts as a heat sink. This tandem cooling action keeps the Elite Pro Dual running coolly, quietly, and reliably.
Built to Last
A rugged, shock-resistant aluminum enclosure coupled with high-quality internal components ensures the Elite Pro Dual RAID is built to last. It also comes backed by a 1 Year OWC Enclosure Limited Warranty.
Key Features:
Supports two 3.5" SATA hard disk drives
RAID Support: RAID 0, 1, and span
Up to 64MB data buffer
Up to 10,000RPM speeds
Up to 300MB/s performance with RAID-0
Oxford 946DSE and Oxford 3101 chipset
Whisper quiet operation
Shock resistant aluminum enclosure
Drive activity LED (blue)
Includes all interface cables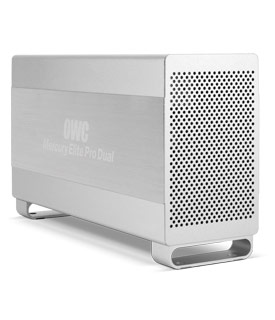 OWC's Step-by-Step Install Video
From day one, the OWC Mercury Elite Series has been designed to be everything you'd hope for and more!