OWC
480GB

Aura Pro 3G
Solid State Drive
for MacBook Air 2010-2011 Edition
OWC's Aura Pro SSD provides up to nearly 8x the capacity over the maximum available factory SSDs while offering up to 68% Faster Performance vs. Factory Options.
More SPEED up to 275MB/s...68% faster than factory.*
More STORAGE up to nearly 8x more capacity!**
More OPTIONS choose from 180GB, 240GB, 360GB or 480GB models.
The Aura Pro SSD line features industry leading SandForce® DuraClass™ Technologies:
DuraWrite™ extends the endurance of your Solid State Drive (SSD).
Intelligent Block Management & Wear Leveling automatically distributes data evenly across the entire SSD.
Intelligent Read Disturb Management spreads the active read/write across the flash components eliminating data corruption caused by constant use.
Intelligent "Recycling" for advanced free space management gradually re-writes data across the SSD over time to ensure data never gets corrupted.
RAISE™ (Redundant Array of Independent Silicon Elements) protects the data on your drive similar to having a RAID setup.
Best-in-Class ECC Protection for longest data retention and drive life.
Once again, OWC provides Mac users an upgrade path that delivers higher performance, functionality, and reliability! Whether you own or are considering a 2010 or 2011 base model 11″ MacBook Air with a 64GB Solid State Drive or the top of the line 13″ model with a 256GB SSD, OWC's Aura Pro SSD offers 68% higher speed than the factory SSD.... up to 275MB/s and up to 6X more storage capacity than factory options.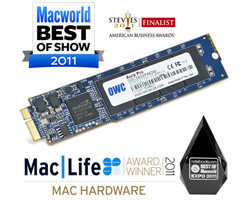 Highlights
One of the fastest internal SSD
available...and built in the USA!
Ultra-efficient Block Management
& Wear Leveling
OWC's A Closer Look
And unlike the factory pre-configured models with no other SSD choices offered. Now thanks to OWC and the Aura Pro SSD line, you can buy the MacBook Air you want today and enjoy the flexibility of upgrading for higher performance when you need it.
Better by Design
"Mean Time To Failure" - We all know that nothing lasts forever. But that doesn't mean you shouldn't get the most out of your investment. OWC SSD with DuraWrite™ Technology, optimizes writes to the flash memory over conventional controllers increasing the overall endurance and reliability of the complete SSD. Highly intelligent block management and wear leveling also extends the overall endurance. With this technology, even MLC-based SSDs can operate for years in demanding use applications without daily write restrictions. This adds up to a MTTF that is higher than most enterprise class hard drives and SSDs on the market today.

Additionally, as there are no volatile memory elements in this storage device, the need for cache is completely negated. The drive is just that fast from the get-go!
High Performance Internal Storage
Replace your conventional hard drive with a reliable solid state drive. Unlike traditional hard disk drives, OWC solid-state drives have no moving parts, resulting in a quiet, cool, highly rugged storage solution that also offers faster system responsiveness.

*OWC SSD 275MB/s vs 2010 factory SSD speed of 215MB/s
**OWC SSD Maximum total flash capacity 512GB before 7% overprovisioning with 480GB actual usable capacity compared to Apple 128GB Flash maximum option for 11.1" model that provides a formatted capacity of 121GB (121 x 4 = 484).
480GB Aura™ Pro Specifications:
Specifications
Capacity1
480GB useable capacity
Total Flash Memory Components - 512GB
32GB allocated to real-time data redundancy & error correction
Formatted Capacity2
447GiB
NAND
Tier 1 Multi-Level Cell (MLC) NAND Flash Memory
Controller
SMART Attributes
Standard
RAID Support
Yes
Manufacturer Model Number
OWCSSDAPAE480
RoHS Compliant
Yes
Format
Reliability3
MTBF (Mean Time Between Failures)4
2,000,000
Data Reliability
ECC Recovery: Up to 24 bytes correctable per 512-byte sector
Security
Chip Based Data Encryption: 128-bit AES-compliant
TRIM Support
Yes
Nonrecoverable Read Errors
Less than 1 sector per 1016 bits read
Warranty
Performance
Sequential Read (up to)
285MB/s
Sequential Write (up to)
275MB/s
Random 4K Read5
Up to 30,000 IOPS
Random 4K Write5
Up to 30,000 IOPS
Read Latency
less than 0.1ms
Write Latency
less than 0.1ms
Power
Read Power
2.2 Watts
Write Power
2.5 Watts
Idle Power
0.09 Watts
Power Nap compatible
Environmental (Operating)
Temperature (°F)
32°F to 158°F
Temperature (°C)
0°C to 70°C
Environmental (Non-Operating)
Temperature (°F)
-67°F to 302°F
Temperature (°C)
-55°C to 150°C
Acoustics
Idle (Typical)
0.0 bels
Seek (Typical)
0.0 bels
Installation
Manufacturer provided specifications for Other World Computing p/n OWCSSDAPAE480 UPC#: 736211768650
Reviews
BENCHMARKS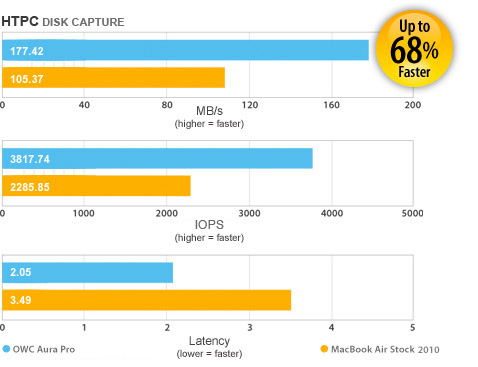 Write stress test consists of playing one 720P HD movie in Media Player Classic, one 480P SD movie playing in VLC, three movies downloading simultaneously through iTunes, and one 1080i HDTV stream being recorded through Windows Media Center over a 15 minute period. Higher IOps and MB/s rates with lower latency times are desired.Block Management & Wear Leveling offers highest endurance, performance and power efficiency in a SSD.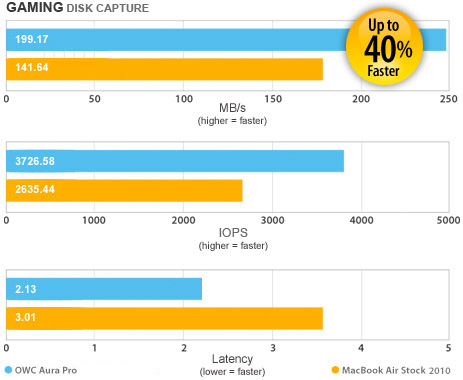 Read stress test consists of loading each of the following games: Steam, Grand Theft Auto 4, Left 4 Dead 2, and Mass Effect 2, as well as textures as the game progresses.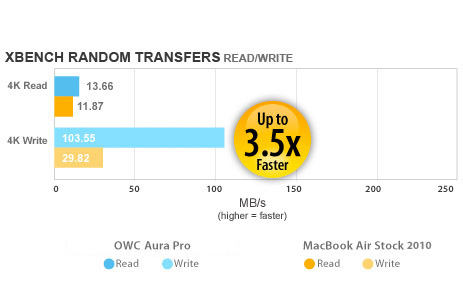 One of the leading benchmarking applications for comparing side by side drive performance.

Benchmark results provided by: StorageReview.com