OWC
ThunderBay 4


40.0TB 4-Drive HDD Storage Solution with Dual Thunderbolt 3 Ports
Mac / PC / Thunderbolt 3 / DisplayPort 1.2 / RAID Ready
The Speed You Need
All New Design for Power and Performance
ThunderBay 4, OWC's flagship 4-bay RAID ready powerhouse is bigger and faster than ever before. Now with the unbelievable performance of Thunderbolt 3 — up to 1527MB/s sustained performance1 — it's the ultimate workhorse external storage solution.

Not only faster, the new ThunderBay 4 Thunderbolt 3 is now natively compatible with both 2.5" and 3.5" drives, and with a redesigned chassis, it's even cooler and quieter too. Add vast amounts of high-performance storage with ThunderBay 4.

Utilize each of the four internal drives independently, or use the software RAID of your choice to setup a multi-drive array for high performance or data redundancy.
Edit, Experiment, Create, Design
Designed with performance in mind and engineered to harness the power of Thunderbolt 3, ThunderBay 4 is an incredibly flexible external solution with the throughput to support multi-stream compressed 4K video and other bandwidth-intensive operations.

Highly configurable to perfectly match your performance needs. Use each drive independently, or in the RAID configuration of your choice for the optimal balance of performance and data-redundancy. Get the most out of your storage, take the brakes off your workflow, and do more with a ThunderBay 4.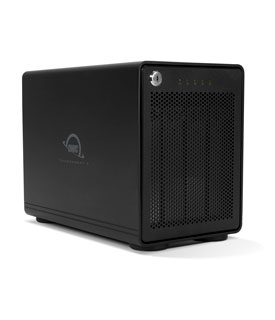 Certified and Tested
Each ThunderBay 4 undergoes OWC's multi-hour drive "burn-in" performance certification procedure prior to shipping. This ensures your ThunderBay 4 arrives operating properly, ready for demanding use.
Backed by OWC
You can rely on OWC's award-winning U.S.-based support for the ThunderBay 4 solution. Plus, ThunderBay 4 comes with an OWC Limited Warranty.
---
4 drive bays plus so much more.

Time-Tested Cooling
Built on OWC's time-tested enclosure cooling technology, ThunderBay 4 utilizes an open "flow-thru" vented design with an oversized 92 mm, low-turbulence, noise-quieting fan to keep the drives running cool and reliably.

Multi-Drive
Daisy-chain up to six ThunderBay 4s for massive storage capabilities and increased performance, or connect multiple ThunderBay 4s to multiple Thunderbolt 3 ports to achieve exponential speed capabilities.

Vibration Dampened
ThunderBay 4's drive isolating design reduces sonic resonance, and is aided by over-sized, rugged, vibration-absorbing, non-skid feet.

DisplayPort 1.2 Support
Dual Thunderbolt 3 ports let you connect the display of your choice that your computer can support, including 4K displays.

OWC Thunderbolt Cable
ThunderBay 4 comes with a certified OWC Thunderbolt 3 cable.
1. Sustained read speeds, dependent on mechanism installed.
Product Specifications:
Software Requirements
macOS 10.12 or later
Windows 10 or later
Hardware Requirements
Mac or PC featuring Thunderbolt 3 interface
Mac or PC featuring Thunderbolt or Thunderbolt 2 interface1
Interface (Chipset)
(2) Thunderbolt 3 (Intel DSL6540)
(1) DisplayPort
Max Transfer Rate
Thunderbolt 3: 40 Gb/s (5000 MB/s)
JBOD / RAID Support
JBOD: Utilize each of the four drives independently
RAID: Use any Software RAID of your choice to setup the ThunderBay 4 for multi-drive performance or data redundancy
Includes SoftRAID Lite XT with support for RAID 0 and 1. Upgrade option for RAID 4, 5, 1+0 capability
Initial Configuration
Standard Mechanism
*1GB = 1,000,000,000 bytes. Total accessible capacity varies depending upon operating environment (typically 5-10% less). The actual total capacity will depend on your own defined file settings/preferences.

**OWC reserves the right to replace or upgrade to equivalent or better components.
Performance
Sequential Read/Write (compressible data)

Read: 570MB/s
Write: 626MB/s

Sequential Read/Write (incompressible data)

Read: 401MB/s
Write: 520MB/s
Kensington Lock Slot
LED
Yes (Power and disk activity)
Plug and Play
Power
Environment
Environmental (Operating)

Temperature (°F) 50° — 95°
Temperature (°C) 10° — 35°

Environmental (Non-Operating)

Temperature (°F) −40° — 149°
Temperature (°C) −40° — 65°
Dimensions
Height: 7.0 in (177 mm)
Width: 5.3 in (135 mm)
Length: 9.6 in (245 mm)
Weight
1. Thunderbolt/Thunderbolt 2 compatibility requires a certified Thunderbolt 3 (USB-C) to Thunderbolt 2 (mDP) adapter and a Thunderbolt 2 cable. Compatibility will be at Thunderbolt/Thunderbolt 2 speeds.
2. For units purchased prior to 12/24/18, please see the OWC ThunderBay 4 Support Page for instructions on how to update your ThunderBay's firmware.
Manufacturer provided specifications for Other World Computing p/n TB3IVT40.0S UPC#: 812437029642
Includes
OWC ThunderBay 4 high performance storage solution with Thunderbolt 3
(1) Thunderbolt 3 20Gb/s cable
(1) External power cable
(2) Security Keys
ThunderBay 4 Quick Start Guide
SoftRAID Lite XT
ThunderBay 4 Assembly Manual & User Guide (Download Only)