OWC
ThunderBay 4


56.0TB 4-Drive HDD Storage Solution with Dual Thunderbolt 3 Ports
Mac / PC / Thunderbolt 3 / DisplayPort 1.2 / RAID Ready
The Speed You Need
All New Design for Power and Performance
ThunderBay 4, OWC's flagship 4-bay RAID ready powerhouse is bigger and faster than ever before. Now with the unbelievable performance of Thunderbolt 3 – up to 1550MB/s sustained performance
1
– it's the ultimate workhorse external storage solution. Not only faster, the new ThunderBay 4 Thunderbolt 3 is now natively compatible with both 2.5" and 3.5" drives, and with a redesigned chassis, it's even cooler and quieter too. Add vast amounts of high-performance storage with ThunderBay 4. Utilize each of the four internal drives independently, or use the software RAID of your choice to set up a multi-drive array for high performance or data redundancy.
Edit, Experiment, Create, Design
Designed with performance in mind and engineered to harness the power of Thunderbolt 3, ThunderBay 4 is an incredibly flexible external storage solution with the throughput to support multi-stream compressed 4K video and other bandwidth-intensive operations. Highly configurable to perfectly match your performance needs. Use each drive independently, or in the RAID configuration of your choice for the optimal balance of performance and data-redundancy. Get the most out of your storage, take the brakes off your workflow, and do more with a ThunderBay 4.
Certified and Tested
Each ThunderBay 4 undergoes OWC's multi-hour drive "burn-in" performance certification procedure prior to shipping. This ensures your ThunderBay 4 arrives operating properly, ready for demanding use.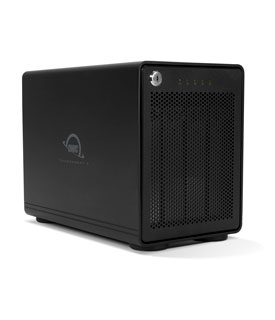 Includes SoftRAID: Easy and Complete Drive Management
Now you can quickly access and robustly protect your data with SoftRAID Lite XT. SoftRAID easy setup makes it a breeze to create RAID volumes by helping you through the entire process. With multiple RAID options, you decide what you're using your RAID volume for and how much space to allocate to it. It's that simple to create your preference of speed and/or redundancy for your data volume.
Flexible: create RAID 0 and 1 volumes with SoftRAID Lite XT (Windows and Mac)
Advanced: create RAID 0, 1, 4, 5, 1+0 (10) volumes (RAID 6, 6+ coming in 2020) and get email notifications for drive and RAID volume health with SoftRAID XT (Mac only)
Verify: volume validation ensures sectors can be read, parity is correct, and any potential volume failure is minimized
Certified: drives are validated before use to ensure they are safe for data storage
Vigilant: predictive warnings help protect against unexpected drive failure
Cross-platform ready: SoftRAID Lite includes built-in MacDrive technology that lets you  read/write SoftRAID RAID 0 and RAID 1 arrays and use them interchangeably with Windows and macOS computers
Outperforms: up to 86% faster than AppleRAID
Thorough: full TRIM support improves internal and external SSD performance in all RAID levels
Risk-free: 30-day free trial of fully functional application
Backed by OWC
You can rely on OWC's award-winning US-based support for the ThunderBay 4 solution. Plus, ThunderBay 4 comes with an OWC Limited Warranty.
4 drive bays plus so much more.Time-tested Cooling
Built on OWC's time-tested enclosure cooling technology, ThunderBay 4 utilizes an open "flow-thru" vented design with an oversized 92 mm, low-turbulence, noise-quieting fan to keep the drives running cool and reliably.
Multi-Drive
Daisy-chain up to six ThunderBay 4s for massive storage capabilities and increased performance, or connect multiple ThunderBay 4s to multiple Thunderbolt 3 ports to achieve exponential speed capabilities.
Vibration Dampened
ThunderBay 4's drive isolating design reduces sonic resonance, and is aided by over-sized, rugged, vibration-absorbing, non-skid feet
DisplayPort 1.2 Support
Dual Thunderbolt 3 ports let you connect the display of your choice that your computer can support, including 4K displays.
OWC Thunderbolt 3 Cable
ThunderBay 4 comes with a certified OWC Thunderbolt 3 cable.
Product Specifications
Specifications
Total Storage Capacity
Total Solution Cache Size
Standard Mechanism

(4) Seagate 14.0TB Exos X16 Enterprise 7,200RPM Hard Disk Drive with 256 MB cache
*1GB = 1,000,000,000 bytes. Total accessible capacity varies depending upon operating environment (typically 5-10% less). The actual total capacity will depend on your own defined file settings/preferences.
**OWC reserves the right to replace or upgrade to equivalent or better components.

Hot Swap Support
Chipset

SATA Controller: (2) ASM1062
Thunderbolt 3: (1) Intel DSL6540

Drive Interface
Rotational Speed
Data Transfer Rate (Maximum)

Thunderbolt 3 : 40 Gb/s (or 5000 MB/s)

Plug and Play
RAID
RAID Capable
Default Raid Level
RAID Levels Supported
RAID Features
Compatibility
Mac OS Compatibility

macOS 10.12 Sierra
macOS 10.13 High Sierra

PC OS Compatibility

Windows 10 32-bit Edition
Windows 10 64-bit Edition
Windows Server 2016
Power
Power Supply

Internal UL-listed universal auto-switching power supply

AC Input
External Power Adapter
Physical
Number of Bays
Device Ports

(2) Thunderbolt 3 (USB-C) Ports
(1) DisplayPort Port

Cooling

(1) 92mm Temperature-controlled cooling fan

Security Slot
Power Button
Power/Activity LED
Housing Color
Housing Material
Dimensions

Height: 17.7 cm (7.0 in)
Length: 24.5 cm (9.6 in)
Width: 13.5 cm (5.3 in)
Environmental
Ambient Temperature

Operating: 50°F to 95°F (10°C to 35°C)
Non-Operating: -40°F to 149°F (-40°C to 65°C)

Altitude

Operating: -304.8 m to 3,048.0 m (-1,000 ft to 10,000 ft)
Non-Operating: -304.8 m to 12,192.0 m (-1,000 ft to 40,000 ft)

Humidity

Operating: 8% to 90% non-condensing
Non-Operating: 5% to 95% non-condensing
Notes
1. Mac compatibility requires macOS 10.12.2 or later. 2. Thunderbolt/Thunderbolt 2 compatibility requires a certified Thunderbolt 3 (USB-C) to Thunderbolt 2 (mDP) adapter.
Benchmarks
Click any of the benchmarks below to view the results.
macOS RAID 0 Test Results
Windows RAID 0 Test Results
Includes
(1) OWC ThunderBay 4 high performance storage solution with Thunderbolt 3
(1) Thunderbolt 3 20Gb/s cable
(1) External power cable
(2) Security Keys
(1) ThunderBay 4 Quick Start Guide
(1) SoftRAID Lite XT (Mac and Windows)
(1) ThunderBay 4 Assembly Manual & User Guide (Download Only)
Videos