OWC DIY Upgrade Bundle:
Includes a Seagate Hybrid SSD/HDD 750GB, 7200RPM 2.5" SATA HDD with a 32MB cache, an OWC Express USB 3.0 enclosure kit and an OWC 5-piece Toolkit.
Give your computer the lift it needs with the do-it-yourself bundles from OWC. Upgrade your factory hard drive with a 750GB, 7200RPM Seagate Hybrid 2.5" SATA hard drive with a 32MB cache and repurpose your existing factory drive as an external drive with the OWC Express USB 3.0 silver enclosure. The DIY bundle includes all the tools necessary to perform the upgrade on your own, and our free installation videos offer play-by-play instructions.
The New Home for Your Factory Hard Drive
The OWC Express silver enclosure for your factory hard drive turns it into a sleek and stylish bus-powered external hard drive for data redundancy, back up storage or even as a media library. Free up your new internal hard drive by shuttling some of the lesser- used content off to the external.
The Right Tools for the Job
With the 5-piece Toolkit from OWC, you have what you need to complete the installation of the Seagate 750GB hard drive and once the upgrade is complete you'll have a handy set of tools for future computer upgrades.
Phillips #00 screw driver
Torx T6 screw driver
Torx T8 screw driver
Straight Blade 1.8mm screw driver
Nylon Pry Tool (aka "Spudger")
Yes, You Can Do-it-Yourself
OWC is committed to your success. If you need a bit more guidance, simply contact
OWC's award-winning U.S. based Technical Support
. We'll be happy to answer any questions you may have.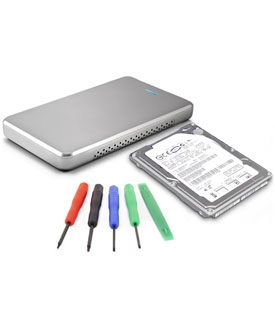 OWC's A Closer Look
OWC's Step-by-Step Install Video
*Bus powered via USB port on most computers, provided computer's bus supplies appropriate power needs.