High Performance Drive Capacity That's Simple!
Data Rates of up to 520MB/s Read and 453MB/s Write!
Make that A/V, boot, process, load, create, save... do it all faster with performance and capacity not limited by your internal drive! This kind of performance equates to the equivalent of a DVD, 2000 photos, or two hours of compressed 1080p video being transferred in less than 10 seconds!
Thunderbolt made affordable...
OWC Mercury
Elite Pro
+
Lacie Thunderbolt
eSATA Adapter
RAID Ready | eSATA x 2
By combining the Mercury Elite Pro Dual Drive eSATA solution along with LaCie's Thunderbolt eSATA adapter, this bundle delivers Thunderbolt-level performance with eSATA's affordability. Put that Thunderbolt interface on your Mac laptop, iMac, or Mac mini to work today.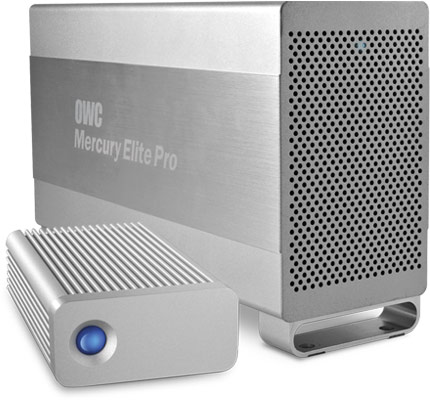 Up to 8.0TB of Real World, Test-Proven High Performance!
HARD DRIVE BASED SOLUTIONS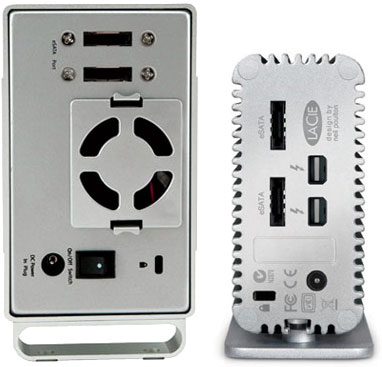 Everything you need in one package
Add affordable high-performance storage to your Thunderbolt port equipped Mac.
Transfer data up to 10Gb/s (1280MB/s) via Thunderbolt to your drive solution.
Set up as individual volumes, RAID-1 Mirror, RAID-0 Stripe, or SPAN via Apple's Disk Utility or Windows PC RAID utility.


Mercury EXTREME is a trademark of New Concepts Development Corporation, registered in the U.S. Patent and Trademark Office. Mercury Elite is a trademark of New Concepts Development Corporation. Apple, iMac, and Mac are trademarks of Apple Inc., registered in the U.S. and other countries. Thunderbolt and the Thunderbolt logo are trademarks of Intel Corporation in the United States and other countries. Other marks may be the trademark or registered trademark of their owners.