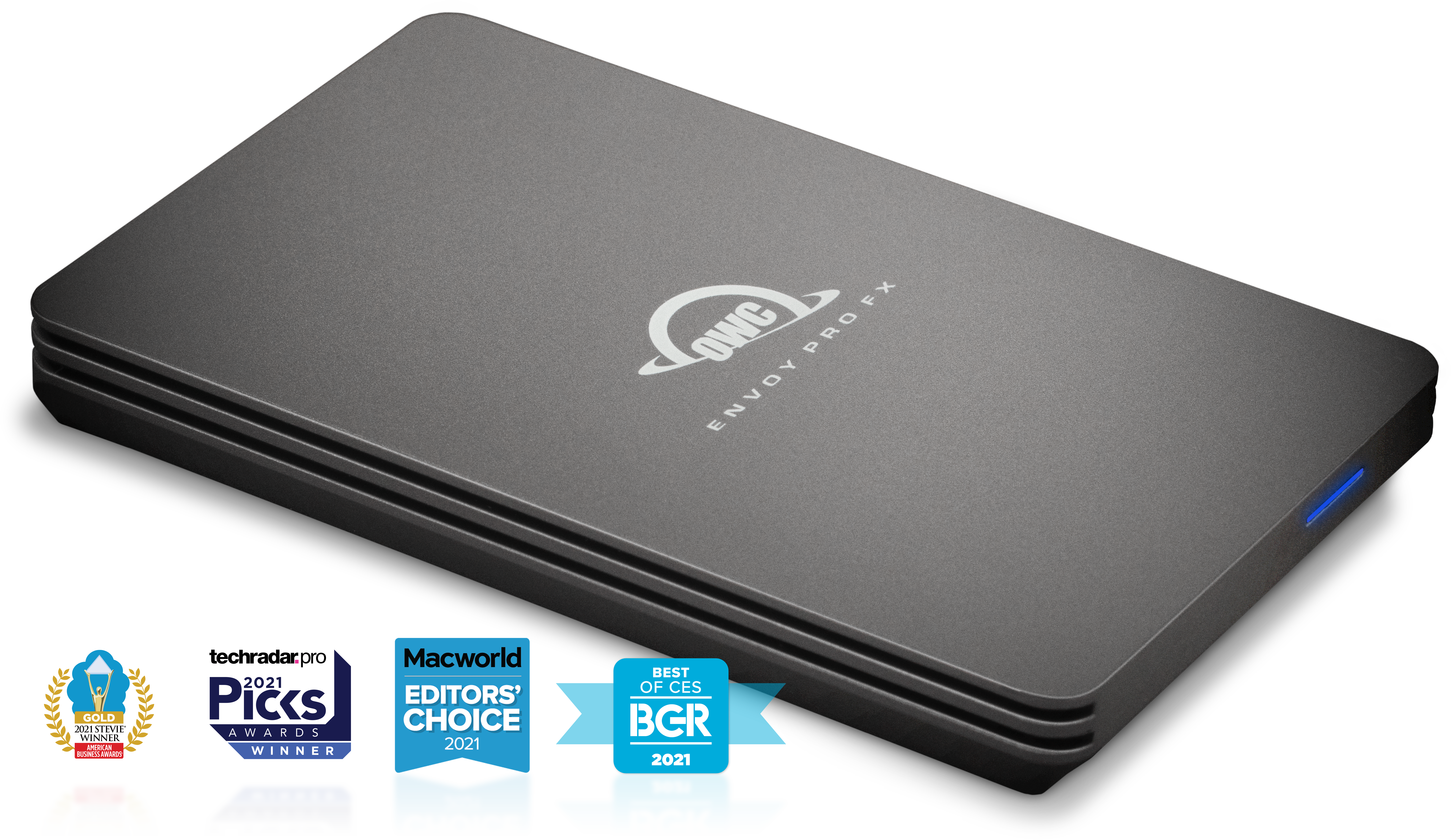 Up To
2800MB/s
Xtreme Speed
The Most
Plug & Play
Compatible Drive
Military Grade
Drop Proof
MIL-STD810G
Backed With
3 Year
OWC Limited Warranty
The Fastest, Most Compatible Drive Ever
The first portable SSDs on the market were one small step in mobile storage advancement, often with limited capacity, speeds, and reliability. The Envoy Pro FX is one giant leap For All Computerkind™. The Envoy Pro FX portable SSD provides out-of-this-world performance and is the first of its kind universal Thunderbolt drive to work via USB-C and USB-A. Plug it into yesterday's and today's Thunderbolt and USB equipped Macs and PCs. Plug it into tomorrow's Thunderbolt 4 and USB4 machines. You can even plug it into iPad Pro, Chromebook, and Surface devices. Imagine…never having to worry about your external drive interface or compatibility!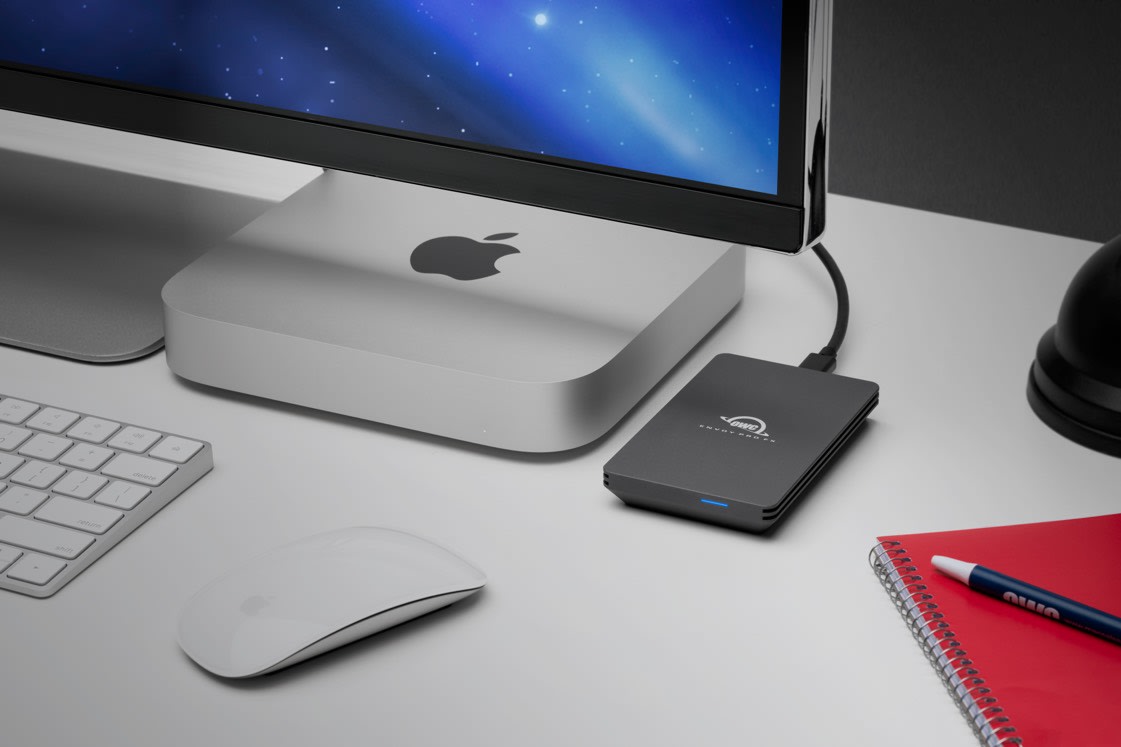 Flexible Compatibility
Plug & play with past, present and future Macs, Windows and Linux PCs, iPad Pros, Chromebooks, and Surface devices
OWC Aura SSD Powered
Advanced storage technology with TRIM support works with Thunderbolt to deliver the fastest and most reliable portable drive performance available today
Xtremely Fast
Supports the max performance capability of any Thunderbolt and USB interface – up to 2800MB/s1
Silently Cool
Fanless, heat dissipating aluminum housing for distraction-free operation
Versatile
Perfect for audio, video, photography, graphics, gaming, and general data storage/backup use
Portable
Bus-powered and smaller than most compact smartphones
Connected
Included Thunderbolt / USB cable plugs into to any machine anywhere
Informative
LED for at a glance confirmation of power and activity status
Built Like a Tank
Certified dustproof, drop proof, and waterproof2
Secure
Non-skid rubber feet keep drive in place
Worry-Free
3 Year OWC Limited Warranty

14+ Years of Savvy Connectivity
Share, download, upload, and connect your Envoy Pro FX with practically any computer from the last 20+ years with the tethered Thunderbolt (USB-C) to USB-A adapter. Experience blazing-fast Thunderbolt (USB-C) performance with today's computers and devices, and universal compatibility with USB 3 / USB-A.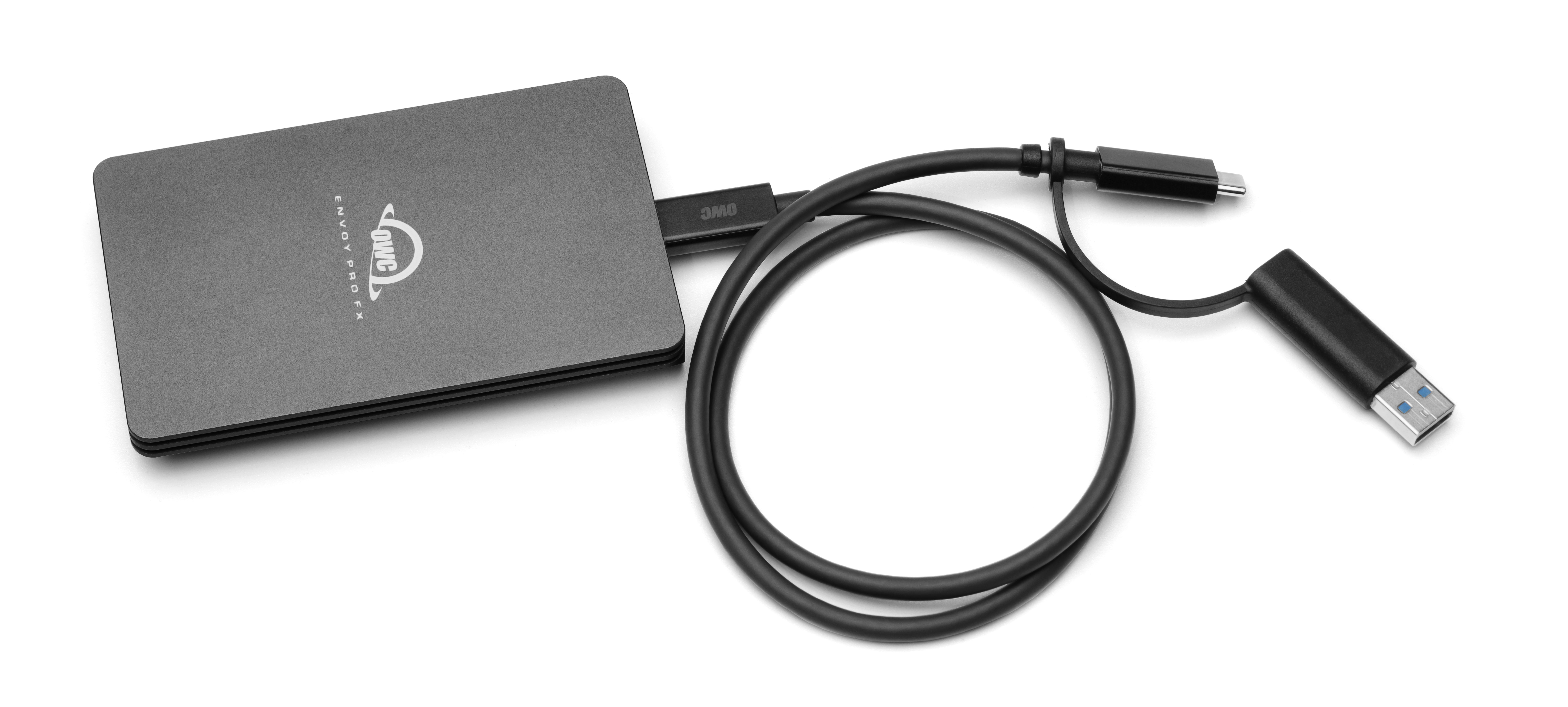 Xtreme Performance
The X in Envoy Pro FX means you can enjoy Xtreme max performance from any interface you connect to with speeds up to 2800MB/s. The Envoy Pro FX can handle every audio, video, photo, graphics, and gaming task you throw at it. Whether you're looking to access and save files from an older machine, backup personal files, or do some in-field large format video editing, this powerful drive is built to deliver.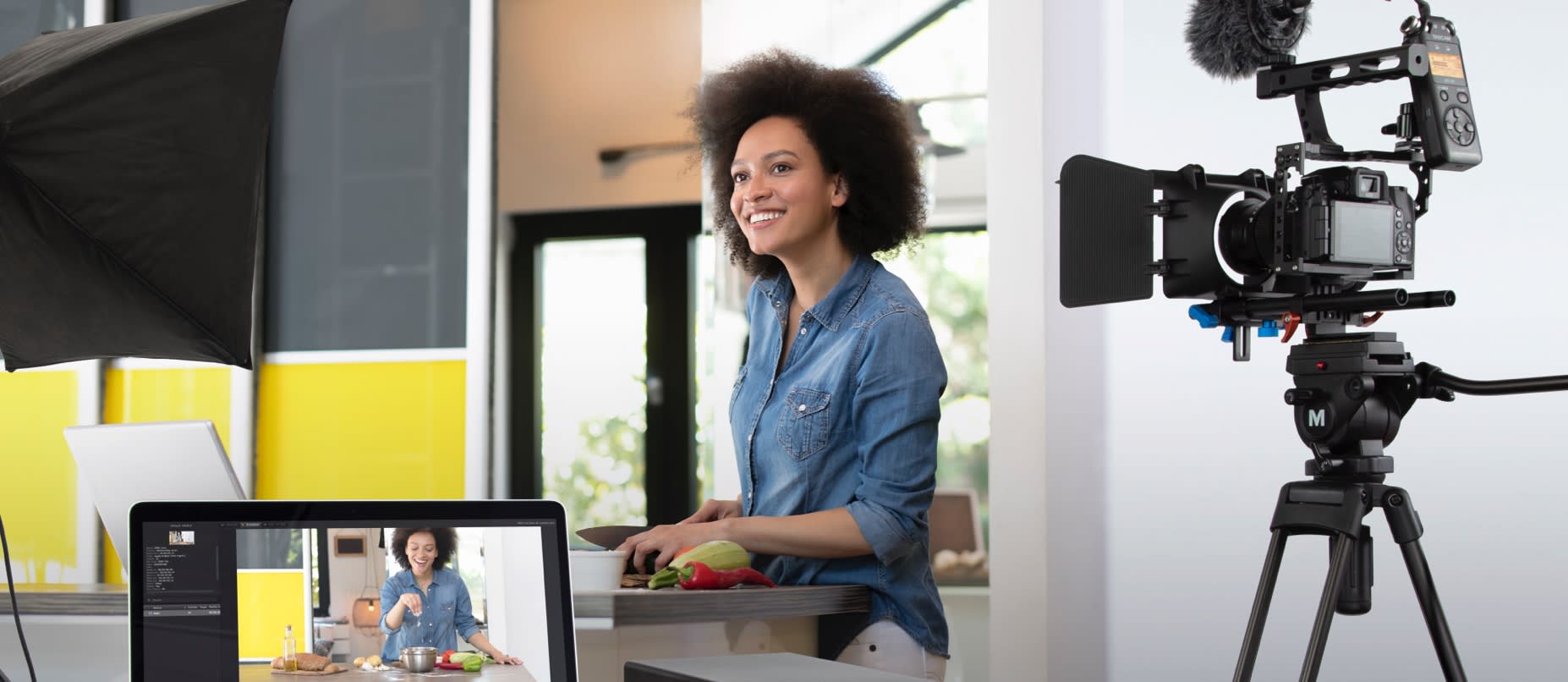 Ideal for Everyone and Every Need
Fast. Tough. Portable. Mac and PC compatibility back to 2010. That's a lot of feature boxes checked off right there. The Envoy Pro FX then takes drive compatibility the next level. It's the ideal drive for a wide variety of uses:
Photo, video, and document storage
Backups via Time Machine or File History
Secondary/portable OS boot drive
On-set project drive for editing dailies
Multi-angled camera editing
Image editing in Affinity Photo and Adobe Photoshop
Utilizing large sample libraries within audio projects
A portable Steam games library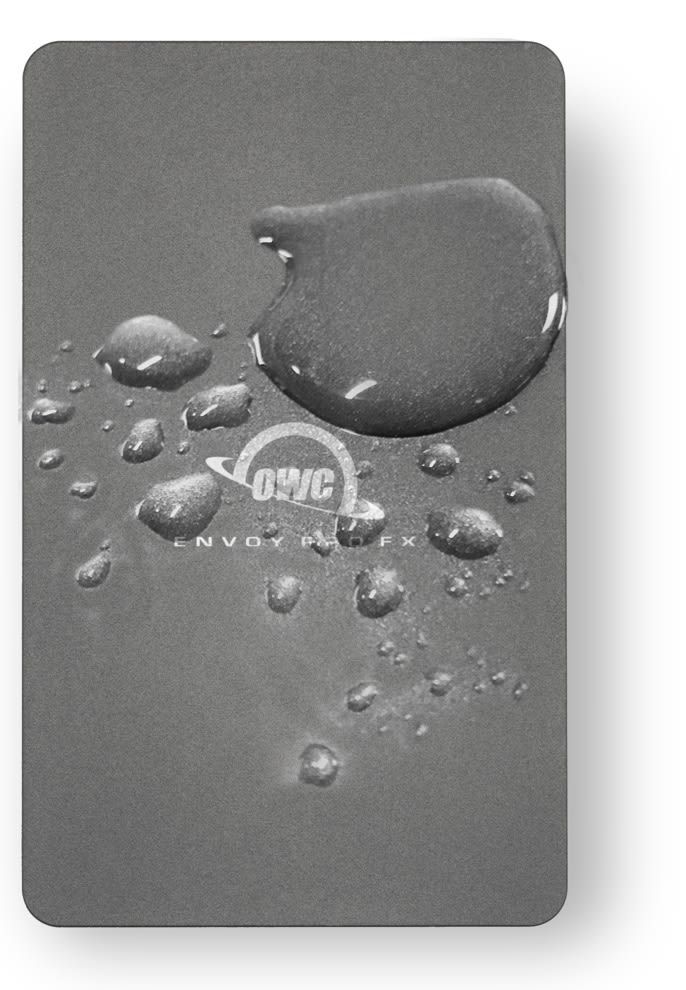 Certified Tough
The Envoy Pro FX serves up flexible uses in Xtreme environments. Its sleek, heat dissipating aluminum housing is IP67 rated, so you can work in the dirtiest and wettest environments. Take on the urban jungle or a chaotic movie set with supreme confidence that your data is protected by MIL-STD810G certified military-level drop toughness. This drive is so tough that we sent it into space aboard the Blue Origin New Shepard rocket! Whether you're dropping it in a puddle or suspending it in zero G, the Envoy Pro FX has all the right stuff.

Form Meets Function
The deeply grooved fins on the Envoy Pro FX's charcoal grey aluminum chassis aren't just there to make it pretty. They turn the entire enclosure into a highly effective heat sink for maximum heat dissipation and performance. Even after prolonged top speed file transfers, the silent Envoy Pro FX remains reliably cool.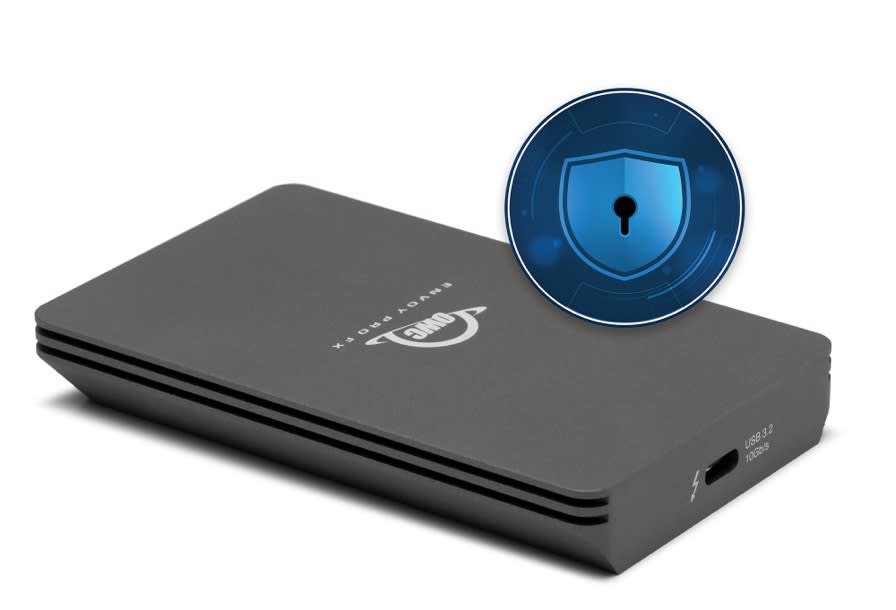 Lock It Up
Protect client project files or personal information with ease. The Envoy Pro FX is fully compatible with macOS and Windows built-in encryption, so you can add password security to your data whenever you need it. Maximum compatibility. Total peace of mind… only from OWC.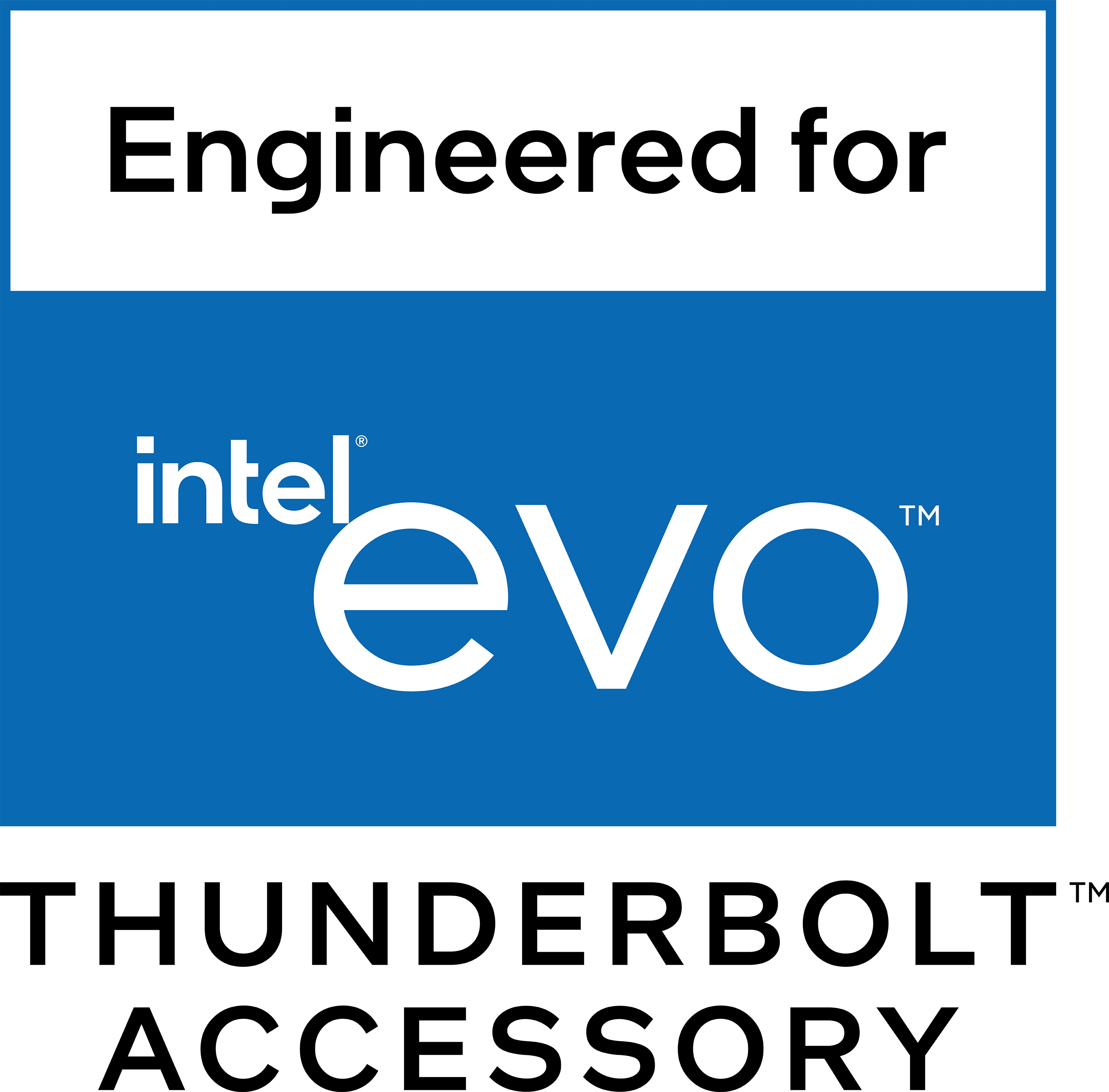 Intel® Evo™ + Thunderbolt™ Certified
OWC Envoy Pro FX achieves Intel Evo + Thunderbolt Certification – a recognition of the exceptional performance and experience you can expect when you pair Envoy Pro FX with with Intel Evo laptops.

OWC Thunderbolt Cable Included
OWC Envoy Pro FX comes with a certified 0.3M OWC Thunderbolt (USB-C) Cable with tethered Thunderbolt (USB-C) to USB-A adapter for universal compatibility with Thunderbolt and USB 3 / USB-A devices. But if your workflow demands a different length to make the connection, OWC Thunderbolt (USB-C) Cables are the perfect choice.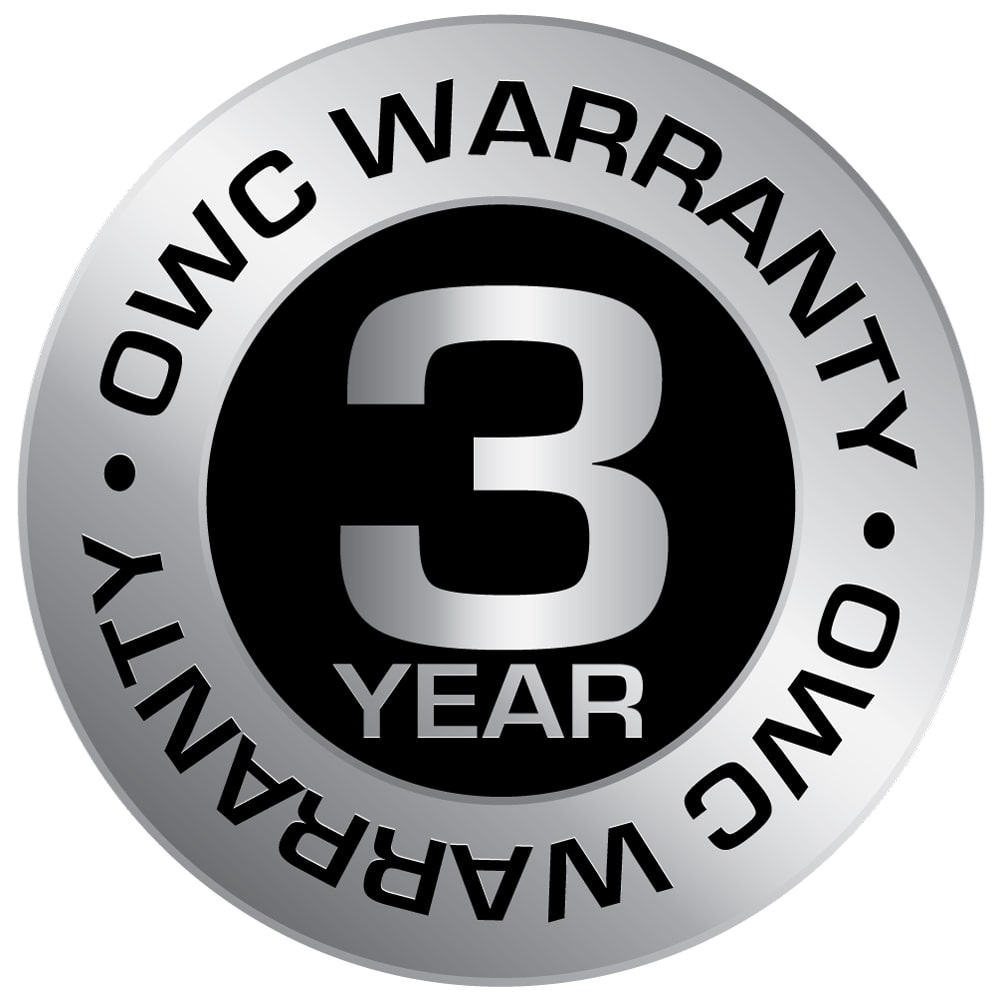 OWC, Trusted by Pros & Enthusiasts the World Over
We build our hardware to the highest standards of reliability and performance. Because 100% reliability is always the goal, we rigorously quality test and back our hardware with a 3 Year OWC Limited Warranty and award-winning customer support.
Learn More
Up to 2711MB/s sequential read/write (max) performance based on testing a 4.0TB OWC Aura Ultra III equipped Envoy Pro FX connected to a Windows 10 PC equipped with a Gigabyte Technology motherboard with an AMD 3960X 3.8GHz processor and 32GB RAM running AJA System Test (4K-Full resolution, 4GB file size, 16bit RGB codec, single file test). Performance will vary depending on drive and application used.
Dropped over 25 times at every angle from a height of four feet by a third-party testing and certification service. Water resistant for up to 30 minutes at < 1 meter.