ATTO
ExpressSAS R680


6Gb/s SAS/SATA RAID Host Adapter
RAID 0, 1, 4, 5, 6, 10, 40, 50, 60 and DVRAID™
Up to 8 SAS/SATA devices
ExpressSAS 6Gb/s SAS/SATA RAID adapters deliver affordable host-level RAID for high-bandwidth workflows such as digital content creation, streaming video, transactional databases, and email and Web server.
Advanced Data Streaming (ADS™)
Latency-management technology that controls the acceleration of data transfers to move large amounts of data faster and more efficiently.

The ExpressSAS H680 provides high-speed 6Gb/s performance at 600MB/s per port. By utilizing a serial, point-to-point architecture, in addition to PCI Express 2.0 bus technology, ExpressSAS 6Gb/s HBAs are engineered for demanding IT and digital media applications which require more performance than 3Gb/s SAS/SATA can provide. The ExpressSAS H680 features eight external ports and allows connections to 256 end-point devices.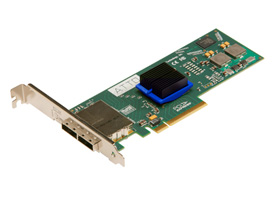 This Card Adds:
Two External Mini-SAS Port (up to 8 devices)
Requires:
Available PCIe 2.0 x8 lane Slot
See specifications below for system and/or OS compatibility information
Included with all ATTO host adapters is an easy-to-use utility enabling management, monitoring and configuration which leverages an intuitive GUI. ATTO's exclusive, field-proven Advanced Data Streaming (ADS7™) Technology helps users meet the most demanding performance requirements of bandwidth-intensive applications. ADS achieves this performance increase by integrating a combination of features engineered to allow for the controlled acceleration of data transfers.
Drive assessment and latency management technology that minimizes the likelihood of RAID groups becoming degraded or taken offline due to slow drives, ensuring uninterrupted access to data.