Blackmagic Design
Intensity Extreme


HDMI Capture
Mac / PC / Thunderbolt™
High Definition Made Easy
HDMI Meets Thunderbolt™
HD Editing Featuring Lightning Fast Thunderbolt™
Intensity Extreme, the world's first 10 bit HD/SD editing solution to feature lightning fast Thunderbolt™ technology. Simply plug in Intensity Extreme to get incredible quality HDMI, component video, s-video and composite 10 bit capture and playback for Thunderbolt™ based computers.
The perfect solution for videographers, Intensity Extreme includes SD/HD capture and playback in compressed and uncompressed video quality. Better still, this revolutionary new device is compatible with Final Cut Pro 7™, Adobe Premiere Pro™, Adobe After Effects™, Nuke™, DaVinci Resolve and more.
True HDMI Digital Connections
Intensity features HDMI-in for connecting to cameras and digital set-top boxes for the highest quality capture. Get higher quality capture from HD cameras by capturing direct and bypassing the HDV compression chip for high quality video captured direct from the image sensor.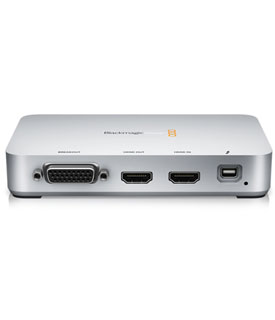 Highlights
Support for HDMI and Analog
Thunderbolt™
Support for HD and SD
Includes Analog Breakout Cable
As edit software can't play back to HDV cameras for monitoring, Intensity is ideal to use for monitoring uncompressed HD or HDV, and even DV edits on the latest big screen televisions and video projectors by connecting to the built-in HDMI out.
Uncompressed or Compressed Video
HDV and DV also use heavy compression. With HDV, the compression is time based which loads up the system CPU as the editing software reassembles the video just to display each frame in the video. With Intensity you're working in uncompressed, so all CPU time is free for real time effects and the system feels snappy and fast to use. Because uncompressed video in HD requires a fast disk array, to save cost you can also choose compressed video that's higher quality than HDV. For example you can use DV 100 codec on Mac OS X™ which is 4 times better quality than HDV, or on Windows™ you can choose our new full resolution JPEG codec.
Full Resolution
Intensity uses full resolution HDTV, which is a massive 1920 x 1080 pixels for every video frame. HDV only uses 1440 pixels wide due to the limitations of the small cassette tapes used and the FireWire speeds build into the cameras. However the newer cameras being released, such as the Sony HDR-HC3 have built-in HDMI video output which allow access to the raw uncompressed video from the CCD directly. That provides incredible quality. If you're capturing off HDV tape, you can still enjoy editing video in full resolution, so your graphics and effects look sharp because only uncompressed video eliminates the horizontal scaling that's required when rendering HDV footage with graphics and effects.
Live Streaming
Always get a clean uncompressed video source for your streaming files. Uncompressed source video also means you don't waste CPU time de-compressing video on capture, so all the computer's CPU is free for compressing to streaming standards. You get faster rendering of your streaming files and more real time support. Intensity Pro is compatible with all streaming software on Mac OS X™ and Windows™.
Product Specifications:
Blackmagic Design Part Number
Input Connections
Digital

1 x HDMI type A connector

Analog (via included breakout cable)

Component, NTSC, PAL or S-Video.
Output Connection
Digital

1 x HDMI type A connector

Analog (via included breakout cable)

Component, NTSC, PAL or S-Video.
Audio Support
HDMI Input/Output
Analog Input/Output (via included breakout cable)

2 Channel RCA HiFi audio in 24 bit

SPDIF Output
Dual Rate Support
HDMI and Analog Component switches between high definition and standard definition
SD Format Support
625i/50 PAL
525i/59.94 NTSC
HD Format Support
1080i50, 1080i59.94, 1080i60
1080p23.98, 1080p24, 1080p25, 1080p29.97, 1080p30
720p50, 720p59.94 and 720p60
Supported HDMI Formats
525 NTSC, 625 PAL, 720HD and 1080HD switchable
HDMI Video Sampling
HDMI Audio Sampling
Television standard sample rate of 48 kHz and 24 bit
HDMI Color Space
Colorspace Conversion
HD Down Conversion
Software based down conversion during video playback
HD Up Conversion
Real time standard definition to 1080HD and 720HD during video capture
Real Time Effects
Apple Final Cut Pro™ internal effects. Adobe® Premiere Pro® CC Mercury Playback Engine effects. Avid Media Composer internal effects
OS Support
Mac OS X 10.8 or later
Windows 7 or later
Interface
Warranty
Manufacturer provided specifications for Blackmagic Design p/n BINTSTBEXT