Bluelounge Refresh
Personal or shared charging station
Refresh - Pink
Refresh is a personal or shared charging station for three or more devices. Compact in size and compatible with most of the new devices hitting the market today, it can charge two iPod/iPhones simultaneously while also charging a Blackberry and a bluetooth headset for instance.
In fact, using the two iPod connectors and two of your own iPod cords, you could even charge four iPod/iPhones at the same time. Perfect for the whole family!
Fresh Ideas for All Situations
The bedroom is best shared by a couple, meaning at least two or three device, so why not share a charging station on the night stand as well?
The kitchen is always the meeting point of the family so Refresh on the counter top allows all members to charge their things while chatting or noodling over the next meal.
The living room is where you mingle, a Refresh here will always be accessible to you and any visiting guests.
Your office desk can now keep your personal and business devices charged at all times (and those of your colleagues) while the forward angle gives you a good view of the screens if any message comes in.
Meeting & break rooms are other places where people mingle and could use a shared hub to charge their devices.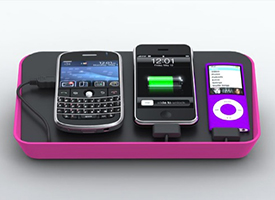 Check Refresh Compatibility
Refresh is the only table top universal cell phone charger or device charger you will ever need. This handy phone charging station and catchall (vide poche) was designed & tested for compatibility with many different manufacturers portable devices, which together with the industry standard USB socket, enable the charging of a very wide range of electronic hand-held devices such as phones, PDAs, MP3 players, GPS, Game Consoles and Bluetooth accessories such as headsets and headphones.


Product Specifications
Manufacturer's Part Number
How It Works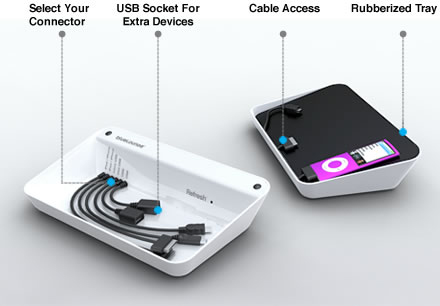 Simply select the connectors you wish to use or plug devices into the USB sockets and replace the rubberized top tray.
Note that the cables have some memory so after using it for a week, they will remain in their desired position for quick and easy connection.