Bluelounge Sanctuary
Simple and compact universal charging station
The Sanctuary - White
The Sanctuary is a beautiful, simple solution to a real everyday problem. A place to put the multitude of personal items we all carry around so they are easily located again when later needed and, always fully charged.

The simple and compact design conceals a universal charger compatible with over 1500 electronic devices from most major brands and a USB port allowing hundreds more electronic devices to be charged using just The Sanctuary. Users can from now on charge their cell phone, PDA, Blackberry, iPod, MP3 player, and bluetooth headset simultaneously in one location.

A Charging Station designed for daily use at the bedside table, kitchen counter, office desk, etc, The Sanctuary performs its functions with ease and elegance. The Sanctuary never truly reveals its multi-purpose electronic capabilities so the user develops an emotional attachment, as it becomes personalized and integral to one's daily routine.
The Sanctuary Compatibility List
The Sanctuary is the only table top universal cell phone charger or device charger you will ever need. This handy phone charging station and catchall (vide poche) was designed & tested for compatibility with many different manufacturers portable devices, which together with the industry standard USB socket, enable the charging of a very wide range of electronic hand-held devices such as phones, PDAs, MP3 players, GPS, Game Consoles and Bluetooth accessories such as headsets and headphones.
Product Specifications
Manufacturer's Part Number
How It Works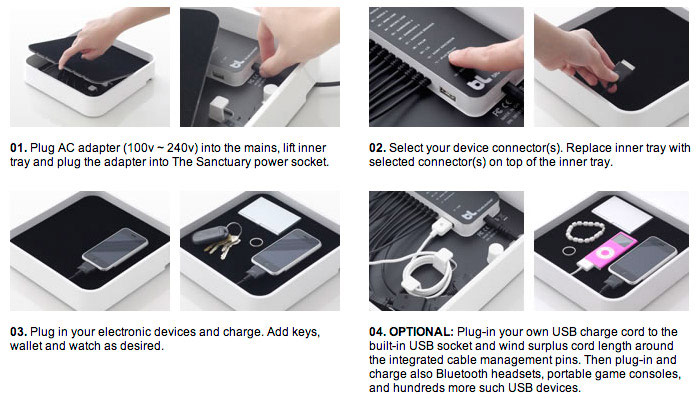 Built-in Connectors