Elgato
Thunderbolt™ Dock


Connect everything with one cable.
Mac / PC / Thunderbolt / USB 3.0 / HDMI / Gigabit Ethernet / Audio
Look what one cable can do...
One cable. All of your devices.
With three additional SuperSpeed USB 3.0 ports, your workspace remains organised even when you unplug your notebook. Rest assured that your backup drive is there to provide safety in the background, and don't keep re-plugging your peripherals in and out due to your computer's limitations. Even better, an easily accessible USB port on the front of Elgato Thunderbolt Dock makes plugging in that client's thumb drive a breeze, without the need to fiddle on the sides of your perfectly positioned notebook.
One cable. Any display.
Elgato Thunderbolt Dock features a built-in HDMI port that can drive a display of your choice. Whether you're looking for a professional-grade screen to meet your standards of color reproduction, a non-glare model to cope with reflections in your office, or a display that trumps all others in size, supported resolutions up to 2560x1600 pixels have you covered.
One cable. Plenty of power.
Unlike traditional USB hubs, the built-in USB ports will even provide enough power to charge your iPad, boost your iPhone charge, enable you to use your Apple SuperDrive, or connect additional bus-powered devices to your Apple Keyboard. To enable high-power USB support on your Mac, simply download and install the
free Elgato Thunderbolt Dock Utility
.
One cable. Fast network.
Wired network connections are faster and more reliable than any Wi-Fi, and with Elgato Thunderbolt Dock, you can tap into the full performance of Gigabit Ethernet. Enjoy speedy connections to your servers, uninterrupted downloads from the internet and reliable file transfers with your co-workers – without an additional adapter dangling awkwardly off the side of your notebook.
One cable. Your choice of sound.
Even your headphones can stay connected with the built-in, front-facing stereo audio port of Elgato Thunderbolt Dock. An additional, separate audio input port enables you to simultaneously connect a high-quality microphone for crystal-clear conference calls or any other project that benefits from having your voice heard.
One cable. More Thunderbolt.
Elgato Thunderbolt Dock offers two Thunderbolt ports: one to connect to your computer, and one to extend the versatility of Thunderbolt even further. Connect high-speed peripherals such as the
Elgato Thunderbolt™ Drive+
to take advantage of unmatched performance, add a Thunderbolt to FireWire adapter for compatibility with your legacy devices, or connect an additional Thunderbolt™ display. You can even connect another Elgato Thunderbolt Dock.
One cable. Easily unplugged.
When it's time to leave, individually ejecting external drives can be a hassle. With the
free Elgato Thunderbolt Dock Utility
, avoiding data loss is just a click in your menu bar away: conveniently eject all storage devices at once and immediately see when it's safe to unplug your Elgato Thunderbolt Dock. Enjoy not working for a while, faster.
Product Specifications:
Elgato Part Number
Mac Requirements
OS X 10.9.2 or later
Thunderbolt port
Mac Boot Support Requirements
Intel "Haswell" or better processor ("Late 2013" models or later)
OS X 10.9.2 Mavericks, or later
GUID Partition Table (GPT) should be used
PC Requirements
Windows 8.1 or later
Thunderbolt port
Ports
2x Thunderbolt (10 Gb/s, bi-directional Input/Output)
1x HDMI 1.4 Output (up to 2560x1600 pixels resolution, HDCP compliant)
1x RJ45 10/100/1000BASE-T Gigabit Ethernet
3x USB 3.0 (5 Gb/s, support for bus-powered devices, UASP & USB 2.0 compatible)
1x 3.5mm Audio Output (analog stereo, via built-in DAC)
1x 3.5mm Microphone Input (mono, via built-in DAC)
1x Power Input (DC 12V 5A)
Maximum Data Transfer Rate
Thunderbolt - 10Gb/s
USB 3.0 - 5GB/s
USB 2.0 - 60MB/s
Gigabit Ethernet - 1Gb/s
Dimensions
7.9" x 3.2" x 1.1" (20.0 x 8.9 x 2.9 cm)
Weight
Warranty
Manufacturer provided specifications for Elgato p/n 10024010 UPC#: 426019539230
Video
Includes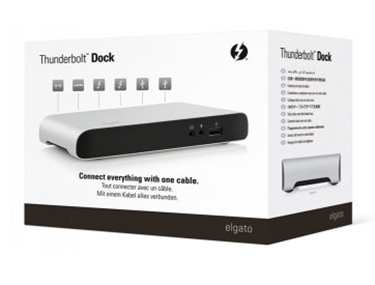 Elgato Thunderbolt™ Dock
Thunderbolt™ Cable (50 cm / 1.6 ft)
Power supply