Icy Dock
ICYRaid


Dual Bay RAID Enclosure
Mac / PC / Linux / USB 3.0 / RAID
Tool-Less Design for Easy HDD Replacement
Made by Professionals, for Professionals
HDD enclosure made by professionals, for professionals
If you're a professional in the media industry then you likely need reliable data storage with features that support your mission critical projects. The ICYRaid MB662U3-2S R1 features a built-in hardware RAID controller, heavy-duty aluminum case, quiet cooling fan with speed control and removable HDD design making it perfect solution for storage-intensive applications such as digital photography, music libraries, high-speed data backup, audio and video editing.

The MB662U3-2S R1 has USB 3.0 with UASP support to increase speed when transferring or rendering large files. The ICYRaid allows you to choose between RAID 0 (Fast), RAID 1 (Safe), Big and JBOD mode to see two individual drives. The MB662U3-2S R1 version adds an individual rebuild indicator LED to warn you when any drive is defective in RAID 1 mode. You can also download the RAID monitoring software from Icy Dock's site if you prefer to see detailed information about your drive(s).

The ICYRaid MB662U3-2S R1 is a self contained hardware dual bay RAID HDD enclosure that operates independent of your computer. Which means it won't share you system resource like a software RAID, and you can connect it to any system that has a USB port to access your data on the go without changing your storage configurations. The MB662U3-2S R1 gives you the flexibility to choose between RAID 0 (FAST – Performance), RAID 1 (SAFE – Protect), BIG and JBOD mode.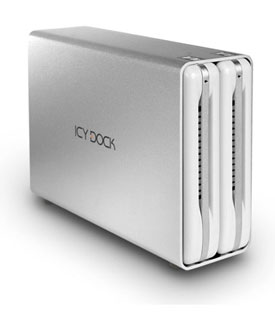 Highlights
Hardware RAID—Built-in controller allows for RAID 0, 1, SPAN, and Independent drive mode
Tool-Less Design—Replacing or upgrading drives is easier than ever
USB 3.0—SuperSpeed USB features plug and play convenience with support for UASP.
LED Indicators—Monitor both disk and rebuild status right from the drive itself
Dual Bay—Supports two 3.5" SATA I, II, or III HDDs
Powerful RAID made simple
The built-in hardware RAID controller allows four different configurations:

RAID 0 (FAST – Performance) — Merge two drives into a single large storage and double the sequential read and write speed up to 420MB/sec in UASP mode (up to 320MB/sec without UASP). This is extremely useful for large data transfer, or playback of multiple HD video streams.

RAID 1 (SAFE – Protect) — Perfect setting for professionals that cannot afford to lose their hard work over a drive failure such as engineers or photographers. Never worry about losing all your data should one of your hard drives inevitably fail. Simply remove the faulty hard drive and insert a replacement drive and watch it rebuild via indicator LED in the rear.

SPAN (BIG) — Combine two drives with different capacities into a single large volume to maximize your storage capacity.

Independent (JBOD) drive mode — Save your data into different drives and read them independently. This is a great way to catalog your data into separate drives which is highly beneficial for anyone that likes to assign different drives for different projects. They can simply swap out drives with the removable HDD design depending on which project they're working on.
User friendly design
Installing and maintaining the MB662U3-2S R1 requires no extra tools, as everything you will need is included. The ICYRaid MB662U3-2S R1 uses Icy Dock's convenient tray-less design to simply make any installation a seamless transition to getting your configuration started. Once you have your hard drives ready, simply open each door, slide in your hard drives, and select the RAID setting you like. After that, turning on the device will automatically start the process on its own.

The easy to read front LED indicators will indicate when a drive is ejected, accessed, or has failed. When the unit is in the process of rebuilding the RAID table in RAID 1 mode, a rebuilding indicator light in the rear will display. The ICYRaid MB662U3-2S R1 conveniently adds LED control so the front and rear LED indicators can be disabled when needed. This is perfect for people who set the enclosure in their bedroom and prefer to turn the LEDs off at night; this function can be changed via dip switch on the rear panel. Additionally, the easy-to-use RAID monitoring software lets you easily monitoring the RAID status and S.M.A.R.T information with both PC and Mac.
SuperSpeed performance
Take advantage of USB 3.0 interface with UASP support (PC users require Windows 8 and Host support, Mac supports it natively). Users will be able to transfer photos, home videos, movies, and music at blazing fast speeds. The USB 3.0 interface is also backwards compatible with USB 2.0, so using the MB662U3-2S R1 on your legacy PC or Mac is not a problem. If the system supports USB 3.0, you will be able to take advantage of the superior performance capabilities – which is crucial for professionals who want tools that perform their jobs quickly and efficiently.
Supreme build quality for maximum reliability and effective cooling
It is known that the most common causes of disk failure are poor heat management and mechanical agitation. Taking this into consideration, the build of the MB662U3-2S R1 uses a solid aluminum body construction which adds heat dissipation, strength, and protection to your hard drives. The ICYRaid MB662U3-2S R1 in addition reduces external vibrations from reaching the sensitive hard disks by enclosing the drive within a vibration reducing cage, minimizing the possibility of disk damage.

Protecting your data also requires that it is constantly maintained to perform at its best. Because hard drives are susceptible to heat failure, it is important to have an active cooling solution. Using the ultra-quiet ball bearing 40mm fan with variable fan speed control ensures optimal heat dissipation or quiet operation for a range of applications such as a recording studio or production room.
Product Specifications:
Icy Dock Part Number
Software Requirements
OS

OS X 10.2.8 or later
Windows XP or later
Linux

Driver

Not required for OS X
Not required for Windows
Hardware Requirements
Minimum

Mac or PC featuring USB 2.0 interface

Recommended (Best performance)

Mac or PC featuring USB 3.0 interface
Interface
Drives Supported
(2) 3.5" SATA 6 Gb/s drives
Maximum Capacity
Up to 16 TB via 8 TB drives
RAID Modes Supported
Hardware: RAID 0, 1, SPAN, and Independent drive mode
RAID Management
Horizontal slide switch on rear of unit
Front LED indicator light to monitor disk status in RAID
Rear LED indicator light for RAID rebuilds status
LED's can be disabled when needed
Initial Configuration
Dimensions
Height: 2.4 in (6.1 cm)
Width: 5.3 in (13.5 cm)
Length: 8.1 in (20.6 cm)
Weight
Warranty
Manufacturer provided specifications for Icy Dock p/n MB662U32SR1 UPC#: 884826002451
Video
Includes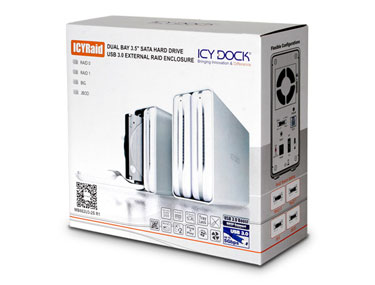 Icy Dock ICYRaid MB662U3-2S R1 Enclosure
USB 3.0 Cable
Power Supply
Power Cable
User Manual