Matrox
TripleHead2Go DP Edition


Digital video converter
Mac / PC / Linux / Thunderbolt / DisplayPort
See more. Do more. Be more productive.
The Matrox TripleHead2Go DP Edition external multi-display adapter adds up to three monitors to your laptop or desktop computer. It connects to the video output of your system and uses the system's existing GPU to provide high-quality, uncompressed graphics and video across all monitors. Ideal for professionals requiring more desktop space for maximum productivity and gamers wanting a totally immersive experience, this little black box lets you run different applications on each display or view one application across multiple monitors.
Business Productivity
Working with more than one monitor allows you to see more, do more, and be more productive. Use the extra screen space to spread applications across your desktop, much like you would spread printed documents across your desk.

For specialized applications, such as financial services or day trading programs, viewing data across multiple monitors provides the ability to see critical information at all times for quick decision making and streamlined workflow.
Digital Signage
Drive two HD displays from a single player PC to create digital signage canvases of up to 6 million pixels. Unique in its ability to support three 1920x1080 monitors at 50Hz, the Matrox TripleHead2Go supports a variety of widescreen resolutions for the display of high-quality, uncompressed digital content across multiple monitors.

And if three displays aren't enough? Connect two TripleHead2Go units to create a cost-effective, six-screen setup. TripleHead2Go units can be used to improve and simplify digital signage applications such as digital menu boards, terminal and concourse information displays, shopping mall kiosks, and ambience-enhancing installations—to name a few.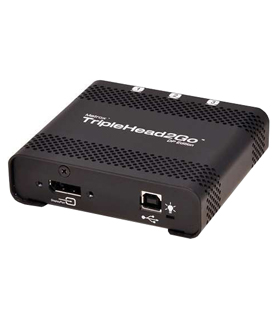 Highlights
Adds up to three monitors to your notebook or desktop computer
Connects to the Thunderbolt™, DisplayPort ™ or Mini DisplayPort video output of your system
Uses your system's existing GPU to deliver a solid platform for office, 3D design, and multimedia applications
Quick and easy to install—no need to open the computer case or insert components
Includes Matrox PowerDesk software to easily manage your desktop configuration
PC and Mac compatible
Media Creation & DCC
As an artist or digital content creator, you need multiple palettes, menus, bins, controls, and toolbars in your applications. Spread out your projects, work more comfortably, and increase your productivity with a Matrox TripleHead2Go-powered multi-monitor setup. The extra screen space will allow you to view more layers of video on the timeline, increase the size of your video scopes and frame viewers, as well as customize your entire workspace to improve your workflow.
CAD Design & GIS
Take advantage of increased desktop space when using CAD software. Work on your design drafts, architectural models, or plans across multiple monitors.

Expand your perspective and arrange application windows so you can complete your work more quickly and efficiently. Add two or three monitors to your notebook computer for a full surround 3D design experience.
ProAV
Benefit from panoramic images and visuals by integrating Matrox TripleHead2Go into your ProAV installations. TripleHead2Go works collaboratively with additional hardware (LCDs, CRTs, projectors, video wall controllers) to deliver impressive visual experiences in a variety of environments, including:
Conference rooms
Education
Worship
Training & Simulation
Product Specifications:
Matrox Part Number
Max Number of Displays
Max DVI Resolution
5760x1080 (3x 1920x1080)¹
3840x1200 (2x 1920x1200)
Max VGA Resolution
4080x768 (3x 1360x768)
3840x1080 (2x 1920x1080)
Max DisplayPort Resolution
5760x1080 (3x 1920x1080)¹
3840x1200 (2x 1920x1200)
System Connectivity
DisplayPort
Mini DisplayPort
Thunderbolt
Monitors Supported
System Requirements
Single DisplayPort or Mini DisplayPort video output, or Thunderbolt port, on a compatible system
Powered USB connector
Display driver supporting 3072 x 768 or higher resolution
Supported Operating Systems
Microsoft® Windows® 8 (32/64bit), Windows 7 (32/64bit), Windows Vista® (32/64bit), Windows XP (32/64bit), Windows Server® 2012 (32/64bit), Windows Server 2003/2008 (32/64bit)
Mac® OS X® Mountain Lion (10.8), Mac OS X Lion (10.7), Mac OS X (10.6, 10.5)
Linux®
Power
USB and DisplayPort for power
Clone Mode
Stretched Desktop Support
Dimensions
3.5" x 3.8" x 1.1" (8.9cm x 9.7cm x 2.8cm)
Shipping Weight
Warranty
Notes:
This mode runs at 50Hz which may be incompatible with some displays. Verify with your display vendor for compatibility.
Manufacturer provided specifications for Matrox p/n T2G-DP-MIF UPC#: 790750240749
Includes
TripleHead2Go DP Edition
2-foot DisplayPort to DisplayPort input cable
3-foot USB cable
Mini-DisplayPort to DisplayPort input cable
"Getting Started" CD & Documentation
Software

PowerDesk for Mac
Efficiently organize your desktop at the press of a button by moving a given window from one display to the next and maximizing it to fit the entire screen. Further customize your Mac work space by moving the dock onto any of your screens. Select the optimal multi-display settings for your setup, with regard to resolution and refresh rates.

PowerDesk for PC
Set the behavior of your apps, such as where windows should open up and maximize, or even on which display a PowerPoint slide show will run. You can view a presentation across multiple displays, or only on one depending upon your needs. Customize your desktop's layout and split it up into different sections. Either spread one application across your entire desktop or devote one display to each. Alternatively go even further and create multiple partitions on a single monitor and open an application in each section. Select the optimal multi-display settings for your setup, with regard to resolution and refresh rates. Easily install Matrox PowerDesk across many systems without any user interaction—a must-have tool for any IT administrator for corporation-wide deployments.