NewerTech Voyager Q
0GB

"Quad Interface" SATA I/II
Hard Drive Docking Solution
Mac / PC / eSATA / FireWire 800 / FireWire 400 / USB 2.0 & 1.1
The Easiest Way To Access Data From ANY 2.5" or 3.5" Serial ATA (SATA) Hard Drive Up To 2.0TB!
Boot and Swap drives at will!
Whether you're on a data recovery mission or just want to check the contents of an older swapped out hard drive, NewerTech Voyager is the easiest, most convenient way to access data from any Serial ATA (SATA) hard drive.

Just insert any standard 2.5" or 3.5" SATA I/II hard drive with up to 2.0TB capacity into the compact docking base and select one of the four interfaces supported by your Mac® or PC for the fastest data transfer performance. Then, start reading and/or writing data to the docked hard drive. There's nothing else to install or configure!
Saves Time & Money
With its Plug and Play design, the NewerTech Voyager saves you the time of installing a hard drive into a computer or the cost of an external enclosure. Now you can think of bare SATA drives with the same convenience and instant access benefits as flash memory cards…but with huge gains in storage capacity!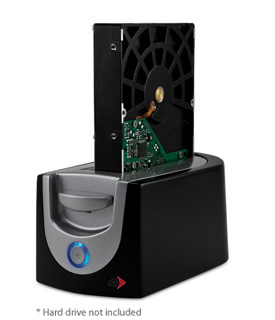 Time Machine Ready
Keep an up-to-date copy of all of your files and documents via Time Machine with OWC drives.
Hot-Swap Ready
Have multiple hard drives you need to access? No problem, NewerTech Voyager's unique design makes hot-swapping SATA hard drives a breeze*. When finished using your drive, simply pull up on it or use the eject lever for 3.5" drives for quick and effortless removal.
Ideal Solution For Photographers & Videographers
Instead of needing multiple enclosures and power supplies for every archived hard drive, NewerTech Voyager makes accessing your valuable hard data a breeze. Just slide in your hard drive, find the desired image or clip, and then return the hard drive to your storage safe.
Truly Plug and Play
With all supported interface connector cables included, an auto-switching power supply for worldwide compatibility, and flexible operating system compatibility, the NewerTech Voyager can travel your data universe with ease.
Includes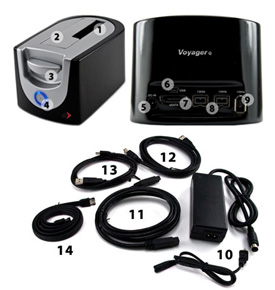 2.5″ & 3.5″ SATA I/II drive connector
Hinged flap for 3.5″ drive access
Hard drive eject lever for safe removal of 3.5″ drives
Status LED:
Blue = Power
Flashing Red = Disk Activity
Power receptacle
USB 2.0/1.1 Mini-B port
eSATA port
Two FireWire 800 (1394b) ports
FireWire 400 (1394a) port
External Auto-Switching US/Intl. UL Listed 100-240V AC/ 50-60Hz, 12V/3 Amp Output
36″ High Quality Double Shielded FireWire 800 connecting cable (9-9 Pin cable)
36″ High Quality Double Shielded FireWire 400 connecting cable (6-6 Pin cable)
36″ High Quality Double Shielded USB 2.0/1.1 connecting cable
36″ High Quality Double Shielded eSATA connecting cable
Product Specifications:
Bridge Chipset
Features
Supports all all 2.5″ and 3.5″ SATA I/II hard drives and SSD drives up to 2.0TB
"Quad Interface" for maximum data transfer rates and system compatibility
Data transfer rates up to 3.0Gb/s (300MB/s)
Hard drive eject lever for safe removal of 3.5″ drives
Hot-Swap functionality for fast access of multiple SATA hard drives*
Weighted base and non skid rubber feet for stable operation
Status LED:
Blue = Power
Flashing Red = Disk Activity
Compact design…measures 3.937″ x 5.95″ x 3.169″ inches
Whisper Quiet operation…no cooling fan needed
Plug and Play with Macs and PCs
All interface connection cables included
RoHS Compliant
One year warranty
CE approved
Data Transfer
eSATA - 3.0Gbit/s (or 300MB/sec)
FireWire 800 - 800Mbps (or 100MB/sec)
FireWire 400 - 400Mbps (or 50MB/sec)
USB 2.0 - 480Mbps (or 60MB/sec)
Power Supply
Compatibility
Macintosh Requirements:
Macintosh OS 8.6 to 9.2.2, OS X 10.2.x or later including 'Lion' 10.7.x, and an available FireWire, USB, or eSATA port.
Windows Requirements:
Windows Vista, XP, 2000, NT, 98, and an available FireWire, USB, or eSATA port.
Linux Requirements:
Linux compatible via supported USB and FireWire interfaces.

OWC Note: 2.0TB hard drives are only recognized by Windows XP 64-bit versions or later. The Windows XP 32-bit version DOES NOT support 2.0TB drives.
Material
ABS black plastic with non-skid rubber feet
Dimensions and Weight
5.9″(D) x 3.9″(W) x 3.1″(H)
149.86mm x 99.06mm x 78.74mm
1.32 lbs. (.60kg) (without drive)
Interface/Ports
(1) eSATA port
(2) FireWire 800 (1394b) ports
(1) FireWire 400 (1394a) port
(1) USB 2.0/1.1 Mini-B port
Product Manual
Warranty
NewerTech 1 Year Solution Warranty
The best warranty is one you never have to use, but should the need occur - NewerTech is proud to provide a superior level of support and warranty coverage to our customers. Even when not used, we understand the peace of mind afforded by a longer warranty period. NewerTech's industry leading coverage is a testament to our confidence in the reliability of the solutions that we offer. NewerTech solutions are engineered to demanding quality standards in order to deliver the most reliable, highest performance available on the market in each storage category.
View more information about the NewerTech 1 Year Solution warranty
Note: Do not disassemble or otherwise open your NewerTech solution prior to the conclusion of NewerTech's 1 year Warranty period. Doing so will void the remainder of the NewerTech warranty.
Manufacturer provided specifications for Newer Technology p/n FWU2ES2HDK UPC#: 811643010000
*Use of eSATA interface requires system reboot in order to recognize hard drive
NOTE:
Voyager only accepts SATA interface drives (show connnector) If you have IDE/ATA interface
drives (show IDE), we recommend the
NewerTech USB Universal Drive Adapters
.
VOYAGER trademark used under a license from the owner of U.S. Registration No. 3,089,301. All rights reserved.