NewerTech Guardian
MAXimus mini
0GB

Add your own drive enclosure


Multi-Interface RAID-1 (Mirrored)
Redundant Data Storage Enclosure
Mac / PC / USB 2.0 & 1.1 / FireWire 800 (FireWire 400 Backwards Compatible) / eSATA
Powerful, Dual Drive RAID 0/1 Performance
in a Bus-Powered, Portable Design
MAXimum Protection & Flexibility
NewerTech Guardian MAXimus mini RAID-1 mirror storage solution provides maximum Plug-and-Play "Live Activity" data backup and protection in a space-saving mini footprint. In the pre-configured RAID-1 MAXProtect mode, Guardian MAXimus mini guards against data loss and costly system downtime by writing the same information in real-time to create a "mirrored" copy of 1.0TB of data.
MAXProtect or MAXPerform, Your Choice

For those seeking performance over redundancy, Guardian MAXimus mini can be easily switched via the LCM screen menu to the RAID-0 MAXPerform mode for up to 2.0TB of high speed performance storage. Whatever your preference, Guardian MAXimus mini offers MAXimum performance, flexibility, and reliability for critical data backup
MAXiumum Portability
Guardian MAXimus mini is ready to go wherever your "mobile office" needs take you. Bus-powered (no AC adapter required) and weighing as little as 1.24 pounds, it offers maximum data protection with minimal gear bag bulk. While ultra compact, the Guardian MAXimus mini comes packed with high performance features like dual hard drives or SSDs, data transfer speeds up to 300MB/s, and user conveniences like a front panel LCM screen/control interface for drive and system status monitoring.
Why You Need Guardian MAXimus mini RAID-1
Guardian MAXimus mini is "live activity" backup of financial records, medical files, business projects...any critical data that you simply cannot risk losing. It's always guarding against data loss by writing the same information in real-time to two separate drives for a "mirrored" copy. It also protects you from costly system downtime and data restoring after a single hard drive-equipped system crash. Even daily scheduled software driven data backups can't protect you between your last backup and the moment the hard drive fails. By having a second, "mirrored" copy, all of your data stays backed up and accessible while you replace the failed drive.
Drives not included - uses
two 2.5" SATA drives
Requires two identical model drives for best operation,
operation with non-matched drives is not supported.

OWC NOTE: OWC recommends that all drives used in RAID configurations be identical for best performance. This drive enclosure requires a 2.5" Serial ATA (SATA) drive mechanism. Most computers produced since 2006 use Serial ATA (SATA) hard drives. Please make sure that the drive you wish to use with this enclosure is compatible. If you need an enclosure for an ATA/IDE hard drive,
click here.
Please note that the 960GB Mercury Electra MAX 3G SSD and 1.0TB Mercury Electra 6G SSD are not recommended for use with this enclosure.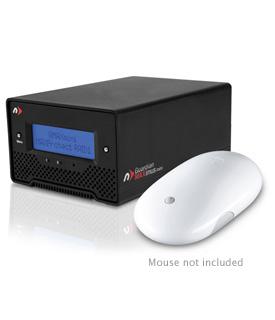 OWC's A Closer Look
OWC's Step-by-Step Install Video