NewerTech miniStack v2.5
500GB

FireWire® 400/USB
2.0 Storage Solution
Mac / PC / FireWire 400 / USB 2.0 & 1.1
BIG Performance From A Space-Saving Design!
Oxford 934 - High performance FireWire 400 and USB 2.0
Compact 6.5″ x 6.5″ x 1.5″ size
Plug and Play ready with ANY Mac! FireWire 400 and USB2.0
connecting cables included.
Three Firewire 400 ports (1 uplink + 2 additional)
Four USB 2.0 ports (1 uplink + 3 additional)
Intelligent thermal monitoring activates fan only when needed
to reduce power consumption and minimize noise output
Auto-Power up/down automatically with computer
Massive passive heat sink to radiate heat away from HD
Fully bootable via USB or FireWire
External AutoSwitching 100~240v 50/60Hz UL Listed power adapter - 2 Amp
power supply gives you less stress and clean ample power!
(UL, CUL, CE, TUV approved)
Kensington® Security Slot designed to allow
the miniStack to be anchored to a desk
From desktops to notebooks, miniStack v2.5 is the perfect companion for ANY Mac® or PC!
Expand your storage capacity and port flexibility while decreasing your desk /cord clutter. The NewerTech miniStack v2.5 is the perfect external drive and powered hub companion for ANY computer.
Small Footprint, Big Performance
Housed within the miniStack v2.5's compact, sleek, state-of-the-art enclosure is a high performance 3.5″ Serial ATA (SATA) drive. Now you can have all the storage space you need for music & video files, graphics & photos, and document backup. Plus, with three FireWire 400 ports (1 uplink + 2 additional) and four USB 2.0 ports (1 uplink + 3 additional), you can now connect devices including scanners, printers, memory card readers, digital cameras, and iPods® - all at once!
Portable and Versatile
This terrific storage/connectivity solution is so versatile, it works with all Macintosh® computers and laptops, as well as virtually any Windows® or Linux®-based system with USB or FireWire. The easy-to-use miniStack v2.5 also perfect for booting your OS on any system with FireWire 400 or USB 2.0 boot-support.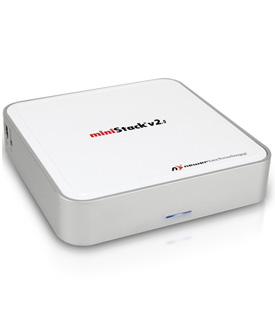 Time Machine Ready
Keep an up-to-date copy of all of your files and documents via Time Machine with OWC drives.

500,000
Photos
2

190 Hours
of Video
3

175,000
Songs
4
Whether you're a techie and want to add your own hard drive to one of our 0GB Kits or want the convenience of a pre-configured solution that comes complete with a leading hard drive utility/performance & backup software bundle, NewerTech has a miniStack v2.5 solution for your specific need.
1. The actual total capacity will depend on your own defined file settings/preferences. 1GB = 1,000,000,000 bytes. Total accessible capacity
varies depending upon operating environment (typically 5-10% less).
2. 1MB per 2.4 megapixel JPEG photo - low resolution
3. DVD Quality Digital Video at a 2.597GB/hour data rate
4. 2.85MB per MP3 song