512MB

OWC Memory Upgrade Module
512MB PC133 168 Pin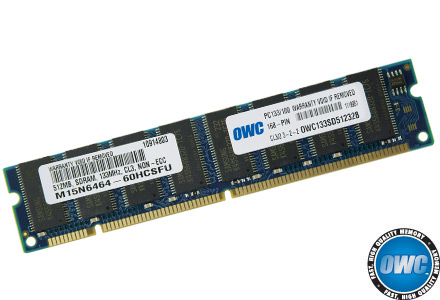 Product Specs:
Size:

512MB
168-pin DIMM
PC133 Synchronous DRAM
32x8 based memory devices
CAS-3 rated refresh
6 Layer PCB Board Design
3.3 Volt
Meets and/or Exceeds Apple Specifications
Fully compliant with JEDEC specifications
Free Installation Videos & Manuals
OWC Memory fully meets Apple's specifications with special attention to proper thermal specifications.

From the purchase date of qualifying memory from OWC, you have 60 days to trade-in your old memory for a cash rebate!
Just fill out
OWC's online rebate form
or contact
OWC Customer Service
after you receive and install your new memory.
Apple Computer Firmware Revision notes:
OWC Memory has been tested and is found 100% compatible with all Apple Firmware updates. Many people have experienced problems with memory after installing this latest update, but the memory OWC is providing fully meets all Apple Specs and is not subject to these problems. Thank you for being an OWC Customer!