64.0GB

OWC Memory Upgrade Kit
4 x 16.0GB PC3-14900 DDR3 ECC Registered 1866MHz 240 Pin
Used | OWC Tested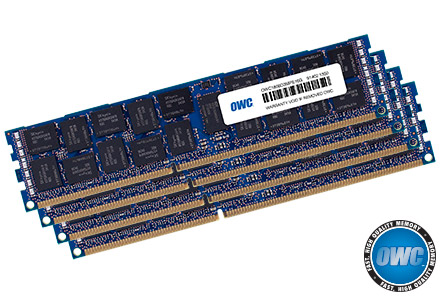 Product Specs:
Size:

16GB (16384MB)
240-pin SDRAM DIMM
2048M x 72, Dual Rank ECC Registered Memory Module
Data Rate = 1866MHz
Module Bandwidth 14.9GB/s
CL13
Voltage 1.5V
Apple Specified Thermal Sensor
RoHS Certified
OWC Memory for Mac Pro 2013 fully meets Apple's specifications with special attention to proper thermal specifications.
IMPORTANT OWC NOTE:
Apple Mac Pro 2013 models utilizes ECC non-Registered for 4GB and 8GB per slot options and ECC Registered for 16GB (and larger) per slot options. Any existing 4GB and 8GB ECC non-Registered modules cannot be mixed with 16GB and larger ECC-Registered modules and will need to be removed in order to utilize these higher density memory upgrade options.
Easy to install!