64.0GB

OWC Memory Upgrade Kit for iMac Pro (2017 - Current)
4 x 16GB 2666MHZ DDR4 RDIMM PC4-21300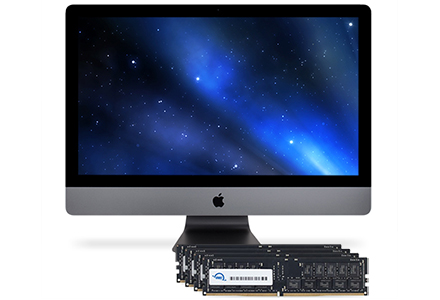 Product Specs:
Technology:

DDR4 RDIMM 288 Pin

Density:

4 x 16GB (16384MB)

RoHS:

Yes

Pin Count:

288-pin

Op. Temp.:

0C to +85C

Data Rate:

DDR4-2666 V-R

Speed:

PC4-21300

CL:

19

Voltage:

1.2V

ECC:

Yes

Module Ranks:

Single Rank
Low Noise 8-Layer PCB
Meets and/or Exceeds Apple/Intel Specifications
Fully Compliant with JEDEC specifications
RoHS Certified
Free Installation Videos & Manuals
Professional Installation Required!
The iMac Pro DOES NOT feature a memory door on the back allowing for easy upgrades. Upgrading the iMac Pro's memory requires dismantling the computer to gain access to the memory slots. This is a highly complex process that requires a skilled technician.

From the purchase date of qualifying memory from OWC, you have 60 days to trade-in your old memory for a cash rebate!
Just fill out
OWC's online rebate form
or contact
OWC Customer Service
after you receive and install your new memory.
NOTES:
Apple iMac Pro can use either RDIMM or LRDIMM, but they cannot be combined. The system will not function with a mixed configuration. For maximum performance, population of all 4 DIMM slots is recommended.
Includes
(4) 16GB 2666MHZ DDR4 RDIMM PC4-21300
(1) 27" iMac Adhesive tape set for proper display resealing
Note: This memory kit is intended for Apple iMac Pro or PC desktops and servers which use 2666MHz DDR4 Registered (RDIMM) modules. Memory provided in this kit is is NOT compatible with Apple iMac.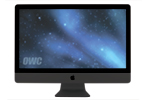 iMac Pro
(27-inch Late 2017)
(December 2017)
3.2GHz 8-core, 3.0GHz 10-core, 2.3GHz 14-core, 2.5GHz 18-core
Install Videos coming soon
iMac Pro Memory Installation Video