OWC Bundle
Mercury Helios FX 650


with Radeon RX 580 8GB GDDR5
Mac / Windows
Thunderbolt 3 External Radeon RX 580 GPU
Your Mac or Windows PC Will Never Be the Same Again
Transform MacBook Pro, MacBook Air, Mac mini, iMac, or any Thunderbolt 3 equipped PC into a high-end graphics processing workstation. The OWC Mercury Helios FX 650 eGPU comes ready to perform with an 8GB high-end Radeon RX 580 GPU that utilizes 36 compute units to deliver up to a whopping 6.2 TFLOPs of performance. With support built into the latest macOS and Windows 10, adding this processing power is as simple as plugging the Mercury Helios FX 650 into your computer's Thunderbolt 3 port.
Sheer Performance Numbers
The Helios FX 650 delivers where it matters most.
Up to 3.2x faster performance with 2018 MacBook Pro
Up to 5.2x faster performance with 2018 MacBook Air
Up to 5.4x faster performance with 2018 Mac mini
(Metal and/or Open CL GPU performance with Radeon RX 580 GPU)
Work Faster. Play Faster.
Modern software and operating systems utilize the massive power housed in the GPU to enhance the performance that spans nearly everything you do. And nowhere is GPU realized more than with graphics intensive programs, video editing suites and VR/AR software. With the graphics processing power capabilities Radeon RX 580, experience shorter rendering times and faster effects operations with Final Cut Pro, DaVinci Resolve, Avid, Adobe, and other video suites.

All that extra speed empowers you to iterate and experiment more. Allowing you to push that latest edit to the next level, or journey on a different path to see where it takes your creative vision.

When you need to take a break from work, the same horsepower delivers incredible gaming graphics and higher FPS at higher resolutions. With full support for Apple Metal as well as OpenGL/CL, there's no limit to what you can accomplish and experience.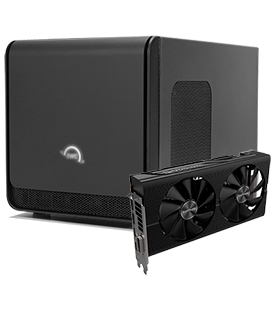 Highlights
Massive GPU performance
Enhance VR, AR, 3D and video workflows
Elevate gaming performance
Mac and Windows PC compatible
macOS 10.13.x and later plug 'n play, enjoy 10.14.x "Mojave" optimizations
Exceed AVID Media Composer system requirements
HDMI, DisplayPort and DVI connectivity
Utilize multiple displays
For desktops and notebooks – even powers/charges notebooks up to 100W!
Thunderbolt cable included
Helios FX: 3 Year OWC Limited Warranty
Radeon RX 580: 2 Year Manufacturer Limited Warranty
Look Elsewhere for Planned Obsolescence
Unlike other eGPUs, the Helios FX 650 is upgradeable. When the time comes for a better GPU, we made upgrading super simple so you can reuse your investment for years to come. That's better for you, and produces much less e-waste. The high power capabilities will let you run the demanding GPUs of today and tomorrow. The chassis is made of recyclable materials as well, which makes the Helios FX 650 the smart upgradeable and recyclable choice.
Designed for Excellence
Keeping this much graphics processing power cool and quiet is a tall order, but Mercury Helios FX delivers. With a large variable speed, temperature-controlled fan, the Mercury Helios FX plays nicely even in the most noise-sensitive environments. Minimal noise is only part of the equation. Reducing the number of cables going into your computer combines to create a clean and distraction free workspace. The Mercury Helios FX provides up to 100W of power to a connected notebook computer, freeing up a Thunderbolt 3 port and letting you keep your power adapter in your bag for life on the move.
Turbo Boost Even the Latest Models
The latest computer models, even those with discrete GPUs, can experience a performance boost with the Mercury Helios FX 650. With more dedicated memory, more processing cores, and higher clock speeds, this external GPU can take your computer further.
Mercury Helios FX 650 Specifications:
Manufacturer Part Number
Mac OS Compatibility
macOS 10.13 High Sierra or later
PC OS Compatibility
Windows 10
Windows Server 2016
Other Requirements
Mac: requires macOS 10.13.4 or later
PC: requires Windows 10 64-bit v1709 or later
Color
Output Connection
Chipset
Certifications
Power
Ambient Temperature
Operating: 32°F to 95°F (0°C to 35°C)
Dimensions
Height: 20.0 cm (7.9 in)
Length: 34.0 cm (13.4 in)
Width: 18.5 cm (7.3 in)
Weight
Notes
Not Compatible with Boot Camp.
2018 Mac mini: As of 10-18-19, not recommended with 10.15 Catalina (Click For Details).
2018 Mac mini owners can avoid potential problems by making sure the external display is connected directly to the mini when booting, then, after the macOS Desktop has loaded switch the display cable to the eGPU.
For easy setup OWC recommends cards that are 28 cm in length or less. Longer cards may require extra steps to remove the power supply, or may not fit at all depending on shroud design.
Radeon RX 580 Specifications:
Sapphire Part Number
Mac OS Compatibility
macOS 10.12.6 Sierra
macOS 10.13.x High Sierra
macOS 10.14.x Mojave
PC OS Compatibility
Windows 10 64-bit Edition
Windows 7 64-bit Edition
Video Memory
Other Requirements
500 Watt or greater power supply (Recommended)
1 x 8-pin Power Connector
PCI Express® compliant motherboard with one x16 graphics slot
Chipset
AMD RX 580, 14 nm FinFET 4th Graphics Core Next (GCN)
External Connectivity
(1) DVI-D
(2) HDMI
(2) DisplayPort 1.4
Card Type
PCI Express 3.0 X16 Full Height Full Length
Resolutions Supported
DisplayPort: 5120×2880, 60Hz
HDMI: 4096×2160, 60Hz
DVI:2560x1600, 60Hz
Dimensions
Height: 12.5 cm (4.9 in)
Width: 4.0 cm (1.6 in)
Length: 23.0 cm (9.1 in)
Weight
Notes
Audio output through HDMI or DisplayPort will not work in a Mac. For PC, use HDMI 2.0 or DisplayPort for best audio quality.
Manufacturer provided specifications for Other World Computing p/n HELFX6RX580 UPC#: 810586032971
Includes
Mercury Helios FX Expansion Chassis

(1) Thunderbolt 3 cable (40Gbps)
(2) 6+2 pin internal power cables for GPUs requiring 6 or 8-pin power
(1) Power cable
GPU Compatibility (download only)

Radeon RX 580 graphics card

(1) Graphics card quick guide
(1) Driver CD