OWC
Mercury Helios 3S Studio Bundle


10GbE Network Interface Solution
The reliable, easy to use full-speed 10GbE networking solution
If you're working with massive data intensive files like video, animation, graphics, and gaming and you want to transfer those files over a network, the OWC Mercury Helios 3S Studio Bundle solves numerous challenges:
Many modern computers don't have an Ethernet port
You cannot add a networking card internally to space-confined notebooks or desktop like an iMac or Mac mini
If your computer does offer built-in Ethernet, it's typically Gigabit (1Gb/s) speed. That's only 125MB/s which reduces your productivity to a snail's pace.
External bus-powered Thunderbolt Ethernet adapters take a performance hit because the bus connection has to handle both providing power and the data transfers. Additionally, under prolonged usage, the adapter can heat throttle further reducing speed.
The Easy Full 10GbE Speed Solution
The Mercury Helios 3S Studio Bundle is an easy to use yet powerful solution that adds external ultra-fast 10Gb/s (1250MB/s) network connectivity to your Thunderbolt equipped computer. With dual 40Gb/s Thunderbolt ports, the Mercury Helios 3S offers the bandwidth needed to share files over a 10GbE network at full speed with full reliability.
Keeps Projects on Track
This innovative, high-performance OWC networking solution helps you keep projects on schedule and under budget by giving multiple editing workstations the bandwidth needed for sharing and editing data-intensive creative content. Now editing can take place directly from files on a shared RAID storage device or NAS, such as
OWC Jupiter Callisto
or
OWC Jupiter mini
.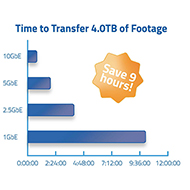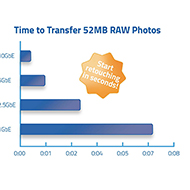 Highlights
Warp speed file transfers: (2) Thunderbolt 3 40Gb/s ports
See more: DisplayPort 1.4 for connecting up to an 8K display
Charge while working: 85W of notebook charging
Runs quietly cool: Heat dissipating aluminum enclosure with low noise fan and aluminum heatsink on network card for full 10GbE speed and distraction-free use
Convenient: built-in power supply keeps workspace tidy
Maximum network compatibility: delivers up to 10Gb/s network connectivity speed through 100m of Cat 6a cabling or up to 5Gb/s on legacy Cat 5e or Cat 6 cabling
Flexible: fully backward compatible with 10/5/2.5/1Gbps and 100Mbps network standards
Supports Jumbo frames: increases performance by enabling larger data packets up to 16K
Industry standard connection: RJ45 port connects computer to standard copper network cables
Easy and complete solution: card installs in minutes with no tools required
Highly Cost Effective and Upgradeable
The Mercury Helios 3S Studio bundle is designed to save you money now and in the future. The Akitio 10G card's RJ45 LAN port lets you easily upgrade to 10Gb/s networking performance – and not incur the cost of installing fiber-optic cables - by using standard, readily available copper network cables. To maximize your technology investment, we designed the Helios 3S to be used like a PCIe card dock for future upgradeability. You can swap cards without tools in minutes and add professional-class video production, transcoding, audio processing, and data storage capabilities to your Mac or PC whenever the need arises.
Delivers Full Drive and ISP Speed Potential
By delivering up to 10x faster speed than Gigabit Ethernet, the Mercury Helios 3S Studio bundle unleashes the full potential of network attached SSD external drives and RAID solutions. It also allows you to utilized the highest speeds your ISP offers. If you're working with uncompressed large format video files, this bandwidth boosting bundle is a must-have to alleviate bottlenecks.
Add New Capabilities to Your Workflow
With two Thunderbolt 3 ports, the Mercury Helios 3S opens up new workflow capabilities to your Mac or PC. Daisy-chain up to five additional Thunderbolt peripherals for incredible capabilities to work or play. Charge your notebook with 85W while you work. Even add up to an 8K display via the DisplayPort interface to expand your viewing space.
Complete and Ready to Run
This game-changing bundle includes everything you need to be transferring files at ultra-fast speeds in minutes1. Just remove two thumb screws on the Helios 3S (no tools required), insert the Akitio10G Network Card, and plug the Mercury Helios 3S into an open Thunderbolt port on your computer with the included cable.
1. Windows operating systems require a driver for the network adapter to function properly.
Product Specifications:
OWC Part Number
Color
Material
OS Compatibility
macOS 10.13 or later
Windows 10 or later
PCIe Cards Supported
Mechanical: x16 slot and enclosure support cards up to half-length, full-height, and double-width
Bandwidth: PCIe 3.0 x4. Cards that require a minimum of x8 or more PCIe lanes are not supported.
GPUs not supported
If the card requires a driver it must be Thunderbolt-aware.
Cards that require more than 75W are not supported.
RoHS
Ports
(2) Thunderbolt 3
(1) DisplayPort 1.4
Chipset
Thunderbolt 3: Titan Ridge (JHL7440)
Expansion Slot
PCI Express 3.0 interface (x4) with x16 physical slot
Display Host Capabilities
Supports dual display configurations via Thunderbolt 3 and DisplayPort
The DisplayPort does not support DP++
When using a DisplayPort to HDMI adapter, make sure to use an active adapter.
Power
AC Input 2.2A 100-240V 50-60Hz
DC Output 12.5A 12V
Wattage 150W
Dimensions
Height: 8.2 cm (3.2 in)
Width: 14.3 cm (5.6 in)
Length: 23.3 cm (9.2 in)
Weight
Notes
The Mercury Helios 3S can deliver up to 85W of power for host charging when the host is connect to the 85W port.
If the PCIe card installed uses more than 25W of power, plug in the power adapter to your host.
You can use the Thunderbolt 3 to Thunderbolt 2 adapter from Apple to connect this device to a Thunderbolt 2 computer. Power Delivery is not supported in this configuration and bandwidth will be limited to ~ 1375 MB/s.
Full DisplayPort 1.4 capabilities including 8K resolution depends on host computer support of DisplayPort 1.4 specification through its Thunderbolt 3 connection, host computer GPU capabilities, and connecting cable capabilities.
Manufacturer provided specifications for Other World Computing p/n HELIOS3S10G
Product Specifications:
AKiTiO Part Number
OS Compatability
Mac OS X 10.13.6 or above
Windows 7 or above
Other Requirements
Windows operating systems require a driver for the network adapter to function properly.
Card Interface
Number of Lanes
Card Form Factor
External Connectivity
(1) RJ45 10G-BaseT Ethernet port with link and speed activity indicator
Manufacturer provided specifications for Other World Computing p/n HELIOS3S10G
Videos
Includes
(1) OWC Mercury Helios 3S PCIe Expansion Chassis
(1) Akitio 5 Speed 10G PCIe Network Card
3 Year OWC Limited Warranty