DIY Bundle
2.0TB OWC 6G SSD


and Internal SSD Kit for 2011 27" iMacs
Mac
Mercury Electra SSD and SSD Bay Solution
Upgrade with Confidence!
The complete solution for your 2011 iMac
Configuration flexibility is yours when you add a second internal drive using the OWC SSD bay kit. Boost your storage capacity by adding additional storage, and enjoy near-instantaneous boot and app loading times thanks the performance of an OWC 6G SSD.
Fast and reliable solid-state storage
With incredible sustained data speeds, up to 100X greater data protection than enterprise class Hard Disk Drives, and RAISE technology for RAID like data protection and reliability, the OWC Mercury 6G SSD line delivers unbeatable performance, that's backed by an incredible OWC SSD Limited Warranty.
We are here to help
OWC's SSD bay kit comes backed by OWC's award-winning U.S.A. based technical support team which is readily available to assist you with your upgrade should you have any questions. If you are not fully confident of your ability to add an SSD to your 2011 27-inch iMac, you can choose to have OWC "Do It For You" via our
Turnkey Upgrade Installation
Program.
Please note, that before attempting to perform this installation, it is recommended you watch the associated instructional video in its entirety to determine your ability to perform this complex procedure. OWC assumes no responsibility for damage that may occur during the install.
2.0TB Mercury Electra 6G SSD Specifications:
Specifications
Controller
Silicon Motion 2258 with 7% Over Provisioning
Form Factor
Standard 7mm 2.5"
Interface
SATA 6Gb/s, 3Gb/s & 1.5Gb/s supported, SATA 3.0 Compliant
Capacity 1
1920GB useable capacity
Total Flash Memory Components – 2048GB
128GB allocated to real-time data redundancy & error correction
SMART Attributes
Standard 2
Native Command Queuing
up to 32 commands
Manufacturer Model Number
OWCS3D7E6GT2.0
RoHS Compliant
Yes
Format
Physical
Height (max)
7mm (0.276″)
OWC 7mm – 9.5mm Adapter
Width (max)
70.06mm (2.758″)
Length (max)
100.12mm (3.941″)
Weight
77 grams +/- 2 grams
0.170 lbs +/- 2.71 oz
Reliability
MTBF (Mean Time Between Failures)
1,500,000
TRIM Support
OS Dependent
Power
Environmental (Operating)
Temperature (°F)
32°F to 158°F
Temperature (°C)
0°C to 70°C
Environmental (Non-Operating)
Temperature (°F)
-40°F to 185°F
Temperature (°C)
-40°C to 85°C
Manufacturer provided specifications for Other World Computing p/n K27IM11SE2TB UPC#: 812437025941
SSD Install Video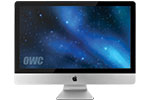 iMac (27-inch Mid 2011)
(May 2011)
2.7GHz i5, 3.1GHz i5, 3.4GHz i7
Includes
(1) OWC Mercury 6G SSD
(1) SSD Power Cable for 2011 27" iMac
(2) OWC 2-1/4" Suction Cup
(1) Torx T10 driver
(1) Torx T6 driver
(1) Phillips #2 driver
(1) Nylon Pry Tool (Spudger)
(1) iMac Adhesive tape set for SSD installation
(1) OWC Blue Microfiber Screen Cleaning Cloth
NOTE: This kit contains consumable and/or one time use components and therefore is non-refundable if opened. If you have any concerns about your ability to perform the upgrade, you can return the unopened kit for a refund.
Warranty
The best warranty is one you never have to use - but should the need occur - we're proud to provide a superior level of support and service coverage to our customers.
3 Year OWC SSD Limited Warranty
on the OWC Mercury Electra 6G SSD
Even when not used, we understand the peace of mind afforded by a longer warranty period. OWC's industry leading coverage is a testament to our confidence in the reliability of the solutions that we offer. OWC solutions are engineered to demanding quality standards in order to deliver the most reliable, highest performance available on the market in each storage category.