OWC Envoy
0GB

Portable, Bus-Powered USB 3.0 Storage Solution
Mac / PC / USB 3.0, 2.0 & 1.1
Ultra-portable, bus-powered external storage solution designed to complement the 2010 and 2011 MacBook Air®
The OWC Envoy™ combines elegance and functionality into a sleek, portable external storage solution designed to complement the MacBook Air®. Its tapered aluminum body protects your drive and data, while its minimal size allows for simple stowing in coat pockets, backpacks or briefcases.
The SuperSpeed USB 3.0 interface also works via USB 2.0 connections for maximum compatibility and Envoy requires no AC power adapter making it the ideal Plug and Play USB bus-powered solution.
IMPORTANT NOTE: The OWC Envoy enclosure has been specifically designed for use ONLY with the factory SSD found installed in Apple MacBook Air 2010 and 2011 models. Do NOT attempt to install or use the OWC Aura SSD in the Envoy as you can damage the Aura drive, the Envoy enclosure or both and such damage is not covered under warranty. To transfer data from the Apple SSD in the Envoy to the Aura SSD in the computer, please visit this link (http://eshop.macsales.com/tech_center/format2011/)
OWC's Step-by-Step Install Videos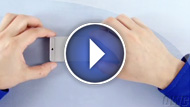 How to install a SSD in the Envoy.