OWC
Mercury Elite Pro Dual


Performance RAID Enclosure
Mac / PC / USB3.1 Gen 1 / eSATA
With USB 3.1 Gen 1 & eSATA
Professional Grade Solution
Mercury Elite Pro Dual is the best dual-drive hardware RAID solution for creative workflows, project archives, and system backups where reliability and versatile performance count. With two fast hard drives, easily configured in multiple RAID modes at the flick of an easy-access switch, Mercury Elite Pro Dual is built to seamlessly integrate with any work environment from high demand production studios to your home office.
The Hardware RAID Workhorse
Reliable hardware RAID maximizes the full potential of two 3.5" 7200RPM hard drives in the Mercury Elite Pro Dual. It comes configured in high-speed RAID 0 mode for the maximum sustained throughput from your drives. With speeds up to 407MB/s, that's fast enough for HD video workflows. Configure the Mercury Elite Pro Dual in RAID 1 mode for the extra security of mirrored data, set up a span of the two drives, or use them independently.
Performance by Design
Mercury Elite Pro Dual features both high-speed USB 3.1 Gen 1 & eSATA ports to offer the connectivity and versatility to work with your current equipment at extreme speeds. A second-generation, free-flowing brushed-aluminum chassis with high-performance fan delivers cool, quiet operation. In addition, drive-activity LEDs give you an instant snapshot of the status of your RAID, and intelligent power management conserves energy and reduces wear by automatically spinning down the drives when inactive.
Support You Can Trust
Like all OWC products, Mercury Elite Pro Dual is built to the highest standards from design to delivery. Each unit undergoes rigorous lab testing for exceptional performance and reliability. It's also always fully backed by a comprehensive warranty and our legendary expert customer support team.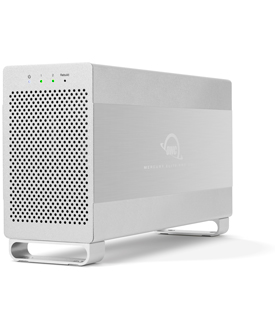 Highlights
Hardware RAID 0, 1, span, and independent modes
Fast USB 3.1 Gen 1 & eSATA connectivity
Accelerate your workflow with transfer speeds up to 407MB/s
Second-generation aluminum design with low-decibel cooling fan
Step-by-Step Install Video
Product Specifications:
Software Requirements
OS

USB 3.1 Gen 1

OS X 10.6.8 or later
Windows XP or later

eSATA

OS X 10.6.8 or later
Windows XP or later

Driver

Driver not required for OS X
Driver not required for Windows
Hardware Requirements
Minimum

Mac or PC featuring USB 2.0 interface

Recommended (Best Performance)

Mac or PC with a USB 3.1 Gen 1 interface
Mac or PC with an eSATA 6G interface
Bootability 1
Any Mac that supports booting via USB 2
Any Mac that supports booting via eSATA 3
UASP (USB Attached SCSI Protocol) Compliant
Interface (Chipset)
(1) USB 3.1 Gen 1 (JMicron JMS562)
(1) eSATA (JMicron JMS562)
Interface Controller: ASMedia ASM1456B
Drive(s) Supported 4
(2) 3.5" SATA 6Gb/s drives

SATA revision 3.0 (6Gb/s) compliant
Compatible with SATA revisions 2.0 (3Gb/s) and 1.0 (1.5Gb/s)
Performance
USB 3.1 Gen 1

401 MB/s Read
407 MB/s Write

eSATA

412 MB/s Read
407 MB/s Write
RAID Modes Supported
Hardware
RAID 0, 1, SPAN, and Independent drive mode
Initial Configuration
Power
Power Supply

External UL-listed universal auto-switching
AC input: 100 ~ 240V, 50/60Hz
DC output:, 12V @ 4A
Replacement power supply sold separately
Adapter plugs for international use sold separately
Environment
Environmental (Operating)

Temperature (°F) 41° — 107°
Temperature (°C) 5° — 42°

Environmental (Non-Operating)

Temperature (°F) &min;40° — 149°
Temperature (°C) &min;40° — 65°
Height
Width
Length
Weight (without drives)
1. Booting in RAID 0, RAID 1, and SPAN mode are supported via both eSATA and USB.

2. When connected via USB, the following limitations apply when booting in Independent mode: only the disk connected to Port 1 is bootable when both drives are installed. If only one drive is installed, the disk will boot regardless of which port it is connected to. Please check the Assembly Manual & User Guide for more details.

3. When connected via eSATA, booting in Independent mode is not supported.

4. Not compatible with the following Seagate drive: Seagate ST8000NM0055, part number 1RM112-102, AND firmware version PN02. Please note that drives with the same model number but different firmware DO work correctly.

5.Incompatible with 4K native drives (4Kn)
Manufacturer provided specifications for Other World Computing p/n MED3ER0GB UPC#: 812437023718
Includes
OWC Mercury Elite Pro Dual high performance enclosure
0.6 meter (24 in) USB 3.1 Gen 1 Cable (Standard-A to Standard-B)
1.0 meter (39 in) eSATA 6G Cable
External power supply and power cable
Assembly manual & user guide (Download Only)
Warranty
The best warranty is one you never have to use, but should the need occur – OWC is proud to provide a superior level of support and warranty coverage to our customers.