OWC Mercury Elite Pro mini
0GB


Bus-Powered, Multi-Interface Enclosure Kit
Mac / PC / USB 3.0 & 2.0 / eSATA
High-performance and Plug and Play data storage/backup reliability with a fanless, bus-powered design
With your choice of a 2.5" Serial ATA (SATA) hard drive OR Solid State Drive (SSD), the latest chipset, and USB 3.0/eSATA interfaces, the Mercury Elite Pro mini Portable Storage Solution delivers up to 600MB/s data transfer speeds for demanding data storage and backup needs. All that performance resides in an impact resistant, heat dissipating 5.5 in (L) x 3.8 in (W) x 1.1 in (H) brushed aluminum enclosure with super-quiet operation.
When you want high style in high performance storage, look no further than the Mercury Elite Pro mini. With the highest quality drive mechanism built into a shock resistant portable aluminum enclosure, the Mercury Elite Pro mini is ready to go wherever you need an A/V, Digital Photography, Professional Music, Graphics, General Data, and Time Machine ready storage solution.
Interfaces: USB 3.0 & 2.0; eSATA 6G
The USB 3.0 Micro-B port is backwards compatible with USB 2.0 cables (USB 3.0 standard A to Micro-B connecting cable is included)
All interface cables are included
Bus-powered via USB 3.0 (DC to USB connector included)
Data transfer speeds up to 600MB/s (via eSATA; 500MB/s via USB 3.0)
Drive speeds of up to 7200RPM or Solid State Drive
Perfect for digital photography, professional music, graphics, general data, and Time Machine
Portable size at 5.5in(L) x 3.8in(W) x 1.1in(H)
Brushed aluminum, impact resistant, heat dissipating enclosure
Super-quiet, fanless operation
Asmedia 1051E and 1456 high-performance chipset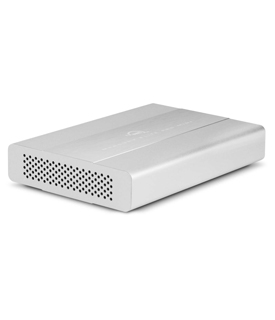 OWC's A Closer Look
OWC's Step-by-Step Install Video
*When using eSATA connection, the use of a powered USB port or
optional AC Adapter
(not included) is required.