OWC Mercury
On-The-Go® Pro
1.0TB

Portable External Drive
Mac / PC / Thunderbolt
The "Go Anywhere" Bus-powered, Portable Drive for Mac and PC
Weighing only 12 ounces (0.34 kilograms), the OWC Mercury On-The-Go Pro is a reliable portable companion that's at-the-ready to handle life's critical data be it images, audio, video, backup, and more. It's stylishly engineered in a sleek, impact-resistant, and transparent acrylic enclosure that reveals the On-The-Go's inner workings.
Thunderbolt Fast + Thunderbolt Powered
Simply connect the On-The-Go Pro to your Mac or PC via the included Thunderbolt cable to experience true high performance. The Thunderbolt interface provides so much bandwidth that the internal drive mechanism operates at full speed, just as if the drive were internally installed into your computer. Now that's fast!

All that speed comes through the Thunderbolt port, and so does the power. No fumbling for power adapters or looking for power outlets. Just plug in the included Thunderbolt cable, attach to your Mac or PC, and the On-The-Go powers right up.
Ultra-Portable and Durable
The On-The-Go's case is made of a durable crystal clear acrylic that provides a gap of air around the drive and shock absorbing rubber feet - all to keep the internal drive mechanism better protected from the rough and tumble of life on the go.

Its small size and included traveling case make it easy to take the On-The-Go wherever you go. At only 12 ounces, whether you travel with it all by itself or with your other gear in a laptop bag, briefcase, or backpack the On-The-Go is light and easy to carry.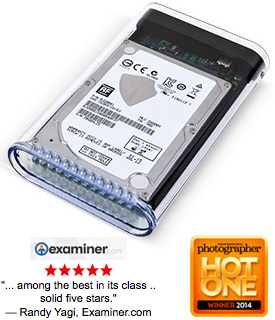 Fanless Cooling
A fanless design makes the On-The-Go operate in near silence while the built-in aluminum heatsinks and air vents work in tandem to cool the On-The-Go. This ensures your On-The-Go remains a trusted digital companion with a long and reliable life.
The Perfect Portable Makes a Great Desktop Drive
While On-The-Go is perfect for traveling, it also makes a great desktop drive. Your desktop will be clutter free with a single Thunderbolt cable used for both power and data, and the On-The-Go's small size requires minimal desktop space.
Thunderbolt Cable Included
We don't like external drives that require you to buy a cable to make it work correctly. That's why we include all cables needed for connectivity with all of our external drives, and Thunderbolt drives are no exception. It's just how we think it should be done. So don't bother hunting for a Thunderbolt cable, we've got ya covered with an OWC premium quality, certified, 0.5 meter Thunderbolt cable included.
Includes:
Click the SOFTWARE tab below to learn more »
Includes
Product Specifications
Bus Interface
Chipset
Standard Mechanism
*1GB = 1,000,000,000 bytes. Total accessible capacity varies depending upon operating environment (typically 5-10% less). The actual total capacity will depend on your own defined file settings/preferences.

**OWC reserves the right to replace or upgrade to equivalent or better components.
Drive Interface
SATA (Serial ATA) Revision 3.0
Drive Cache Size
Drive Rotation Speed
Port/Interface Bootability
Thunderbolt: Supported on Macs meeting minimum requirements.
Max Data Transfer Rate
Format
System Requirements
Macintosh: running OS X v10.6.8 or later with an available Thunderbolt port
PC: running Windows 7 SP1, Windows 8.x or later with an available Thunderbolt port (Windows drivers required)
Power Supply
Bus Power via Thunderbolt
External Case Dimensions
3.5" (W) x 5.5" (D) x 1" (H)
88.9mm x 139.7mm x 25.4mm
Total Shipping Weight
Software Included
User Guide
Operating Environment:
Temperature
(operating) 5°C - 42°C (41°F - 107°F)
(non-operating) -40°C - 65°C (-40°F - 149°F)
Relative Humidity
(operating) 8% - 90% RH (Non-condensing)
(non-operating) 5% - 95% RH (Non-condensing)
Shock
(operating) 70G 2mS;
(non-operating) 175G 2mS
Vibration
(operating) 1.0G (5 - 300Hz)
(non-operating) 5.0G (5 - 500Hz)
MTBF
More than 300,000 power-on hours
Load/Unload Cycles
Warranty
3 Year OWC Solution Limited Warranty
The best warranty is one you never have to use - but should the need occur - we're proud to provide a superior level of support and service coverage to our customers. OWC and NewerTech storage solutions come fully backed by an Industry-leading 48-hour turnaround time which includes complimentary Level 1 data recovery for the first year, plus additional data recovery options available throughout the warranty period, for complete peace of mind ownership confidence.
View more information about the 3 Year OWC Solution Limited Warranty
Note: Do not disassemble or otherwise open your OWC solution prior to the conclusion of 3 Year OWC Solution Limited Warranty's period. Doing so will void the remainder of the 3 Year OWC Solution Limited Warranty.
Manufacturer provided specifications for Other World Computing p/n MOTGTBH5T1.0 UPC#: 812437020007
Software
Prosoft Engineering® Data Backup 3
for OS X v10.2.8 or later
Backup Made Easy. Data Backup makes it easy to backup to FireWire and USB drives, network drives, CDs and even DVDs. Make schedules so you don't need to 'think' about backing up... It does it for you.
A $59.00 Value!
View detailed software info
, or
click here to purchase software
separately from solution

NovaStor NovaBACKUP®
Solution for Windows®
NovaBACKUP has been helping millions of users recover from data loss and disasters for over 18 years. Feature rich, NovaBACKUP provides a powerful backup solution. Built-in support for hundreds of the most popular storage devices and a step-by-step backup and restore wizard makes NovaBACKUP extremely easy to use. Requires Windows 2000 or later.
A $49.95 Value!
View detailed software info

Intech® SpeedTools Utilities™
Intech SpeedTools consists of a suite of utilities managed by an application which controls the launching, documentation and version control of each individual component utility, such as Disk Defrag and QuickBack. An easy-to-use installation and removal application is provided to make installation a snap, yet powerful enough to allow you to customize which utility component set you would like to create.
An $89.95 Value!
View detailed software info
, or
click here to purchase software
separately from solution
Benchmarks
Click any of the benchmarks below to view the results.