OWC Mercury
On-The-Go®
0GB


Bus-Powered, Multi-Interface Enclosure Kit
Mac / PC / USB 3.0 & 2.0 / FireWire 800 (FireWire 400 Backwards Compatible)
The OWC Mercury On-The-Go USB 3.0 & 2.0 / FireWire 800 (FireWire 400 Backwards Compatible) Enclosure Kit packs an incredible punch into a 3″ W x 5.5″ L x 1″ H 11 ounce package!
If you're looking for one of the most compatible mass storage solutions made, look no further! The OWC Mercury On-The-Go drive is all you'll need! Packing a one-two punch of super fast USB 3.0 and FireWire 800, the OWC Mercury On-The-Go has what it takes to truly work cross platform.
Outstanding Features
The OWC Mercury On-The-Go features the latest in performance with an Oxford combination FireWire and USB chipset creating one perfectly integrated storage solution.


The OWC Mercury On-The-Go's fanless design offers near silent operation while still keeping your drive cool. The built-in aluminum heatsink underneath the drive and passthrough cooling vents on the top of the case work in tandem to provide optimum results.


The On-The-Go "Add your own Drive" Kit enclosure is ready to accept your own 2.5" SATA Hard Drive or SSD. Now you can upgrade your Mac or PC notebook's internal drive and retask that old drive as a new external drive for even more backup and storage capacity! This solution will give you an excellent transportable storage device, or a backup option that you may have not had!
Drive Not Included – Needs 2.5" Serial ATA (SATA) Hard Drive or Solid State Drive

OWC NOTE: This drive enclosure requires a 2.5" Serial ATA (SATA) drive mechanism.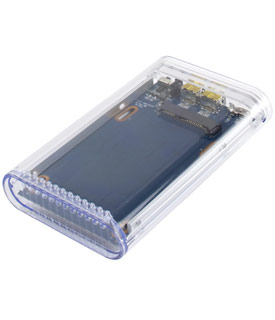 OWC's A Closer Look
OWC's Step-by-Step Install Video