OWC
Type F

2-Pin Power Cable
3-Foot Length
Outside the USA?
Have an
OWC Mercury Elite Pro
,
OWC Elite Pro mini
,
OWC Mercury Helios
, OWC Elite Pro Dual mini
,
NewerTech Guardian Maximus mini
,
NewerTech miniStack Classic
, or
NewerTech miniStack MAX
and looking to use it internationally? Simply replace the included US power cord with this 2-prong type F replacement power cord commonly used in Europe, Germany, Austria, the Netherlands and Russia.
Commonly known as a figure-8, this type of power cord is often used for small cassette recorders, battery-operated radios, some audio-visual equipment, laptop computer power supplies, video game consoles, and similar double-insulated appliances.
This cable end fits this type of outlet: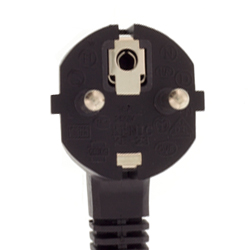 This cable end fits this type of port: